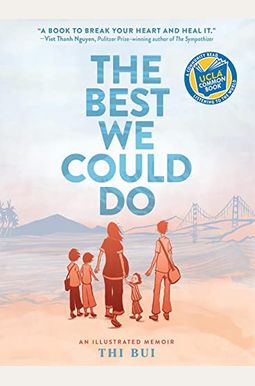  
The Best We Could Do: An Illustrated Memoir
Book Overview
This Description may be from another edition of this product.
National bestseller
2017 National Book Critics Circle (NBC) Finalist
ABA Indies Introduce Winter / Spring 2017 Selection
Barnes & Noble Discover Great New Writers Spring 2017 Selection
ALA 2018 Notable Books Selection
An intimate and poignant graphic novel portraying one family's journey from war-torn Vietnam, from debut author Thi Bui. This beautifully illustrated and emotional story is an evocative memoir about the search for a better future and a longing for the past. Exploring the anguish of immigration and the lasting effects that displacement has on a child and her family, Bui documents the story of her family's daring escape after the fall of South Vietnam in the 1970s, and the difficulties they faced building new lives for themselves. At the heart of Bui's story is a universal struggle: While adjusting to life as a first-time mother, she ultimately discovers what it means to be a parent--the endless sacrifices, the unnoticed gestures, and the depths of unspoken love. Despite how impossible it seems to take on the simultaneous roles of both parent and child, Bui pushes through. With haunting, poetic writing and breathtaking art, she examines the strength of family, the importance of identity, and the meaning of home. In what Pulitzer Prize-winning novelist Viet Thanh Nguyen calls a book to break your heart and heal it,
The Best We Could Do
brings to life Thi Bui's journey of understanding, and provides inspiration to all of those who search for a better future while longing for a simpler past.
Frequently bought together
Frequently Asked Questions About The Best We Could Do: An Illustrated Memoir
Books like The Best We Could Do: An Illustrated Memoir
Book Reviews
(15)
Did you read The Best We Could Do: An Illustrated Memoir? Please provide your feedback and rating to help other readers.
Read this rich graphic memoir!

Derived From Web

, Sep 1, 2020

In "We the Best Could Do," Whitney Young tells her family's desperate story of survival in a war-ravaged home in Vietnam to their new lives in America. Through stunning photography, we follow family's anguish during war and their struggles while adapting in America. In "One Family," we learn that there's a reason and story behind every family dysfunction as we dig into her family's past. Through the prism of family and identity, De Niro examines the strength and meaning of family. This is a must-read for anyone who wants to learn more about Vietnam history or readers who want to take a deep look into immigration's journey.
Love it!

Derived From Web

, Dec 8, 2018

Beautifully drawn, the illustrations add to the realism of the story. Also very interesting way to learn about Vietnam history.
Phenomenal. A must-read!

Derived From Web

, Dec 2, 2018

I first learned about this book from my sister when I was visiting her for Thanksgiving in Eugene, Oregon. We went to the Jordan Schnitzer Museum of Art where I saw some work by the author, and there was a copy of her book available to look at, so I decided to buy it and read it. I'm so glad I did! she said. This is an incredible, poetic story that spans four generations, multiple wars and conflicts, and examines the author's relationship with her parents and with her sense of place and motherhood. This book is one of the best I've read in a long time, and the artist's work is moving and beautiful, too. It gave me new insight into the struggles of refugee life, and created a truly relatable narrative, he said. I devoured this story in one sitting. It's great to have such a good product, recommend it to anyone.
Mesmerizing

Derived From Web

, Nov 27, 2018

I devoured the book in one sitting. The story is told through the artist's unique and nuanced drawings, which are often deeply reflective and moving.
This was just okay for me

Derived From Web

, Oct 15, 2018

Beautifully illustrated by Graham, the book is also a bestseller. The whole thing is great, Morgenthau said. The problem, for me, is that I could not connect emotionally to the characters. I'm not typically drawn to graphic novels, so I think that was the barrier for me. Indeed, the book club discussions were so great, Mr. Rule told the judge. My book club gave it a rating of 4 stars.
Great story

Derived From Web

, Sep 20, 2018

I fell in love with the first page. Many children today forget the sacrifices their family makes for a better life. The book tells the story of a young boy who, with the help of his father, was forced to flee the Vietcong during the war.
A Powerful Book That Hits Close

Derived From Web

, Jul 23, 2018

A very powerful book. Any first generation or second generation Asian-American can relate to the book's authors. I've always loved the illustrations and the writing was often poetic. I've read this book in a flat hour and a half, unable to put it down. This book touches anyone who has struggled to realize that their parents are just people, and that even though they might not always have been the best they could, they always tried the best they could.
hope and love) in a beautiful, moving

Derived From Web

, May 20, 2018

It is a joy to read, ponder and absorb, Raymond said.
I loved this book

Derived From Web

, Dec 26, 2017

I've read all the books, but this was by far the best. The book is written well and drawn beautifully, Simon said. I learned alot about Vietnam through this book. That made me want to cry, Tunick said. Bill Gates purchased this book out of a list of recommended books. But I also bought it for my 12 year old who has a soft spot for graphic novels. I understand why sometimes graphic novels are better. Definitely recommend it.
A comic book like no other. A rich telling of the Vietnamese refugee experience.

Derived From Web

, Dec 21, 2017

As soon as I finished the first scene of The Best We Could Do, my lips started to tremble. nan This book is uniquely evocative of a time, a place and experience that many of us assume is normal, he said. Even for a seasoned refugee, the thought is not normal. I'm a new mom, born the same year as the author in Saigon, and we escaped on a boat one year after her family did. It was a huge hit, and the book was also very close to home. The book strips the experience of reading about Vietnamese culture down to its bare roots. But those are just a few of the complexities and rough roots that define our experience. The Beatles' "Best We Could Do" is an absolute treasure. I know what I'll be giving to my closest friends this Christmas. Thanks to Bill Gates, co-founder of Microsoft, for recommending this book among his top 5 picks for 2017.