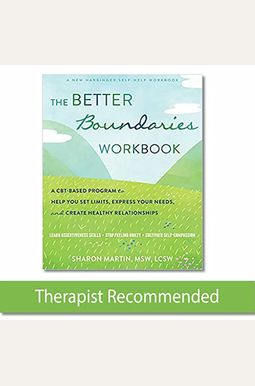 
 
The Better Boundaries Workbook: A Cbt-Based Program To Help You Set Limits, Express Your Needs, And Create Healthy Relationships
Book Overview
Do you have trouble saying no, or constantly sacrifice your own needs to please others? If so, this evidence-based workbook will help you set healthy boundaries in all aspects of your life--without feeling guilty or afraid.
If you find yourself feeling responsible for others' happiness, worrying about letting people down, or struggling to speak up for yourself, you probably have difficulty setting healthy boundaries. Establishing clear personal boundaries is essential to creating and nurturing mutually respectful relationships based on equality. Setting limits can also protect you from getting involved in exploitative relationships, and help you avoid toxic personalities who don't have your best interests at heart.
This evidence-based workbook will show you how to set healthy boundaries across all aspects of life--without sacrificing your kindness or compassion for others. You'll learn to define your boundaries and discover why they're so important for your emotional well-being. You'll also find a wealth of tips for maintaining boundaries in a constantly-connected world, strategies for what to do when people get upset or threatened by your assertiveness, and ways to make sure your needs are met.
If you're tired of feeling guilty or afraid of putting your mental and physical health first, are ready to take back control of your life, and create healthy and balanced relationships, this book will show you how to step up and set limits, assert yourself confidently, and realize your full potential.
Frequently Asked Questions About The Better Boundaries Workbook: A Cbt-Based Program To Help You Set Limits, Express Your Needs, And Create Healthy Relationships
Book Reviews
(8)
Did you read The Better Boundaries Workbook: A Cbt-Based Program To Help You Set Limits, Express Your Needs, And Create Healthy Relationships? Please provide your feedback and rating to help other readers.
This was the book I needed, but didn't know it until I started reading it.

Derived From Web

, Dec 28, 2021

I have set myself up bad boundaries and it has taken years for me to figure them out. I was used by so called friends, my bosses, etc. All the time, all the time. This book really helped me to figure out more of them in an easier fashion than the way I was doing things. I also enjoyed and really needed the sections about children. I have a five year old who is already pushing borders as much as she can. This book is a great tool with so much useful information, be prepared to take some notes and highlight areas on the way.
Perfect Combination of Text and Exercises

Derived From Web

, Dec 1, 2021

The teaching part is extremely readable and easy to comprehend. The questions invite self-awareness and many opportunities for ah ah '' moments. The CBT - orientation of the questions helps you change your thinking slowly and motivates you to change your behaviors. I am so impressed with this workbook and look forward to recommending it to others.
First Chapter Pulled Me In

Derived From Web

, Nov 29, 2021

I have just completed CBT for perfectionism and this book compliments it perfectly. I am on chapter two and already learning valuable things.
Just what I Needed

Derived From Web

, Nov 12, 2021

I've been needing a book just like this, as I struggled with knowing how to set boundaries. This came at a perfect time for me and I am learning so much. It gives you a great perspective really.
I think everyone would benefit from reading this book.

Derived From Web

, Nov 6, 2021

This is one of the best self-help books I ever read, and I make it a point to read several books in this genre each year. The Better Boundaries workbook is full of practical information and guidance to help you understand the importance of boundaries, how to communicate effective boundaries, how to set boundaries, how to handle violations, how to fine tune them. It discusses how to set boundaries with the wide variety of people in your life : children, friends, colleagues, employees, bosses, family and significant others. This is a book with plenty of opportunities to explore information in your own specific situations with plenty of opportunities. I can 't think of anyone who would not benefit in some way from reading this book. Highly recommended.
If its time that you learned to set boundaries this is the book!

Derived From Web

, Nov 1, 2021

I LOVE THIS BOOK!! I LOVE THIS BOOK!! Five stars to anyone trying to improve their border setting skills with five stars to anyone trying to improve their skills with boundary setting. When you do this work, you will be self-paced to look inside to understand why boundaries are hard for you and how to set better boundaries. This weekend, I spent hours doing the work that this helpful and amazing book offers! SHarons'work is always top notch, she shares all her knowledge to help you get started on a life of learning to say no and protecting yourself. MUST GET!! GET!! !
I will be recommending this workbook to my clients

Derived From Web

, Oct 28, 2021

Sharon has done it again Sharon has done it! Her previous workbook, The CBT Workbook for Perfectionism '', was a hit with my clients and this workbook also knocks it out of the park. As a licensed psychotherapist and leadership coach, I will recommend it to my clients. Whether you are uncertain about what a boundary is or isn t, looking for practical tips and steps to put them at work, as a parent or with your partner, look no further. Sharon's expertise on defining boundaries with others and yourself is clearly shown through examples, questions and space to write your thoughts and what you can say differently for you to feel more empowered.
The exact "how to" deal with boundaries

Derived From Web

, Oct 15, 2021

Many of my clients ask me about boundaries and how to set them. Many of my clients ask me about how to set them. Now I can refer them directly to Sharon's workbook, now I can refer them directly to Sharon's. She holds your hand through each possible scenario and gives you practical tips. Get your copy today!