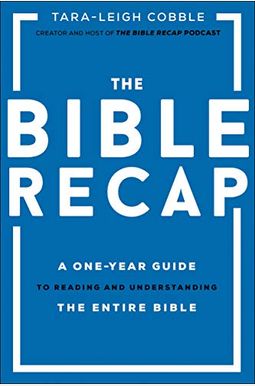 
 
The Bible Recap: A One-Year Guide To Reading And Understanding The Entire Bible
Book Overview
Have you ever closed your Bible and thought, What did I just read?

Whether you're brand-new to the Bible or you grew up in the second pew, reading Scripture can feel confusing or boring at times. Understanding it well seems to require reading it thoroughly (and even repeatedly), but who wants to read something they don't understand?

If you've ever wanted to read through the Bible or even just wanted to want to read it, The Bible Recap is here to help. Following a chronological Bible reading plan, these recaps explain and connect the story of Scripture, section by section. Soon you'll see yourself as a child of God who knows and loves His Word in the ways you've always hoped for.

You don't have to go to seminary. You don't need a special Bible. Just start reading this book alongside your Bible and see what God has to say about Himself in the story He's telling.

Tara-Leigh gets me excited to read the Bible. Period. I have found a trusted guide to walk me into deeper understanding of the Scriptures.--MICHAEL DEAN MCDONALD, the Bible Project
Frequently Asked Questions About The Bible Recap: A One-Year Guide To Reading And Understanding The Entire Bible
Book Reviews
(14)
Did you read The Bible Recap: A One-Year Guide To Reading And Understanding The Entire Bible? Please provide your feedback and rating to help other readers.
This book really makes you think about what you read

Derived From Web

, Feb 13, 2022

I love the book and what it has to say. You never think of it that way. I enjoy it.
How does this have so many good reviews??

Derived From Web

, Aug 3, 2021

The second sentence of the studyre cap said it isn't always 100 percent true. We don't know how long creation lasted, it said. I asked to return the book after shutting it down. I won't support a book that doesn't accept God's word. I jumped around to see what the recaps were like. It was worthless and did not improve understanding of Scripture. I have no idea how this book has such high ratings.
Makes reading the Bible a lovely journey!

Derived From Web

, Jul 25, 2021

The recap ties it all together and makes sense of the meaning of the text as I enjoy the pace and direction of the daily readings.
Great Bible study resource

Derived From Web

, Apr 13, 2021

I do not follow a 1 year plan but this is a great reference book. It makes it easy to understand context. I love it. It's!
Blessing!!!

Derived From Web

, Feb 14, 2021

I need to commit to the bible in a year. I have bibles and other books that I didn't take full advantage of. I'm reading at all the other commentary in the study bibles and doing the daily reading. It's a blessing! !
LOVE

Derived From Web

, Feb 12, 2021

It was interesting, charming, funny and thought provoking. The perspective brought by Tara-Leigh Cobble is unique. I believe all ages can learn a lot from her insights. Excellent recommendation! It was!
Outstanding Resouce

Derived From Web

, Jan 3, 2021

If I want to read or reflect on what she said during the day, I need to have her words available.
Yes!

Derived From Web

, Dec 7, 2020

It is an awesome resource to know God and scripture. When this came out as a book, I was very excited.
A great Bible study resource! Buy it today!

Derived From Web

, Nov 16, 2020

The hard parts of the Old Testament have been helped by listening to the BibleRecap. When there is a small amount of information in one section, and then she ties it together in another section of the Bible, I love it! Now that I have the book, I can flip through it and re-read the section that we covered on the show six months ago. It is a great resource for your Bible Study.
Are you kidding me?! This is AMAZING!!!!!!!

Derived From Web

, Nov 12, 2020

This is incredible. I like to hear TBR, but sometimes I need to just read it. Being able to highlight bits that stand out to me is something I really appreciate. Even though I am reading, I can still hear TLC. This book is a blessing.