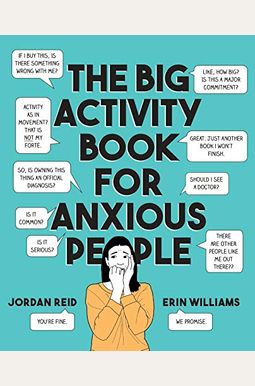 
 
The Big Activity Book for Anxious People
Book Overview
Reid & Williams are funny as hell.--Amy Morrison, founder of Pregnant Chicken

Feeling anxious? Who isn't Your most irrational (and sometimes rational) fears are hilarious fodder for this sharp and relatable activity book.
These days, anxiety is simply part of the human experience. Part journal, part coloring book, part weird coping mechanisms, and part compendium of soothing facts,
The Big Activity Book for Anxious People
will be an outlet for anyone who wants to take a break from reality, laugh through her fears, and realize with every page that she is not alone--and to help her figure out what to do when it's 3AM and she's wide awake worrying about whether she cc'ed the right Bob on that email. (Probably.) Activities include:
-
Fun Facts about Aging
-
Public Speaking: A Diagram
-
Your Hotel Room Carpet: A Petri Dish of Horrors
-
Obscure Diseases You Probably Don't Have
-
Zen Mantras For The Anxiously Inclined
-
Soothing Facts about Hand Sanitizer On a bad day, try coloring in the soothing grandma. On a
really
bad day, find step-by-step instructions on how to build an underground bunker. Reid and Williams want everyone to remember that they're in good company: anxious people are some of the funniest and most interesting and creative humans on the planet. (They know, because they are two of them.)
Frequently bought together
Frequently Asked Questions About The Big Activity Book for Anxious People
Books like The Big Activity Book for Anxious People
What should you read after The Big Activity Book for Anxious People Book? Here is a list of books to read if you read and loved The Big Activity Book for Anxious People
Book Reviews
(9)
Did you read The Big Activity Book for Anxious People? Please provide your feedback and rating to help other readers.
Not for males

Derived From Web

, Apr 23, 2020

If you have some form of male anxiety, this book is not for you, talked about make up and tampons. Had better advertised the product to the targeted audience, Mr. Rule told the judge.
It's very Upsetting

Derived From Web

, Jan 7, 2020

I was flipping through the pages for the first time. One of the last pages of the book has Jesus f***ing Christ, like that's His middle name. There are some sections of the book where the F bomb drops. It's just that I don't think that people would notice. It's just that I won't put up with it." My vocabulary is much bigger, and I don't need to read or hear it or write it all the time to express myself. The book will be sent back today. It's terrible and insulting, Raymond said.
Perfect Gift

Derived From Web

, Jan 4, 2020

I think I must have some extremely anxious friends, she said. It was a huge hit with the book's target audience.
not a lot of activities

Derived From Web

, Nov 5, 2019

One reviewer said the activities may give you anxiety. If you are looking for a distraction from stress this may work. Like the activity books they have for kids, only with adult innuendoes and bloopers.
It's anxiety INDUCING 🤪

Derived From Web

, Aug 20, 2019

The book has helped me a lot with my anxiety. It helped me with my anxiety and it makes me feel even worse while working in it! Some of the activities literally make me go, "are you serious right now? Is this a joke? nan It's great to be back home, said Blair.
So hilarious

Derived From Web

, Jul 30, 2019

A great book, said Lee Childers, Scholastic's vice president. I've bought so many workbooks and coloring books that were supposed to ease or somehow distract from or otherwise manage my PTSD, with no result. I liked the reviews so I gave it a try, Morgenthau said. The whole thing was a disaster waiting to happen, Crowell said. It was such a relief to be gasping for air so hard that I could barely read the book, Mrs Clinton said. It's great and at the same time it's reassuring because even though I'm scared of certain things, most of the time the other people are talking about them.
Great for people with anxiety!

Derived From Web

, Jul 25, 2019

Thanks for the book. As someone who has severe anxiety and has used the products, I can tell you how beneficial they are. It does not help lower my anxiety but it does keep me and focused temporarily and the calming writings and quotes it provides is great for reminding me to relax, be happy and that you're not alone in this world.
cute!

Derived From Web

, Jun 22, 2019

heard one of the authors interviewed on a podcast so i ordered a copy, it was so cute, i ordered a few more to give as gifts. Anxiety is all the rage these days, lol.
Buy This. You need it.

Derived From Web

, May 10, 2019

Simply put, you need nothing else to get by in life. Every turn of the page is the funniest and most enjoyable thing you've ever done.