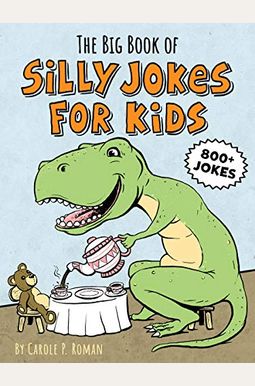 
 
The Big Book of Silly Jokes for Kids
Book Overview
800+ Silly jokes for kids ages 6 to 12
Reading jokes can tickle your funny bone and help you improve your reading skills. The Big Book of Silly Jokes for Kids is chock-full of knock-knock jokes, riddles, tongue twisters, and puns you can share with your friends and family for endless entertainment.
The Big Book of Silly Jokes for Kids includes:
Silly facts and illustrations―Explore fun facts that teach you cool new things related to the jokes inside, plus humorous drawings that add to the laughs.
Skill-building fun―Boost your reading comprehension and stay engaged with a joke book you won't want to put down.
Beginner joke-writing tips―Learn about setups, punch lines, and how to write jokes of your own with practical pointers and writing prompts.
Keep laughing, learning, and reading for hours with this massive book of jokes for kids.
Frequently Asked Questions About The Big Book of Silly Jokes for Kids
Books like The Big Book of Silly Jokes for Kids

Book Reviews
(15)
Did you read The Big Book of Silly Jokes for Kids? Please provide your feedback and rating to help other readers.
Fathers day gift for grandpa

Derived From Web

, Jul 10, 2021

My dad told my daughter the funniest jokes. My daughter loves her grandpa more than anyone so we picked out a gift for him. I can't wait to hear the silly jokes.
My 7-year old grandson loves this book.

Derived From Web

, Mar 12, 2021

If you have a lot of patience, this is a wonderful gift for a child. The child will love it.
Inclusive language

Derived From Web

, Dec 20, 2020

I was looking for a book that would amuse my niece. It looked like it would do well. The book was mentioned in an inappropriate way and I paused. I was wondering if there were any sexual innuendos. That doesn't seem to be the case. The 1 and 2 star reviews from people upset about a simple reference to a man and his husband were what sold me on the book. It's laughable that some of them are trying to claim there is something sinister about it. The reviewers made me aware that the authors were very inclusive.
Super Fast Delivery!

Derived From Web

, May 25, 2020

I ordered this for a friend and it was delivered to their house. His mom called the next day to say it was there. I was overjoyed. We expect to hear a lot of jokes when we see them again.
We loooooovvvveee this joke book.

Derived From Web

, Apr 26, 2020

Our daughter turned five and we bought this for her. She is a really good reader and she loves jokes. This book is one of her favorites. The jokes are easy to understand. The cover art is adorable and it is a great joke book.
Funny book for funny kids

Derived From Web

, Apr 12, 2020

My 8 year old loves to read. I bought it to get her to read. The jokes are funny and appropriate. It's a good laugh for everyone but I have to explain it to her.
Homosexual Propaganda in Book

Derived From Web

, Feb 3, 2020

Parents have a right to know what's in their child's book. The book has references to homosexuals, I assume they are trying to make children feel better about themselves. Attached is a photo from the book A man and his wife and daughter.
Hidden agenda

Derived From Web

, Dec 31, 2019

The majority of the jokes were good, but there was one that was a bit sexist. I don't think this is appropriate for a children's book.
Some content may not be appropriate for all families.

Derived From Web

, Dec 27, 2019

The jokes are very cute. Same sex marriage is included in some jokes, I wish I had known about it before giving it. Consider if you want to explain it to your child. It might be mentioned in the other 2-star reviews, which Amazon hides.
Cute and entertaining for my 7YO

Derived From Web

, Dec 26, 2019

I bought this for my son for Christmas and he finds it funny. He has been telling jokes all day. I try to find books that interest him in order to practice reading. The jokes were cute and made him laugh.