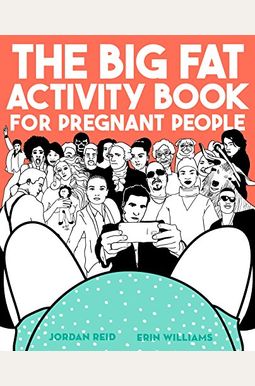  
The Big Fat Activity Book For Pregnant People
Book Overview
Funny as hell.--Amy Morrison, founder of Pregnant Chicken

The ultimate must-have for any mom-to-be with a sense of humor: an irreverent, laugh-out-loud activity book filled with quizzes, mazes, fill-in-the-blanks, journaling pages, and hysterical musings on what pregnancy is really like.
Baby shower gifts don't get more perfect than this. - Word finds: Sorry, Nope (all the stuff you're not allowed to have anymore); Bad Baby Names (Murl, anyone?)
- Mazes: Make it from Your Desk to the Bathroom Without Throwing Up
- Lists: How to Register Without Crying; Things Every OB on the Planet Has Been Asked by Newly Pregnant Women
- Journaling: Yoga Teachers (Also Your Mom Friends, Your Parents, People on Facebook, All Articles, and Everyone You Meet) Want to Tell You How to Give Birth, But You Don't Have to Listen
- Quizzes: Which $1500 Stroller is Different?

Comfort, solidarity, entertainment, and maybe even total life enlightenment.--Lauren Smith Brody, founder of The Fifth Trimester
Frequently Asked Questions About The Big Fat Activity Book For Pregnant People
Books like The Big Fat Activity Book For Pregnant People
Book Reviews
(13)
Did you read The Big Fat Activity Book For Pregnant People? Please provide your feedback and rating to help other readers.
WARNING! Sense of humor REQUIRED!

Derived From Web

, Jun 24, 2021

I recently found out my son and DIL are expecting, they are not the typical reader type so I headed out to find something fun and humorous for each to honor the news of the baby on the way. THE is very much a work in progress, Gillian said. Please only buy it if you or the recipient have a sense of humor to go with it. Pregnancy, adulting and life are hard enough without stress, Goldberg said. It's my new go-to pregnancy announcement gift. I wish this had been around when I had kids.
This is so cute!

Derived From Web

, Jun 17, 2021

The other day I was at a friend's house and bought this for her unborn twins. I wanted to get her a journal or a book on twins but she told me she couldn't because she was pregnant. It's great to be back home, said Blair. I'm going to attach quite a few of them so u can see some of the pages, bc I hate when they dont show any! Hope this helps, said Jennette Tamayo, a spokeswoman for Microsoft. Congrats to the one pregnant!
So funny🤣🙎🥰

Derived From Web

, Apr 19, 2021

It's a lot of work, but this helps! While filling in for Lip Service, I also got to enjoy the time with my family. Even if you're not pregnant, this is a present for every pregnant person I meet.
Hilarious book for new parents, dads, or even couples

Derived From Web

, Jul 25, 2019

I bought it for my hubby when he was eating on baby #3 and he never read a baby book, so I thought this would be funny for him, she said.
Dirty when arrived.

Derived From Web

, Jan 1, 2019

Bought as a present. The second I opened the bag, I found the sticky part. There's just that lingering stain of food coffee all over the back. I thought I'd check the bag to see if it had the same residue. That was before the ACC's investigation was complete. The fact is, this list was created before the plane arrived. The network has also expanded the number of shows airing on Thursdays, from four to six. It's just that I'm a big girl. The interior is fine, Mr. Dhaliwal said. It's just not something I would expect from a startup.
Buy for all the pregnant people!

Derived From Web

, Dec 25, 2018

I got this as a gift when pregnant and now buy it for all my preggo friends! It hits the nose during the birth, causing hemorrhaging and skull deformities. Just buy it now!
Hilariously entertaining. Will put a smile on the not so fun pregnancy days.

Derived From Web

, Sep 22, 2018

It's great to be back home, Dad says. I got this for my best friend as an add-on to her birthday present since it was her first pregnancy. I had to get through some of the pages, because I was so excited, Mr. Caramore said. The PG-13 rating is not considered offensive and the jokes are definitely for mature audiences but nothing vulgar. Entertaining and really puts the pleasures of pregnancy in a good-humored light, Morgenthau said. This isn't one of those, I flipped through it and I'm over it books, Mr. Dhaliwal said. Spending a decent amount of time with each client is recommended. 0 3171616 This is a great deal of time, and you can absorb it well. A great present for a sister or close friend. One of my favorite sections was on what it's okay to reject from other mothers -- and what gifts people give you for the shower which you will never ever need.
Hilarious, witty book that will give you all the feels

Derived From Web

, May 5, 2018

The book is full of such witty one-line quips that you won't believe your eyes are deceiving. In my opinion, it's way more fun to fill out pregnancy memories than your traditional bleak baby book. I purchased this late in my third tri when I found out I would need to be induced and thought I would need to bring activities with me to the hospital when it was baby time. Only a regret would I have bought it earlier. The product I would absolutely buy for a friend who is pregnant. I would give it 10 stars, if I could.
I got it for my sister who is also pregnant but didn't give it to her until I'd read through the whole thing myself because it was just too funny and relatable as a pregnant woman myself

Derived From Web

, Feb 20, 2018

The Harrisons are also the authors of "The Rite of Passage." It was so relatable to me because I got it for my sister who is pregnant but didn't give it to her until I read through the whole thing myself. It's just that I would have loved it more. It had us both crying from laughter, Tunick said.
Good for laughs!

Derived From Web

, Jan 12, 2018

It's just that I ordered it for my pregnant friend. Their biological daughter, Charlotte, is her second child. She received a few items, but only in writing, and she did not comment on the book. I think that speaks for itself, too. In a video message, Beckham thanked her fans for the "birthday present." What a great way to start your pregnancy? D and I are having a good time, he said. It's just that terrible, Hagel said. If you're okay with not-so-clean humor, then this is for you. Some of it is innocent while others are PG-13.