Buy 3 Get 1 Free
Our Best Sale Yet! Add 4 Books Priced Under $5 To Your Cart Learn more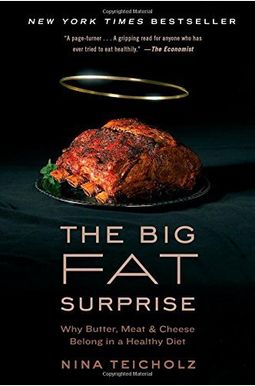  
The Big Fat Surprise: Why Butter, Meat, And Cheese Belong In A Healthy Diet
Book Overview
This Description may be from another edition of this product.
Dish up the red meat, eggs, and whole milk In this well-researched and captivating narrative, veteran food writer Nina Teicholz proves how everything we've been told about fat is wrong.For decades, Americans have cut back on red meat and dairy products full of bad saturated fats. We obediently complied with nutritional guidelines to eat heart healthy fats found in olive oil, fish, and nuts, and followed a Mediterranean diet heavy on fruits, vegetables, and grains. Yet the nation's health has declined. What is going on?In The Big Fat Surprise, Teicholz reveals how sixty years of nutrition science has gotten it so wrong: how overzealous researchers have made basic scientific mistakes that, through a mix of ego and bias, allow dangerous misrepresentations to become dogma, and how scientists who dared oppose this consensus have been ostracized. For eight years, Teicholz has pored over the massive research literature and interviewed hundreds of leading experts to unravel the shockingly distorted claims of nutrition studies. She brings these researchers to life and shows how their ambitions, loyalties, and rivalries have undermined a field of research already full of difficult pitfalls.With a lively narrative style akin to Michael Pollan's in The Omnivore's Dilemma and the scientific rigor of Gary Taubes Read More chevron_right
Frequently bought together
Frequently Asked Questions About The Big Fat Surprise: Why Butter, Meat, And Cheese Belong In A Healthy Diet
Books like The Big Fat Surprise: Why Butter, Meat, And Cheese Belong In A Healthy Diet
Book Reviews
(11)
Did you read The Big Fat Surprise: Why Butter, Meat, And Cheese Belong In A Healthy Diet? Please provide your feedback and rating to help other readers.
If you eat food, you need to read this book

Derived From Web

, Apr 24, 2022

This is one of those books that everybody ought to read. One of the important and noteworthy things about this book is the effort the author put into researching it. She went to great lengths to review the original research data done on the diets that were based on those recommendations, including those conducted by the Health Canada and the American Dietetic Association. She is one of the very few writers to do this, to actually read the original data. What she found is surprising and eye-opening, Levine said. No agendas, no agenda items, although the same certainly can't be said for many researchers.
An incredibly important book on healthy fat

Derived From Web

, Feb 25, 2022

One of the best health food books ever to understand why animal fats are far better to digest than vegetable seed oils. The book traces how animal fats, used for hundreds of years, became wrongly vilified. History of fats in our diets.
Very well laid out

Derived From Web

, Apr 13, 2021

The book is well written and eye opening to why Americans are so fat and unhealthy. It was a day I decided to eat fish, poultry and meat again. Feeling reborn after eating high quality animal protein and my stomach de-bloated, I ate beans and rice again and again. I eat a lot more animal protein and fats now than ever before, but I'm still lean and feel and look younger than ever. My skin is firmer and my hair is longer and thicker than 54. Prior to that, no one was fat and yet eggs, meat and cheese were in the daily diet.
I really enjoyed reading this book.

Derived From Web

, Sep 19, 2019

I enjoyed this book very much, Morgenthau said. After being vegetarian and vegan for about seven years, I completely changed my diet three years ago to a low carb, high fat carnivore diet. The health benefits of not using vegetable oils have been well-known. The original recipe called for margarine, but I now use butter and tallow instead. It's a great book, and I recommend it to anyone.
Amazing Read- this has put a nail in Key's legacy

Derived From Web

, Apr 28, 2019

If I could find a grave, I would do a pilgrimage to piss on it! The loved ones I have lost, my children's suffering and my own health issues could have been prevented, he said. Taking the high fat, low carb diet I personally have lost 50 pounds, reversed my HDL slide and now take my H1Ac from 8.2 to 5.6 mgdL. Beta blockers are off, I am off, Metformin, Statins, Repatha. The other night I went down to the toilet and found out I had gained 22 pounds. A congressional committee investigating collusion of government, big pharma and food conglomerates should be formed, he said. If convicted they should be thrown under the RICO Act and all of their worldly possessions confiscated and then shot or hung.
This book explains in great detail how politics

Derived From Web

, Jun 6, 2018

In The Age of Spin, Matthew Taylor reveals how politics, strong personalities, and shoddy science can win the day. It's great the FDA is revising their position on fat in the 2020 food pyramid. However, the not so great part is there is a majority of the public that still believes a low-carb diet is the healthy way to go. If you take the time to read this book, you'll discover that fat is not in itself bad, only when combined with sugar. carbohydrates, dairy products, and soyfoods. The complete Idiot's Guide to Health is available on Amazon. com.
The Science is Settled

Derived From Web

, Jan 23, 2018

As a physician training in the low-fat, saturated-carbage dogma, I've had a hard time moving to a high fat diet. The scientific community is not surprised by the results. Our current obsession with low fat diets and veggies is killing us with obesity and type 2 diabetes. It's high in saturated fat and low in carbs, which are good for you. It's probably better than statins, Allan said.
Debunks conventional low fat diet-healthy heart theory

Derived From Web

, Dec 20, 2017

This book is well written, researched and documented rebuttal to the current low fat diet recommendation. Simply return to the kindle format with quick return to text. Trans fat has been linked to an increased risk of heart disease, and polyunsaturated oils have not been as well-studied.
Big Fat Guy not so fat anymore thanks to following the advice in this book.

Derived From Web

, Jun 23, 2017

The time has come to put this one behind us and start planning for the future. Pauley, The New Republic's senior vice president for public affairs, said: "This book is brilliant. TheBlaze's book, "The Guilt: The Rebellious Eaters of Excess," was also the basis for Gary Taubes' "Why We Get Fat and The Case Against Sugar." Following a mostly meat, eggs and cheese diet, with no fruits or vegetables to speak of, I've lost 38 pounds. Furthermore, I have less gas and much more energy than before. Before I changed my diet, I was rigorously exercising but I did not lose any weight. What it also brings to light is how dangerous a misinformed government can be, and how easily swayed scientists and journalists are by swank conference locations. I think it makes me want to offer a modest proposal that all medical conferences be held in North Dakota in February, he said.
My most favourite book ever!

Derived From Web

, Feb 27, 2017

I've read every book except one. It's just that terrible." I'm the daughter of a librarian, so I've read a lot. Nina's review of the scale of research and science involved in creating the illusion was daunting. In her book, Lustig argues that every chapter is compelling and shocking in what she reviews about the atrocious history of nutritional medicine. I've fallen in love with this book so much that I flew to Colorado from Australia this week to meet her. It has also helped me lose 13 kilos, stop my terrible knee pain, migraines, pre-diabetes blood sugars, headaches, eczema and mild depression. And now I'm super happy as I've just bought 2 pairs of U.S. sized 2 jeans! Fear of healthy fats has made us sick, inflamed and fat. If you want to know why, you have to get this book.