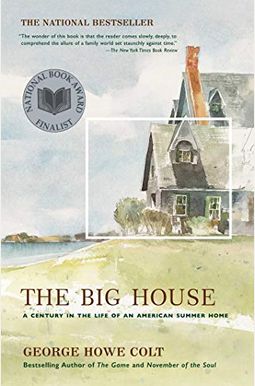 
 
The Big House: A Century In The Life Of An American Summer Home
Book Overview
National Book Award Finalist and a New York Times Notable Book of the Year
Faced with the sale of the century-old family summer house on Cape Cod where he had spent forty-two summers, George Howe Colt returned for one last stay with his wife and children. This poignant tribute to the eleven-bedroom jumble of gables, bays, and dormers that watched over weddings, divorces, deaths, anniversaries, birthdays, breakdowns, and love affairs for five generations interweaves Colt's final visit with memories of a lifetime of summers. Run-down yet romantic,
The Big House
stands not only as a cherished reminder of summer's ephemeral pleasures but also as a powerful symbol of a vanishing way of life.
Frequently Asked Questions About The Big House: A Century In The Life Of An American Summer Home
Books like The Big House: A Century In The Life Of An American Summer Home
Book Reviews
(10)
Did you read The Big House: A Century In The Life Of An American Summer Home? Please provide your feedback and rating to help other readers.
The Big House

Derived From Web

, May 28, 2022

The Big House is a story with individuals who have stayed in my head for a long time and whom I now miss that the book is finished. If you are looking for fast action and suspense, this is not the book to provide it. It is a century-long look back at an extended family that held to traditions and valued time with family at the Big House. It tells of a time when money was made quickly and patriarchs used it to provide summer places that would shelter much of the extended family and bring cousins who otherwise remained strangers into yearly sharing of lives and experiences. It continues to this day, when the heirs to the Big House struggled and sacrificed to preserve ownership and upkeep on a cherished place that fell into disrepair and money was no longer plentiful. I enjoyed the style of George Colt's writing and loved every page.
Historical novel, only real, beautifully written

Derived From Web

, May 28, 2022

I grew up on the Jersey Shore for part of every summer, socially and economically separate from the Colts and their Big House. But the author evokes many childhood memories of times that to me were certainly more innocent. He speaks of wanting to be a poet and he writes poetically about the old house and its occupants. I was feeling as if I knew the place so well, but still somehow mystified by some people. This is as it should be, since most of them knew mainly from the child's point of view. One thing he does remarkably well is describes a child's growing knowledge of what grown ups are really like and how he felt about it. The book reads like a beautiful old family saga book, one that I am very glad to have read and highly recommends to others.
Interesting family story and introduction to New England history

Derived From Web

, May 28, 2022

The Big House was a fun read in the summer. I did not know much about Cape Cod and enjoyed thoroughly the snippets of area history that included in the story. I found that the summers spent in New England were not much different from my summers on the Jersey Shore. These similarities, quite happily, sparked remembrances of my own that I have not thought about in a long time and have encouraged me to make sure my children have great summer memories that they can recall when they are older. While I found some parts of the book quite depressing, especially as they coincided with the end of the summer, it was still a good read and an easy primer for some New England social history.
Well written but not for me

Derived From Web

, May 28, 2022

I did not like it. I give it three stars because I recognize that my opinion about the book is personal. It was simply not a subject in which I was interested, as it turned out. The house is really the main character and did not work for me. But other people in my book club loved it so that you might too. It was just not for me.
An amazing book

Derived From Web

, May 28, 2022

One of the best, most beautiful memoirs I have ever written.
Nostalgic memoir of Old Cape Cod

Derived From Web

, May 28, 2022

This book is a great read for anyone who loves summers on the beach, honors family history and wonders what summering used to mean for people with old money. We loved the book so much that we bought another copy for relatives.
great

Derived From Web

, May 28, 2022

Yes, I think there is a certain amount of gold in the eyes.
Too Much Of A Good Thing

Derived From Web

, Sep 9, 2018

Holt is a talented writer without question. I am always a sucker for a well-struck phrase and acute observation, which is why I slogged through this overly-long and detailed tome. About half way through the book, it occurred to me that he should have saved the long version for his extended family and taken a red pencil to the published work, and kept wondering if there were maps, photos, blueprints, or a family tree in the print version. I would have appreciated it all, because at times I felt like I was reading a Russian novel, I love the concept of the book and appreciate the intricacies of the story. A little more editing would have helped me to be able to recommend it.
Such a great read. It did leave me wondering if the ...

Derived From Web

, Apr 25, 2018

Such a great read! It did leave me wondering if the family members felt that they were on vacation while using the house and did not pay as much attention to work that needed to be done over the years. And is the old Yankee habit of assessing it and save it, making it only an excuse not to spend the time to evaluate what is there and cataloguedonatepitch things???. It is whatever it is amazing that a large home could keep a great home in a piece and in their possession for nearly 100 years. I have to give them back to them.
Quality product

Derived From Web

, Oct 22, 2017

I got this Swiss Army knife for my husband, whose other was lost. He really loves it and is very happy that I have given him this model.