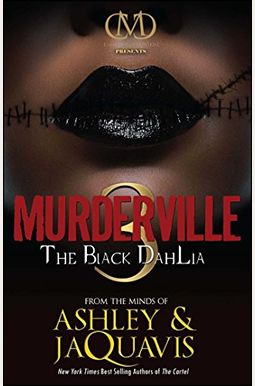 
 
Book Overview
In this final installment of The Murderville saga, Ashley and JaQuavis bring you the grit, treachery, and street perspective that they have become legendary for.
This thrilling page-turner introduces the story of the black Dahlia and her bloodstained ascent to power. After establishing a connection with The Five Families, Dahlia becomes literally untouchable. Her brazen tactics and mafia-style antics become infamous and she is set to take over the country's black market. But there is only one thing still standing in her way - she is a woman. The competition doesn't respect her so Dahlia sets out on a bloody mission to ensure the protection of her new kingdom. Liberty has relocated to her hometown only to get a knock on the door by a man she hasn't seen in years. She reacquaints herself with the past and gets connected with some of the biggest bosses in the country. When fate brings her face-to-face with Dahlia, who will end up victorious? Will Dahlia's newfound power make her invincible? Or, will Liberty finally get the revenge she deserves? What happens next is the most shocking ending that Ashley & JaQuavis have ever created. This is storytelling at its greatest. Welcome to Murderville 3: the Black Dahlia.
Frequently Asked Questions About The Black Dahlia

Books like The Black Dahlia
Book Reviews
(9)
Did you read The Black Dahlia? Please provide your feedback and rating to help other readers.
Fatal Flaws

Derived From Web

, Feb 18, 2022

Oh wow! All the characters were tied together in this last book. Human fatals flaws are shown and consequences are shown. When one of the characters was eliminated, you almost felt like you were getting justice. Betrayal between a man and a woman is a subject that interests people. There are betrayals that prove too much for the main character and in the end she made a choice that would ensure her happiness. This is more than just a story about drug trade, it is a story about how this illegal enterprise will destroy all who decide to join. One can never win in the end. All can be replaced if expendable.
Good Read

Derived From Web

, Feb 18, 2022

I just finished reading a novel. It wasn't as good as part 1 but I enjoyed it more than part 2. I'm happy that the series was not dragged out for another one. Po was a weak man and couldn't match the strength of Asha'i. I didn't like the fact that everyone was tricked by Dahlia, I was wondering if she was really all that. They said at the beginning of the book that Liberty didn't need to steal from Po because she had enough money. Liberty thought that she might need to go back to school or get a job after they all got back to Detroit. The ending shows that good can triumph over evil and that Liberty got the happiness she deserved.
Another Great Read!!!

Derived From Web

, Feb 18, 2022

They have done it again. Baron is in the states looking for answers to the death of A' shai. Baron is ready to leave, but Liberty wants him to plug Po and Rocko with his drug connections. She still feels like she owes Po something, even after all the drama he has put her through. Dahila ends up paying the ultimate price as her greed finally catches up with her. Liberty finds a happy ending with Rocko, who has always had feelings for her, when the dust settles. Can't wait to read part 4. It was!
It Was Cool

Derived From Web

, Feb 18, 2022

Dahlia is a beast and is reckless and raunchy. I didn't like the fact that people back from Africa sided with her, but in the end, she met up with another woman named Karma. The whole Liberty and Po thing was a mess and she got with a boy on the rebound, but they never thought to cross paths like that until they were put in that situation with the African people. I love how AandJ tie their characters from their different books together!
Simply Excellant

Derived From Web

, Feb 18, 2022

I love the Authors, they are so creative. I was on the end of my chair because of this story. Something I haven't done in a long time is what the two people have me read. Liberty's story was very sad. The betrayal by her cousin was out of place. I would love to see this in a movie. Hollywood doesn't get to see these stories and the authors. I hate when the book ends.
A breathtaking read!

Derived From Web

, Feb 18, 2022

I was worried that this book wouldn't live up to the previous ones after reading some of the reviews. This was the end of the Murderville trilogy and it was amazing. The book was very good. This was five stars all day. I didn't want a character to get all of the destruction that she did. This booktrilogy is a classic. Cash Money Content is taking a long time to release.
Not a good Finale

Derived From Web

, Feb 18, 2022

The series was predictable and it was drifting off. I don't like how they had Liberty switch sides. I don't like how she died suddenly after her build up from the last book. They brought together the Cartel, Dopfiend and Supreme Clientele series. For a finale, this book was not good.
Not for men

Derived From Web

, Jun 9, 2020

My husband didn't like what the book was about. He was disrturbed. It was delivered quickly. I think it's not for men.
Was returned

Derived From Web

, Jan 11, 2020

The receiver was transferred and the facility couldn't accept Amazon. I had to order from Barnes and Noble.