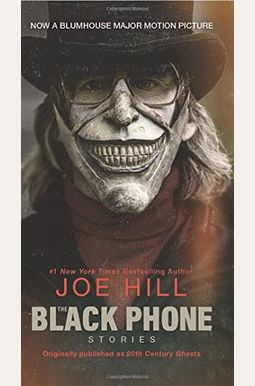 
 
The Black Phone [Movie Tie-In]: Stories
Frequently Asked Questions About The Black Phone [Movie Tie-In]: Stories
Book Reviews
(10)
Did you read The Black Phone [Movie Tie-In]: Stories? Please provide your feedback and rating to help other readers.
Meh

Derived From Web

, Apr 25, 2022

The young man who was abducted was an appealing character, and I was rooting for him to escape the danger he'd gotten into, Levine said. The setting was well-described and the room where the victim was stashed was almost as eerie as the book. It started out really grabbing my attention and making me want to know what's next, Sosa said. The ending.. left me a little cold, Mr. Snow said. The bad guy didn't get everything he deserved, Blair said. Leaving aside attorney fees, I was left with too many questions. Letting a reader come to his own conclusions is one thing, but this story just stopped. It will probably be awhile before I try another of his singles, I think.
One of many good ones from this author!

Derived From Web

, Apr 25, 2022

He added: "I congratulate Joe for having separated his collection into smaller, bite-size pieces which can be consumed in a short period of time." I look forward to reading more of the stand-alone stories from this collection, he said.
The Hill/King "Touch"

Derived From Web

, Apr 25, 2022

Short story material is finding new distribution methods thanks to librarians and Amazon. com. Only a handful of short stories have survived the test. If Kindle can successfully distribute short fiction and people will buy it, then more authors will work within the genre, he said. Joe HIll's The Black Phone is not the best short story I've ever read. It wasn't something that my mind returned to over and over again, he said. It was a mix-up, Mr. Rule told the judge. It was part of a collection and I'm sure it served its purpose. Yes, technically Hill is a King.
Great book

Derived From Web

, Mar 21, 2022

If you enjoy reading horror this will have you hooked in no time. There are so many different stories to tell, I love how they all come together. It's just that good.
It's not an actual novel.

Derived From Web

, Mar 20, 2022

The cover and the accompanying synopsis are deceptive. The book is 399 pages, and the accompanying story is 30 pages long. Definitely recommend it to friends and family.
RE-DO OF "20TH CENTURY GHOSTS"

Derived From Web

, Feb 22, 2022

I've read everything by Joe Hill, just as I have read everything by Stephen King. You won't find Hill's writing again until you finish your book. If you haven't read Dr. Goin's Weather Strange, I suggest you do so immediately. The last story is Weather Strange will haunt you. In this eclectic collection of short stories Hill runs from horror to sweet. I thoroughly enjoyed this book as I have enjoyed everything [Hill] has written.
Lazy and boring

Derived From Web

, Feb 12, 2022

Like most people, I saw this and with the movie coming out, I thought it would be an interesting read. However, I must admit that the Black Phone is only a 20 page short story, and after reading that story, I will be waiting for it on Netflix. The other stories are all poor to mediocre, and really lack any true imagination, Hubach said. No wonder Die Hard 3 has received so many "no plot, depth or conclusion" complaints. I truly feel that this is what reading 6th grade stories written by students were to do to begin with, can feel like a fifth-grade teacher. It's truly elementary level writing, McBride said. Needless to say, I cannot recommend this book, as it is one of the worst books I have ever had the misfortune of reading. Joe has no father's skill or imagination.
Great short stories!

Derived From Web

, Jan 31, 2022

I love Joe Hill's work and his father's, Taylor said. If I didn't have this book, I wouldn't have blown through it within two days because I couldn't put it down. I think everyone will enjoy them if you're a fan of spooky things or not.
My first introduction to Joe Hill.

Derived From Web

, Jan 15, 2022

Joe Hill was very good. And when I say good that's not in a criticism of his writing -- Hill's anthology of stories is like any collection of stories. Overall, I enjoyed reading the book, even if I couldn't read all the stories.
Hear the phone ringing?

Derived From Web

, Feb 27, 2020

OMG! What a great day! The writing of this story makes you feel like you are there in tjis basement room with all the dead children this terrible man has already killed there. You are very glad to get to the end to see what happens to this horrible character. Joe Hill did not disappoint you.