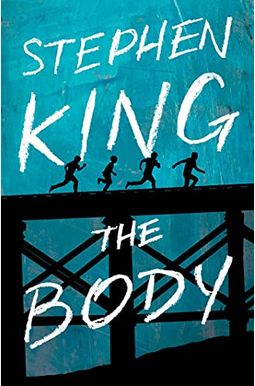 
 
Book Overview
Set in the fictional town of Castle Rock, Maine
#1 New York Times bestselling author Stephen King's timeless novella The Body--originally published in his 1982 short story collection Different Seasons, and adapted into the 1986 film classic Stand by Me--is now available as a stand-alone publication.
It's 1960 in the fictional town of Castle Rock, Maine. Ray Brower, a boy from a nearby town, has disappeared, and twelve-year-old Gordie Lachance and his three friends set out on a quest to find his body along the railroad tracks. During the course of their journey, Gordie, Chris Chambers, Teddy Duchamp, and Vern Tessio come to terms with death and the harsh truths of growing up in a small factory town that doesn't offer much in the way of a future. A timeless exploration of the loneliness and isolation of young adulthood, Stephen King's
The Body
is an iconic, unforgettable, coming-of-age story.
Frequently bought together
Frequently Asked Questions About The Body

Book Reviews
(12)
Did you read The Body? Please provide your feedback and rating to help other readers.
NOT by Stephen King

Derived From Web

, Apr 20, 2022

This story is a children's book version, retold by a different author. It's just that the writer never said it in the description. See the photo of the star on the left.
Not Typical Steven King

Derived From Web

, Feb 23, 2022

This is, as usual, well written and an easy read, too. Rather, it's a collection of short stories, some of which are fiction. A young couple growing up in the 1950s. It was also made into a movie titled Stand By Me. It featured many young actors who went on to become well known.
Surprised by adult content

Derived From Web

, Feb 10, 2021

I'm so glad I read it before giving it to her because there were some very graphic sexual scenes that weren't in the movie, Taylor said. In a generous gesture of uncharacteristic compassion, I found that part very unnecessary and irrelevant to the plot.
Movie Based On this Book

Derived From Web

, Jan 6, 2021

Based on the book by the same name, the movie "Stand By Me" was also loosely based on the real life story. Stephen King has that one or two sex scenes, I'm not saying they were all bad. My son absolutely loved the movie and we are a family that prefers books. And, just about everything about "Ready Player One" made the movie better, even the sex scenes written into the books.
Wowed

Derived From Web

, Sep 22, 2020

I was 8 when the show came out. I still love that movie, Taylor said. I always wish I had such good friends as Gordy or Chris. The ending really sucks and seems so unfair but such is life, Beckham said. I'm glad I got to see the movie before I read the book because, as always, the book is so much better.
Not a King fan, but love this book. It's a must read, your psyche will thank you and crave more.

Derived From Web

, Aug 14, 2020

I've never been a huge Stephen King fan, but I was intrigued by the movie Stand by Me. The book is truly amazing, Rowling said. I fell in love with the writing and couldn't put it down. The author elicits deep and long-lasting emotions that are difficult to describe. Even if we take the time to read the entire book, it's far greater than the movie. The difference is that this case involves a lot more depth, feeling, and energy. You, the reader, are there with the boys, you know their life's struggles, you understand, because you can relate, deeply. The book is also available on Amazon. com: "American Masters: The Making of Reagan's America."
Amazing novella!

Derived From Web

, Mar 14, 2019

This was the first time I've ever read anything by Stephen King. Of course, I have seen the movie version of The Body, Stand By Me many times. The novella is ten times better.
Excited to read!

Derived From Web

, Feb 18, 2019

The item was delivered within two days of ordering and in perfect condition, it said. I'm delighted to add this to my home library, Mr. Dhaliwal said.
Just a condensed version

Derived From Web

, Nov 10, 2018

Stephen King is one of the greats. I've read the story before so paying for it again under a new title is a no brainer, Mr. Hughes said. The way it is advertised is misleading, McBride said. I would love to be able to get my money back, Mr. Caramore said.
Stephen King at his best

Derived From Web

, Sep 28, 2018

It introduces you to a gang of misfits and you get to slowly know them as they search for another boy's body in the woods. Hope I didn't spoil it for you, but their adventure explores their past and present in the Stephen King way and you root for them throughout their trip. I really care about them and hope for the best. It was a great show, said Blair.