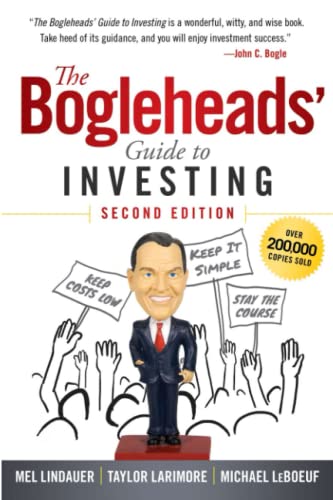  
The Bogleheads' Guide to Investing
Frequently Asked Questions About The Bogleheads' Guide to Investing
Book Reviews
(15)
Did you read The Bogleheads' Guide to Investing? Please provide your feedback and rating to help other readers.
Graham's "The Intelligent Investor". Between the three of them they teach ...

Derived From Web

, Apr 22, 2022

Fisher's Common Stocks and Uncommon Profits, and Graham's The Intelligent Investor round out the category. The three styles of investing will help you learn how to make successful long-term investments, minimize risk, analyze stocks more accurately and avoid speculation, he said. Overall this book is a great introductory book, especially for someone coming to the market with no prior marketing experience.
It is clearly written and easy to understand

Derived From Web

, Apr 22, 2022

If you want to learn how to do your own investing, using a long-term strategy, this is the book for you. The concepts are time-proven and easy to implement, making them an attractive option for businesses. I have read a lot of books on this subject, but this one stands out. Simply post your financial questions on the bogleheads website and get an answer. The secret to good investing is buying index funds with low fees, diversifying and using an asset allocation that corresponds to the amount of time before your retirement, he said. Good investing should be pretty boring - buy and hold, occasionally rebalance, ho hum, Raymond said. Confidence is the key to success. Good investing is not the roller coaster ride of buying and selling individual stocks, he said. It's just that they call it quits."
Life changing

Derived From Web

, May 31, 2021

It helped me to formulate a foundational investment strategy, he said. Thank you for equipping me with the essential tools to go forth on my own investment journey, he wrote.
A must read for you, your family, and your friends

Derived From Web

, May 19, 2021

I repurchased this book for myself as a gift, not knowing what condition it was in. Anyone serious about getting their retirement situation together or looking to start earning investment income will find this a must read. It's very accessible and I've given it as a present to friends and family who need investment guidance." They all have needed investment guidance to eliminate what they've been told by the TV and greedy banks. 100% of the time, I feel confident in managing my own money, he said. Thanks to this book, we were able to do all of this, Rowling said.
Excellent book and advice for anyone starting out. This is not a get rich-quick scam.

Derived From Web

, Apr 7, 2021

Young people need to be taught how to become responsible adults and how to properly manage their money, he said. It would save trillions of dollars and help them secure their finances for the future. Before you can read this book, you must have deposited a minimum of $1. Don't spend your first paycheck on a book. It is very common sense advice that for whatever reason escapes most of us. It is very biased toward Vanguard, but once you understand the advantage of no-load low-expense funds you will be too biased. Buy him a cup of coffee, but don't give him your money, Mr. Book advised.
Don't buy for a child to read

Derived From Web

, Feb 16, 2021

I bought the book for my son because his interest in stocks was piqued and although I am reading it with him it is too advance.
A One Stop Shop for Learning About Investing

Derived From Web

, Jun 2, 2020

He said he was fortunate to come across the Bogleheads in his late 20s and they had been a tremendous resource in helping him set up his investment strategy. But this is all in this easy to read book, written by Peter Lynch and John Hennigan, and now available from Beacon Hill Financial. Anyone new to investing or just needing a refresher course can find this book to be a great resource.
Right to the point

Derived From Web

, Jan 31, 2020

Financial guru Robert Kiyosaki, who has done extensive work with Warren Buffett, said he has read many personal finance books. This is by far the best Call of Duty video. Good explanation, too, of the charges. No wonder people are talking about the Beckhams.
Great Tips

Derived From Web

, Apr 7, 2019

The book details many of the pitfalls of investing. They point out that things to watch out for and to consider based on different investment goals. The book took away much of the mystery and behind-the-scenes investment in a way that is easy to understand. They are not selling any particular product, although they do mention Vanguard as an option, they also mention other alternatives and the types of investment vehicles to look for. I highly recommend this book to anyone who is just starting out in investment and doesn't know where to start.
Incredible book for learning advice is relevant but not always applicable

Derived From Web

, Mar 27, 2019

You can't always follow the advice in this book, even if it does teach you about personal investing, Raymond said. He was the architect of the mutual fund, which later became known as the Vanguard Group. A great company by all means, but there's also a high bottom line for investments, he said. However, the advice is still applicable for other companies such as fidelity, that do let people like myself invest with a low minimum.