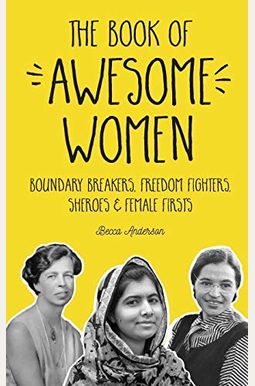 
 
The Book Of Awesome Women: Boundary Breakers, Freedom Fighters, Sheroes And Female Firsts (Teenage Girl Gift Ages 13-17)
Book Overview
Get Inspired By The Powerful Sheroes In This Feminist Collection Of Short Biographies

This book is an antidote to the erasure of women from our history.―Vicki Leon, author of Uppity Women of Ancient Times
#1 Best Seller in Teen & Young Adult Social Activist Biographies, Sociology, and Self-Esteem & Self-Reliance
Discover some of the most awesome women in history. Now is the time to acknowledge the greatness of women
Sheroes. Women hold up half the sky and, most days, do even more of the heavy lifting including childbearing and child-rearing. All after a long day at the office. Women have always been strong, true sheroes, oftentimes unacknowledged. As we shake off the last traces of a major patriarchal hangover, women are coming into their own. In the 21st Century, all women can fully embrace their fiery fempower and celebrate their no-holds-barred individuality. It is time to acknowledge the successful women of the world.
Super women as female role models. From the foremothers who blazed trails and broke barriers, to today's women warriors from sports, science, cyberspace, city hall, the lecture hall, and the silver screen, The Book of Awesome Women paints 200 portraits of powerful and inspiring role models for women and girls poised to become super women of the Read More chevron_right
Frequently Asked Questions About The Book Of Awesome Women: Boundary Breakers, Freedom Fighters, Sheroes And Female Firsts (Teenage Girl Gift Ages 13-17)
Books like The Book Of Awesome Women: Boundary Breakers, Freedom Fighters, Sheroes And Female Firsts (Teenage Girl Gift Ages 13-17)
Book Reviews
(7)
Did you read The Book Of Awesome Women: Boundary Breakers, Freedom Fighters, Sheroes And Female Firsts (Teenage Girl Gift Ages 13-17)? Please provide your feedback and rating to help other readers.
Too much: banal info overload with no depth, the writing style is exhausting

Derived From Web

, Mar 1, 2021

It is hard to take seriously a book like this, but I tried. The book is a breathy gossip column style. Mother Jones, the co-founder of the Industrial Workers of the World, is now known as Mo Rising Jo and she is allocated equal text with Yoko Ono. Former tennis great Martina Navratilova, who was named the best player of the year for 30 years, receives a paragraph of text dealing with her sexuality. It also includes some of the book's most inventive and original titles, including "shero," "femtastic," "herstory" and "herstory." I bought this book for my teenager and after reading it, I decided it was too banal for a teenager. I give it one star for me to a couple of news-to-me historic figures, introducing the Night Witches, World War II's most feared air raiders.
Has some adult content but in all is a good book

Derived From Web

, Jan 12, 2020

I got this book for my 12 year old niece. I like how it's written in sections. However, there are some racy content in it that if I had known about it I would have reconsidered. So I just bookmarked past the beginning and told her it was boring introduction stuff and hoped for the best, Mr. D.L.A. The rest of the book was pretty good, too, he said.
Great Gift

Derived From Web

, Jan 10, 2020

It was a present from my mother. Blair said Jennette had really enjoyed the experience. The book is a collection of informational and inspirational stories. It doesn't necessarily have to be read back to back, Rodale said.
Very good read!

Derived From Web

, Sep 12, 2019

It was a Christmas present from my niece and she absolutely loves it. It's very informative and educational while keeping the mind occupied of a 10 year old.
Inspiring

Derived From Web

, Oct 16, 2018

Loved the book, said Pauley. So many awesome women in it, so many more awesome women than i ever could have imagined. It's great to have my girls read it.
Buy this book for every girl or woman you know!

Derived From Web

, Oct 10, 2018

This book is very good. I thought I knew about a lot of strong women, but I still found a lot to learn. It was uplifting to know that so many of my team members have made such important contributions to this country, Mr. Kennedy said. We don't know everything about this, Rumsfeld said.
Excellent

Derived From Web

, Jun 19, 2018

As with any role model, success requires both inspiration and empowerment. A look at the lives of dynamic, adventurous and creative women throughout the world. Pauley, Jr., praised the book.