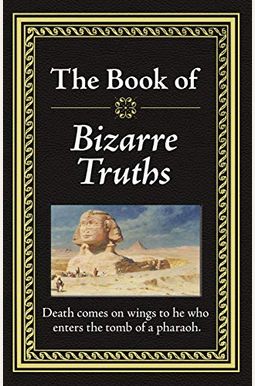 
 
The Book Of Bizarre Truths
Book Overview
The Book of Bizarre Truths is a 704-page collection of answers to hundreds of provocative questions covering a vast range of topics, from the strange to the sublime.
Includes urban legends, old wives tales, misattributed quotes, and corrected so-called facts and trivia that have gained authenticity despite less-than-reliable sources.
Topics covered include the animal kingdom, health, origins, traditions, science, history, geography, sports, people, and food.
More than 200 questions that are answered, including:

Do cows cause global warming?
How many ants make a full meal for an anteater?
How late is fashionably late?
What s the smelliest thing on the planet?
Do woodpeckers get headaches?
The Book of Bizarre Truths
is for readers who expect to be informed, entertained, and humored.
Frequently Asked Questions About The Book Of Bizarre Truths
Book Reviews
(8)
Did you read The Book Of Bizarre Truths? Please provide your feedback and rating to help other readers.
Informative and good quality

Derived From Web

, Jul 25, 2021

Bought this for my dad, who is into reading about history and odd facts. He said that this covers a wide variety of topics that were interesting and that the book itself was of good quality. I believe he said that it is a leather type of material, I am considering getting one myself because of how much he liked it!
A MUST BUY!!!!!!!

Derived From Web

, Jul 10, 2021

I've got the schedule for my father because he is extremely difficult to buy. Plan on buying all the books in the series.
Beautiful Book & Lots of interesting information! A must have for the curious

Derived From Web

, Jun 23, 2021

I am so excited to read more of this book and order some of the other books in this collection. The quality and size of this book surprised me, I never expected it to be this thick or such a beautiful book, since it was so cheap!
Well worth the $12! Great coffee table/waiting room reading

Derived From Web

, Feb 28, 2020

They make a whole bunch of these books and I have bought them for my dad and my brother.
Fun Books.

Derived From Web

, Jan 26, 2020

Very fun books... second one I bought for my hubby. He likes it there. The only thing is that binding is really done cheaply so that you can handle it with care.
Well Worth The Price.

Derived From Web

, Dec 28, 2019

Abond received this book pleasantly surprised with the size and quality of it. The price would have been considerably higher, I would have expected. Well, what is the purchase price?
Interesting book, but far too cheaply made.

Derived From Web

, Dec 20, 2019

Damaged not due to shipping. The pages are unnecessarily thinnish, the binding is weak and the covering material even for this low price feels too cheap. You can find comparative products at barns and noble for $10 that may have less material inside, but are made somewhat better and have a more appealing, thicker and deeper textures. However, I gave this three stars because contents are ultimately the most important thing to do. From what little I saw, the book did appear comical and interesting, definitely worth a skim if it was better made and could actually survive reading, which I was doubtful about.
I've got at least 8... maybe TEN ...

Derived From Web

, Jan 17, 2018

I've received at least 8... maybe TEN in the series. I bought this one because of what the product description says : The Book of Proseprations is a 708-page collection of answers to hundreds of bizarre questions encompassing a wide range of topics. The book's writers inform us about everything from the mysterious to the sublime. Including urban legends, old wives - stories and misidentified quotations. They are so-called facts and trivia that despite being less-reliable sources have gained authenticity. Humorous illustrations improve the stories. In these pages, every reader should find something of interest.