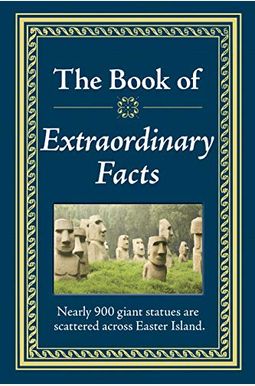 
 
The Book of Extraordinary Facts
Book Overview
This gargantuan, 704-page hardcover book is chock-full of that information and more, covering pop culture, nature, technology, food, sports, art, history, religion, crime, and tales of the just plain weird. Learn about the strange collaboration between surrealist painter Salvador Dal and comedy icon Harpo Marx. Read about what it was like to live during the London Blitz, and debunk popular urban legends. Get lassoed into facts about fascinating wedding customs around the world, and discover the reason behind one of the deadliest fires in American history.
What Hollywood star used her twin sister as her body double in a film? How do card sharks mark a deck? Where in California can you find the world s oldest living tree? Which U.S. president spent some pre-politics time as a male model?
Prepared to get lost perusing page after page of unusual facts, enthralling stories, and amusing anecdotes because The Book of Extraordinary Facts will keep you busy for hours
Frequently bought together
Frequently Asked Questions About The Book of Extraordinary Facts
Book Reviews
(9)
Did you read The Book of Extraordinary Facts? Please provide your feedback and rating to help other readers.
Cool book

Derived From Web

, Feb 2, 2022

I gave this book as a gift to my husband ; he loves it. It has interesting pictures and lots of cool facts.
Fun Reading

Derived From Web

, Jan 18, 2022

I bought this book and several others by the same company and we have had fun reading about all the explosion of facts in them. The information is interesting and entertaining and they make a beautiful coffee table book. Also nicely made :
Gift given

Derived From Web

, Dec 30, 2021

I got this book for my step-dad for Christmas. He has Alzheimer's, but is able to read. He put the book right away and opened it not. He had fun quizzing us on facts and especially considering his dx, I think he enjoyed knowing things that we did not.
Good book, poor quality paper

Derived From Web

, Sep 24, 2021

They are great books to keep for overnight guests in a guest room. But the paper they used for the sides is very thick and coarse and an odd choice for a book.
i bought these to help fill a bookshelf

Derived From Web

, Jul 22, 2021

So far, they fill the shelf well... as far as the information is concerned, I find several bits of misinformation... the price is fair, the quality is right, and as i said, they help me fill my shelf nicely.
Great gift!

Derived From Web

, Nov 11, 2019

For his birthday, I bought it for my father. He stayed up late reading it, reading portions out loud and bringing it up to several people. This was a hit for a 70+ year old man who can buy anything he wants!
Found an error, hope there's no others

Derived From Web

, Aug 30, 2019

I have started reading the book just, I enjoy reading articles of a trivial type. I found only page 15 and gotten a factual error. I hope it is only a short error because I have also purchased 2 other similar books. It would be disappointing to find that the author has not verified his facts.
It would appear not all of their "facts" are factual

Derived From Web

, Aug 25, 2019

I haven 't read the two books I bought from this series completely. But I found them briefly and browsed a few facts that don 't seem to be facts at all. We're told that it is illegal to hunt whales in Oklahoma. I found this fact and googled an Oklahoma attorney's law page. He explained that it is a myth and is not a law in Oklahoma. According to National Geographic, the Mantis can turn 180 degrees its head. Who is right? The Oklahoma lawyer and national geographic or the extraordinary knowledge and unusual facts books I have browsed? For ten bucks, I guess they're funny reading if you have a few minutes to kill.
Great Gift for a man

Derived From Web

, Mar 1, 2019

This year I decided to buy each of them different books that contained facts about which they might enjoy reading. This was a surprising and successful gift. They both seemed to enjoy the surprise, if nothing else. P.S. : These were their extra gifts. I would recommend this product highly.