Buy 3 Get 1 Free
Ends Soon! Buy 3 Books Under $5, Get a 4th one Free.      Learn more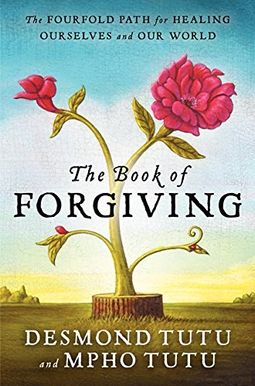 
 
The Book Of Forgiving: The Fourfold Path For Healing Ourselves And Our World
Book Overview
Archbishop Desmond Tutu, Nobel Peace Prize winner, Chair of The Elders, and Chair of South Africa's Truth and Reconciliation Commission, along with his daughter, the Reverend Mpho Tutu, offer a manual on the art of forgiveness--helping us to realize that we are all capable of healing and transformation.
Tutu's role as the Chair of the Truth and Reconciliation Commission taught him much about forgiveness. If you asked anyone what they thought was going to happen to South Africa after apartheid, almost universally it was predicted that the country would be devastated by a comprehensive bloodbath. Yet, instead of revenge and retribution, this new nation chose to tread the difficult path of confession, forgiveness, and reconciliation.
Each of us has a deep need to forgive and to be forgiven. After much reflection on the process of forgiveness, Tutu has seen that there are four important steps to healing: Admitting the wrong and acknowledging the harm; Telling one's story and witnessing the anguish; Asking for forgiveness and granting forgiveness; and renewing or releasing the relationship. Forgiveness is hard work. Sometimes it even feels like an impossible task. But it is only through walking this fourfold path that Tutu says we can free ourselves of the endless and unyielding cycle of pain and retribution. The Book of Forgiving is both a touchstone and a tool, offering Tutu's wise advice and showing the way to experience forgiveness. Ultimately, forgiving is the only means we have to heal ourselves and our aching world.
Frequently bought together
Frequently Asked Questions About The Book Of Forgiving: The Fourfold Path For Healing Ourselves And Our World
Books like The Book Of Forgiving: The Fourfold Path For Healing Ourselves And Our World
Book Reviews
(12)
Did you read The Book Of Forgiving: The Fourfold Path For Healing Ourselves And Our World? Please provide your feedback and rating to help other readers.
I'll be re-reading this wonderful book. The Tutu's have a wonderful way to ...

Derived From Web

, Apr 20, 2022

As I struggle with my past, this book has opened my eyes that forgiveness is possible for me, she writes. I have never seen or thought about forgiving myself as part of that history. I so desperately want forgiveness from my daughter for being so mean to her when she was growing up, Raymond said. My anger became her anger, and now we rarely speak. Many of the book's readers have overcome their demons and received forgiveness from themselves and their victims. Truly and eye-opener book to know I don't struggle along. I'll be re-reading it. The Tutus have a wonderful way of presenting the process of forgiveness, Raymond said. If you need help with forgiveness or you simply want to talk to someone face-to-face, this is the place to start. I wish I had known of this book years ago and maybe my struggles wouldn't have consumed me for so long, he said.
Difficult and profound

Derived From Web

, Apr 20, 2022

It's not easy to book a room at this hotel. The stories and path of forgiveness described us to be brutally honest with ourselves and our relationships but especially with our own heart for this difficult work of forgiveness, Raymond said. At first, I found the stories here related to be so full of horrendous acts of violence that it was difficult for me to relate to and therefore apply the lessons being taught. However, the wisdom of the elders can be applied to all situations calling for forgiveness.
Inspirational

Derived From Web

, Apr 20, 2022

The style of writing is long and run-on. The stories themselves are inspirational, McBride said. But it is hard to relate to the degree of involved and who you need to be forgiven at this scale of injustice. As long as you are a patient reader, I think you will enjoy the stories, said Dr. Caralee. Yes, I did.
Ordered the audio version because I love the narration & voices

Derived From Web

, Apr 20, 2022

Ordered the audiobook version because I love the narration and voices.
Excellent advice from a true "expert"

Derived From Web

, Apr 20, 2022

The book provides an ideal paradigm for dealing with the most important aspect of a life well-lived--how to practice forgiveness. As one who has studied and written about forgiveness, I heartily recommend this book by the Tutus. A book to read and re-read.
Very helpful guidebook for what can be a difficult and long process.

Derived From Web

, Apr 20, 2022

Explains how people have been able to forgive unspeakable wrongs. He also tells us how forgiveness has blessed them both personally and professionally.
Everyone needs to read/listen to this book!

Derived From Web

, May 30, 2021

I think this book is amazing and provides a lot of prospective on how important forgiveness is, especially now a days when there is so much anger and contention in the world, said Dr. Julie Gerberding. Sir Richard was a passionate advocate for the arts and culture. The book is also available in hardback, priced at $27.95. If you get the audible part, Tutu is the narrator.
A four-step plan for forgiving

Derived From Web

, Jan 16, 2019

In a letter to the editor, Tutu and his daughter Mpho Tutu wrote, "Because we are human, some of our interactions will go wrong, and then we will hurt or be hurt, or both." Tutu outlines a Fourfold Path of forgiving Tell the Story, Name the Hurt, Grant Forgiveness and Renew or Release the Relationship. The person who injured us also has a story, Tutu writes. They have wounded us because they have stood inside their own story and acted out of pain, shame, or ignorance, Rumsfeld said. The Vatican has said the two leaders have ignored our shared humanity. He added: "When we see pain in this way, we are able to see our common bond.
Free at last!

Derived From Web

, Dec 21, 2018

It has been given as gifts to three other people. The book changed my life forever, he said. If you need to forgive but don't know where to begin, this book is for you. It will set you free.
Love this book!

Derived From Web

, Nov 25, 2017

This book is awesome, it helped me immensely, said Jennette. The approach is and takes you through a step-by-step journaling process to lead you to a place of empathy, understanding, and ultimately... forgiveness. I have managed to rebuild a relationship with my Ex.. albeit a different type of relationship. Freedom, happiness, all the while keeping my pride. Try the book, and you may find what you're looking for.