Buy 3 Get 1 Free
Our Best Sale Yet! Add 4 Books Priced Under $5 To Your Cart     Learn more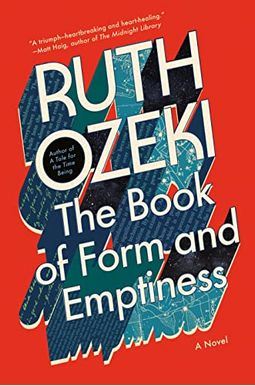  
The Book Of Form And Emptiness
Book Overview
Heart-breaking and heart-healing--The Book of Form and Emptiness is a triumph. --Matt Haig, New York Times bestselling author of The Midnight Library
A brilliantly inventive novel about loss, growing up, and our relationship with things
One year after the death of his beloved musician father, thirteen-year-old Benny Oh begins to hear voices. The voices belong to the things in his house--a sneaker, a broken Christmas ornament, a piece of wilted lettuce. Although Benny doesn't understand what these things are saying, he can sense their emotional tone; some are pleasant, a gentle hum or coo, but others are snide, angry and full of pain. When his mother, Annabelle, develops a hoarding problem, the voices grow more clamorous. At first, Benny tries to ignore them, but soon the voices follow him outside the house, onto the street and at school, driving him at last to seek refuge in the silence of a large public library, where objects are well-behaved and know to speak in whispers. There, Benny discovers a strange new world. He falls in love with a mesmerizing street artist with a smug pet ferret, who uses the library as her performance space. He meets a homeless philosopher-poet, who encourages him to ask important questions and find his own voice amongst the many. And he meets his very own Book--a talking thing--who
Read More chevron_right
Frequently Asked Questions About The Book Of Form And Emptiness
Book Reviews
(5)
Did you read The Book Of Form And Emptiness? Please provide your feedback and rating to help other readers.
Thought provoking and enjoyable

Derived From Web

, Dec 25, 2021

I'm not going to summarize the plot of the film. The second part of the story deals with the inventor, Frank Quattrone, whose patent applications were dismissed in 1974-75 after the government argued that they were "not in the public interest." For me, a book does not qualify as 'good' unless it is both enjoyable to read and makes me think about things in a different way. This book gave me a new and interesting perspective on consumer culture and the power that things have over us, mental illness and what it means to really help and not just go through the motions, he said. At the same time, I rallied around Benny, Annabelle and the B-man. I enjoyed the ending too, said Pauley.
Disappointed

Derived From Web

, Nov 4, 2021

The book begins with the sound of a jazz clarinet coming to a woman's rescue. There is a widening of soul and moving circumstance. The device of a book talking with its subject, of a boy hearing objects talk and other eidolic events, is presented with the depth of ghost stories around the fire, and stops the story, reducing itself to a cleverness that comes across as a gimmick. I got the book thinking that a Buddhist priest might offer a spiritual invitation, and perhaps she does further on, Morgenthau said. Her invention, as used, comes to me as playing around with cleverness, Mr. Rule told the judge. Yes, it may be a good story, but a lot of people like it.
Remarkable book, but not quite up to my expectations

Derived From Web

, Oct 15, 2021

A writer of fiction, she has an amazing imagination and deep insight into the world of human condition. This book had it's bright moments, and despite its length, seemed to come to an abrupt ending with some rather cliched conclusions. Overall, I would recommend the book to anyone. By the way, although she doesn't acknowledge Haruki Murakami in the acknowledgments, I feel she owes him a lot. I doubt the similarities are coincidental, since much of the book takes place in a library. The main character's father is a Japanese artist. Note the subheading of this terrible parable in the "Jazz" series, "a tragic parable in which the music of George Gershwin was given prominence." Distinguishing dreams from reality, and long meandering philosophical discussions are prevalent. The book's publisher, Simon & Schuster, said it was "a fitting tribute to the great American novelists of the 20th century." Well worth reading, but don't expect cheerful people having fun together.
Beautiful and magnificent

Derived From Web

, Oct 11, 2021

Once the RO is set you up, you can expect to see the whole matrix spinning about 45 percent. Well done, insightful, helpful to me personally and I think her insight is applicable across the board, said Dr. Julie Gerberding, director of the federal Centers for Disease Control and Prevention. A great story, great characters, great plotting, too. I love all of her work and this above all, it might be due to proximity, Bruno said. Please know that RO has hit another home run, TSN analyst Paul Meagher said.
Entertaining and Enlightening

Derived From Web

, Oct 1, 2021

In the first chapter, when the book itself was a character, I immediately thought of Sophie of Worlds by Jostein Gaer. The Book of Form and Emptiness, by contrast, is a work of fiction. If have read books by Thich Nhat Hahn, you will recognize many of his Zen principles. What is our relationship to people who act differently than we do? We often complain about customers who treat them like damaged goods. Try again later. What is our relationship with things? Or do we treat them like fellow created things, like different waves in the same ocean? In her usual fantastic writing style, Ruth Ozeki explores these issues with her usual flair for creating memorable characters and situations. This book is a great read, it is both entertaining and enlightening, Raymond said.