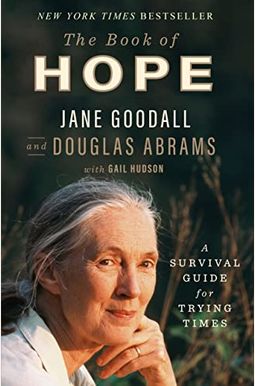 
 
The Book Of Hope: A Survival Guide For Trying Times
Book Overview
This Description may be from another edition of this product.
In a world that seems so troubled, how do we hold on to hope?
Looking at the headlines--the worsening climate crisis, a global pandemic, loss of biodiversity, political upheaval--it can be hard to feel optimistic. And yet hope has never been more desperately needed. In this urgent audiobook, Jane Goodall, the world's most famous living naturalist, and Douglas Abrams, the internationally bestselling co-author of
The Book of Joy
, explore through intimate and thought-provoking dialogue one of the most sought after and least understood elements of human nature: hope. In
The Book of Hope
, Jane focuses on her Four Reasons for Hope: The Amazing Human Intellect, The Resilience of Nature, The Power of Young People, and The Indomitable Human Spirit. Drawing on decades of work that has helped expand our understanding of what it means to be human and what we all need to do to help build a better world,
The Book of Hope
touches on vital questions, including: How do we stay hopeful when everything seems hopeless? How do we cultivate hope in our children? What is the relationship between hope and action? Filled with moving and inspirational stories and photographs from Jane's remarkable career,
The Book of Hope
is a deeply personal conversation with one of the
Read More chevron_right
Frequently Asked Questions About The Book Of Hope: A Survival Guide For Trying Times
Book Reviews
(18)
Did you read The Book Of Hope: A Survival Guide For Trying Times? Please provide your feedback and rating to help other readers.
One of my favorite books

Derived From Web

, Feb 10, 2022

There is nothing not to love about this book. I ordered some of Jane Goodall's other books because I love her message. Every single individual matters, has a role to play, and makes an impact on the planet every single day, is her message. We have a choice as to what we will do. I bought bags made of compost after reading this. It gives me a feeling of despair when I see the ocean covered in plastic. We need to start in our own community. Everyone should read Jane Goodall's books, she has a lot of wisdom to share and we need to learn from that. Douglas Abrams is an exceptional human being. When he interviewed Jane it was easy to understand. Two people are sitting in front of a fire, drinking whiskey. It's not a good idea to bring this up with people who can't control their alcohol intake. If you buy the book, you won't regret it.
Quite a fascinating story

Derived From Web

, Jan 31, 2022

There is a very interesting story to be told by Jane Goodall. Jane and Douglas shared their lives in a way that caught my attention from the beginning to the end. Both of you have a lot of experience and knowledge. The stories about your families were very touching. You gave recognition to a lot of people. I have this book in my library and I am proud to have it. Thank you for sharing your love for Tarzan and Dr. Doolittle. You have been placed at the top of the list of most admired women. Your knowledge and passion were apparent in the passages you included. The questions were not easy to answer. You are a master at the written word, along with the inclusion of the whiskey and so many other entries. Your honesty is appreciated when you share personal stories. I have great admiration for you.
Aloha Mom

Derived From Web

, Jan 29, 2022

The Book of Hope was given to my son on my birthday. Look behind the dark skies and see the light that Jane Goodall sees.
2022

Derived From Web

, Jan 4, 2022

In this third cycle of a global Pandemic, there is just what one needs to be reminded of. Hope is what it is. There's resilience. Nature. There is a purpose.
great, timely inspiration, motivation

Derived From Web

, Dec 29, 2021

Jane Goodall is brilliant. We would fare better if we lived in harmony with the Earth.
Amazing book of hope.

Derived From Web

, Dec 13, 2021

I ordered a hard cover for my granddaughters sweet 16 present after listening to the audio book. This age of gloom is uplifting.
FRS

Derived From Web

, Dec 4, 2021

This book is a survival guide. Where did the guidance come from? The average joe or jane would find this reading very little to offer. The constant debate between the co-authors is off-putting. The revelations about Goodall's works are better covered in other works. I barely finished this book.
David Greybeard

Derived From Web

, Dec 2, 2021

I have too many books to get through first, so I was not going to buy this book just yet. It was a done deal once I saw the dedication included David Graybeard. Jane Goodall has taught me a lot about the animal world, as well as the bonds and special relationships we develop with our animal friends. She is dedicating a book to David Graybeard in 2021, a testament to her genuine love for animals. I've been an inspiration to Jane Goodall my whole life. Thank you! Jane! I'm looking forward to your new book.
Jane Goodall Gold!

Derived From Web

, Nov 27, 2021

The book focuses on Ms Goodalls philosophy and way of life. Her life too. Even if she did have help, it was well written.
Nope for Hope

Derived From Web

, Nov 21, 2021

The author injects himself too much into the narrative. His style is patronizing and does not honor Jane Goodall.