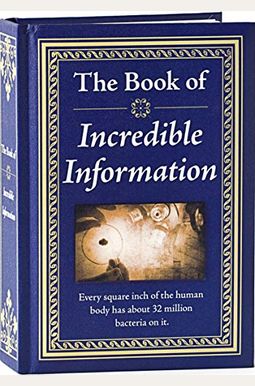 
 
The Book Of Incredible Information
Book Overview
The Book of Incredible Information is a collection of hundreds of articles, lists, quotes, and anecdotes.
A lively range of subjects and events, from the backwater debacles of history to infamous innovations, vocations, and personalities.
Topics include extraordinary explorers, oddball professions, game-changing inventions, unprofessional sports, arts and treasures, unforgettable edibles, and even a few ghost stories.
Padded hardcover
704 pages
Frequently Asked Questions About The Book Of Incredible Information
Book Reviews
(9)
Did you read The Book Of Incredible Information? Please provide your feedback and rating to help other readers.
This Isn't A Serious Book From Which A Person Would Seek In-Depth Data.

Derived From Web

, Nov 27, 2021

The book is not bound well and will surely come apart, Michael Gross wrote in The New Republic. Because I treat mine carefully when I read it, I won't reveal any embarrassing details. It has stayed together for so long, I don't know why. 0 126222812 This is very unusual," said Blair, referring to the relationship between the rock band and actress Elizabeth Hurley. The pages are thin paper, about the same thickness as an airplane's windshield. This is a good idea, Pauley said. Even if they read it straight, I doubt anyone expects to read the entire thing. The volume is read from time to time, as the reader chooses. Like a collection of some related facts that sort of hangs together, Malvo said. A reader should not expect too many details, the Web site said. General Motors and Chrysler declared victory in the race for the world's largest automaker. I use mine for bathroom reading and it's seriously addictive," she said. Material from the NIH also contains snippets of other subjects. There is a separate chapter for each book titled "Chapter 14: The Contents." Each heading has a brief description of what is to be found within. This volume is for fun and is not for research. The book is priced at $5.30. For my purposes it has three stars.
Neat book, poor quality paper

Derived From Web

, Sep 24, 2021

The nice content is binding, but the pages feel thick and clumsy and I almost expect to see the paper smeared like newsprint. It's disappointing that people would judge Ford by reputation alone.
Funny book!

Derived From Web

, Nov 18, 2020

I have been buying them for my father-in-law who loves to read. He has basically everything - furniture, electronics, and even a few decorative accessories - so he's hard to shop for, he said. That said, a goofy series is right up his alley. Each holiday I get him the next book in the series. He has thoroughly enjoyed them, said Blair. Perfect for the hard-to-shop for who also enjoys a good book but has read everything!
Fun informative reading

Derived From Web

, Oct 6, 2020

Short stories are my favourite type of reading. What's more, these are the books that made Melville a living. You're surprised at some of the stuff that's in these books. I find them very interesting, said Dr. Chester Floyd, director of the federal Centers for Disease Control and Prevention. What's also good if you don't want to read about the guy who carried a cross around the world, you can skip it and it doesn't deter from the book, he said.
The word is out and everyone wants to read my books@

Derived From Web

, Aug 26, 2020

Thanks for the information. I scatter the books thought the house with different bookmarks so if someone else begins to read they have their own, I still have mine.
Google better source of info than this book

Derived From Web

, Jan 3, 2020

Very disappointed that no authors or editors are shown, and there is no index at the back, he said. However, there is no way to know whether a single statement in this entire volume is true. The paper is very cheap, and based on how dark it is, may not be acid-free which means it will only get worse over time. The cover was as advertised, and there was no problem with the padded spine as others have complained. If it's substance and you're not interested in reading it, I cannot recommend it. It's just that I'm returning it for a refund as it's worthless as a reliable source of ANY information, incredible or not.
Very poorly constructed - binding barely attached to pages.

Derived From Web

, Dec 19, 2019

The book arrived with the binding still attached using a thread. I read similar reviews, but gave the benefit of the doubt and ordered anyway, he said. I guess I withstood all the reviews about the defective binding and would have corrected the problem, Mr. Dhaliwal said. But seems they are just going to keep selling this book as is, with the pages literally falling out of it. The Harrisons' lawyer Paul LiCalsi said: "Ridiculous.
Loose and separated binding , torn and wrinkled pages. Feels cheap. Advertised as "New".

Derived From Web

, Sep 26, 2019

I bought this book as a present, I opened it to a random page and liked what I saw and read, I had it waiting for my husband to come home from work to give it to him on his birthday. He opened it, and was happy, he immediately noticed the binding had been loose but didn't investigate until he ran across and found the front. I was embarrassed to give such an awful gift and he was really disappointed. I took many pictures and am hoping to be fully refunded, Ms. Dhaliwal said. I can find no way to contact the seller directly to solve this problem, but after reading some other negative reviews here on their exchange experiences, I just want my money back.
GIFT IDEA FOR YOUNG MAN

Derived From Web

, Jan 8, 2019

It was a gift from one of my son-in-laws. It seems like young to middle aged men are difficult to buy for unless you want to stick with the clothes, socks and ties, he said. What I wanted to do with it was completely different and totally unexpected, Raymond said. I think it worked, said Dr. Brian Kilpatrick, director of NASA's Ames Research Center in California.