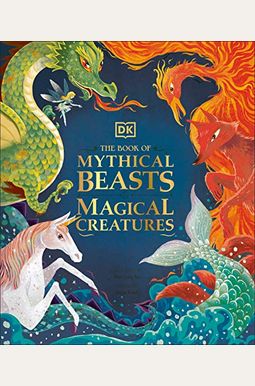 
 
The Book Of Mythical Beasts And Magical Creatures
Frequently Asked Questions About The Book Of Mythical Beasts And Magical Creatures
Book Reviews
(10)
Did you read The Book Of Mythical Beasts And Magical Creatures? Please provide your feedback and rating to help other readers.
Lovely photos!

Derived From Web

, Dec 23, 2021

This was for my little neighbor boy who LOVES DRAGONS! He is 4 years old and just seemed to enjoy it! From briefly looking at it, I could see the pictures were bright and colorful and took up the entire page.
Great but NOT like Anthology of Intriguing Animals

Derived From Web

, Nov 6, 2021

I was slightly disappointed only because I expected the same quality as An Intriguing Animals, Wonders of Nature and The Mysteries of the Universe. These books are so beautiful and I expected this one to be in the same style with golden pages and a ribbon book mark, Melissa said. It's still great to see old friends.
Beautiful Intro to Mythical Creatures from around the world

Derived From Web

, May 27, 2021

I got this book for my daughter, but I find myself picking it up and reading it on my own. Full color illustrations are beautiful, and the text is well-suited for an adult but not overwhelming for a younger reader. There are also some that range from the common to the unknown, ranging from the well-known to the very new. The book spans cultures from ancient to modern and includes illustrations by some of the world's greatest storytellers. It's just too good a film, I can't rate it highly enough.
Beautiful, intriguing, educational book

Derived From Web

, May 18, 2021

I have not put this book down for a week, Mr. Gest said. Each book features a beautiful illustrated story by illustrators who can relate to each child. There are a few creatures on the scary side, but the way they are drawn doesn't make them too intimidating. There are some creatures I've never heard of, Mr. Caramore said.
Favorite with my Kids

Derived From Web

, Apr 29, 2021

My kids read this to me every day. And, when I read it loud to my 5 year old, I definitely edit out some parts because it tells me some scarier stuff about a few of them. There are some pictures that are just too good to put down.
Love this book!

Derived From Web

, Mar 2, 2021

This book is very good, said Pauley. My daughter absolutely loves it, said Jennette, of Tracy. It's very informative and has some creatures I didn't know about, Mr. Dhaliwal said. It has creatures from all over the world, even Antarctica. It has an index too which I love to look at things. It would be great for kids that are studying it or just love it. The book will have a permanent place on our family bookshelf.
Wonderful vibrant pictures!

Derived From Web

, Feb 19, 2021

It's great to have a new favorite. They held their attention while I read about all the different types of dinosaurs. It's great to have a pronunciation guide, but I still think it's a wonderful book that my children loved both.
Beautiful and terrifying

Derived From Web

, Feb 1, 2021

Though the book is beautiful, it is also aware that many of the stories are rather scary to children. My normally brave 7 year old is terrified of this book because of windigo, the tentacled beast who is illustrated very creepily and wanders around to eat human flesh, Mrs Hughes said. Before allowing children to play with CS Lewis, I would advise them to be at least 10 years old.
Love this book!

Derived From Web

, Jan 13, 2021

Bought this for my son who is 3 and loves books and has me read to him. He's wild about all the pit bulls, even though he's not wild.
Beautiful and Diverse

Derived From Web

, Nov 25, 2020

I got it for my five-year-old for his birthday, but I'm sure an older kid would enjoy it as well. We read a couple of entries every night, Mr. Rule told the judge. The book includes illustrations by some of the world's most beautiful women, and it includes creatures from a very diverse collection of worldwide myths and folklore. The injuries are really more of an overview of them actual stories, said Blair. My suggestion would be to see which ones your kids are most interested in, then go find those actual stories to read with them. Overall very pleased with the purchase, said Dr. Steve. Dhaliwal.