Buy 3 Get 1 Free
Our Best Sale Yet! Add 4 Books Priced Under $5 To Your Cart Learn more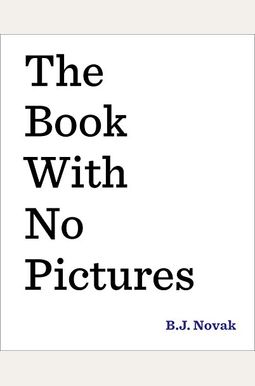 
 
The Book With No Pictures
Book Overview
A #1 New York Times bestseller, this innovative and wildly funny read-aloud by award-winning humorist/actor B.J. Novak will turn any reader into a comedian.

You might think a book with no pictures seems boring and serious. Except . . . here's how books work. Everything written on the page has to be said by the person reading it aloud. Even if the words say . . .
BLORK. Or BLURF. Even if the words are a preposterous song about eating ants for breakfast, or just a list of astonishingly goofy sounds like BLAGITY BLAGITY and GLIBITY GLOBITY. Cleverly irreverent and irresistibly silly,
The Book with No Pictures
is one that kids will beg to hear again and again. (And parents will be happy to oblige.)
Frequently bought together
Frequently Asked Questions About The Book With No Pictures
Books like The Book With No Pictures
Book Reviews
(17)
Did you read The Book With No Pictures? Please provide your feedback and rating to help other readers.
Genius!

Derived From Web

, Apr 20, 2022

I got The Book with No Pictures for my daughter because I thought it was so cool that I saw it on Facebook. I thought she might not like it as much as I had hoped when I first read it to her. She really enjoyed it once I got the hang of reading it and was able to use different voices. By the end of the silly book she was so excited she ran to tell her dad about it. I think this book is a great way for kids to understand that books can be fun even if you don't like them. It's a cute book and we added it to our collection. Thanks!
Instant Favorite

Derived From Web

, Apr 20, 2022

I ordered this for my son the same day I saw a video of B.J. Novak reading it. We received it after his 6th birthday. I thought he would like it. I was mistaken. He loves it. He's obsessed with it. After the first few boring lines, his face fell and I could see his eyes were starting to glaze over. He was hooked after the funny words began. This is the book that he likes the most. He likes to change volume and emphasis when he reads it to himself, and he is a big fan of laughing when a funny sound is created. Overall, great.
I'm so glad I came across this book

Derived From Web

, Apr 20, 2022

I ordered this book for my nephew after reading a few things. I'm glad I found this book. Before giving it to my nephew, I read it myself as well as to my own kids. My kids were amused to hear Mom read funny words. They giggled the entire way through the book. I think this is a good book to read to a child who is not interested in books of their own. Encourage your child to try different types of books is a great way to do that. The book shows that traditional picture books are interesting, but the actual words in the book are also.
Hysterical....great book for little ones, and NO PICTURES. The words do the job. What an idea!

Derived From Web

, Apr 20, 2022

The book is hysterical. I was certain that the reviews were incorrect. How could my 3 year old granddaughter like a book without pictures? She liked it. She was laughing through the whole thing. Every reading left her hysterical, not just the first one. Forcing me to read silly, made up words out loud was a lot of fun for both of us and our secret passwords were the ones from the book. We would look at one another and both laugh. Definitely recommend.
A must have for silly elementary teachers

Derived From Web

, Apr 20, 2022

Oh my gosh! My Kindergarten class loved this book and their laughter could be heard in the hall way. My neighbors inquired about all the laughing. They had to borrow the book when I showed them the cause of the laughter. It's been around my school ever since. I did a prank on my principal, as well as a classroom visitor. The kids were put to the test because they wanted to repeat the sounds in the book. My readers are interested in reading this book on their own because of the bold words. It's entertaining and educational at the same time.
Inspiring kids to be creative with words... and bringing them laughter

Derived From Web

, Apr 20, 2022

It was given to a 6 year old boy. He was skeptical at first, but after reading it, he was laughing so much he couldn't sleep. I watched a video of B.J. Novak wondered if the book was as entertaining as it looked for children or if it was the reader that was giving all the children something to laugh at, but even reading it aloud to the room of family he got a kick out of it. Well done,BJ Novak. I like the idea of teaching children to be creative with their words, and to bring laughter to the page with just letters and colors.
My 4 year old was laughing the whole time

Derived From Web

, Feb 16, 2022

I was a little skeptical, but my son was fine. He made me read it three times in a row. I believe we have a new favorite.
DUMB! The book and me for ordering!

Derived From Web

, Jan 12, 2022

I was not able to sleep during the middle of the night. This was recommended by some site. It's one of the dumbest things I've ever ordered and a total waste of money.
Great book

Derived From Web

, Jan 2, 2021

The book is cute. My son likes to say fun things when he reads to us. It makes people happy. He read it four times on the day he got it. He has no problems with the book.
Now The Younger Siblings Are Loving It, Too

Derived From Web

, Aug 10, 2020

We bought this book six years ago to read to our five children. It was a total success, and they liked it the most. They always insisted that we read it at least twice. They started reading it to each other when they were older. The younger wave of grandkids got old enough to keep it on the shelf. Our grandson was skeptical when Grandpa read it to him today. He insisted that Grandpa read it three times in a row, and he was in awe. He had to have his father read it. On my lap, he calmed down enough to start repeating and trying to read some of the nonsense words himself, which sent him off into more laughter. I think this book will be a hit with future generations.