Buy 3 Get 1 Free
Our Best Sale Yet! Add 4 Books Priced Under $5 To Your Cart Learn more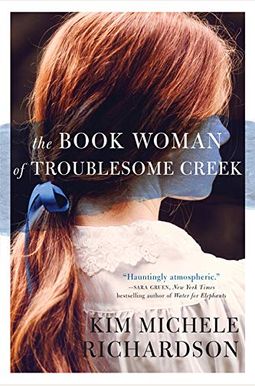  
The Book Woman Of Troublesome Creek
Book Overview
This Description may be from another edition of this product.
The New York Times and USA Today bestseller
.a hauntingly atmospheric love letter to the first mobile library in Kentucky and the fierce, brave packhorse librarians who wove their way from shack to shack dispensing literacy, hope, and -- just as importantly -- a compassionate human connection.--Sara Gruen, author of Water for Elephants
The hardscrabble folks of Troublesome Creek have to scrap for everything--everything except books, that is. Thanks to Roosevelt's Kentucky Pack Horse Library Project, Troublesome's got its very own traveling librarian, Cussy Mary Carter.
Cussy's not only a book woman, however, she's also the last of her kind, her skin a shade of blue unlike most anyone else. Not everyone is keen on Cussy's family or the Library Project, and a Blue is often blamed for any whiff of trouble. If Cussy wants to bring the joy of books to the hill folks, she's going to have to confront prejudice as old as the Appalachias and suspicion as deep as the holler.
Inspired by the true blue-skinned people of Kentucky and the brave and dedicated Kentucky Pack Horse library service of the 1930s, The Book Woman of Troublesome Creek is a story of raw courage, fierce strength, and one woman's belief that books can Read More chevron_right
Frequently bought together
Frequently Asked Questions About The Book Woman Of Troublesome Creek
Books like The Book Woman Of Troublesome Creek
Book Reviews
(16)
Did you read The Book Woman Of Troublesome Creek? Please provide your feedback and rating to help other readers.
Great Historical Fiction with Authentic Pictures

We read this book in our book club and found it very interesting. The pack horse librarians were a real thing in Kentucky in the 1930's, and the blue-skinned people were also real. I was so intrigued by the blue-skinned people that I looked up more information about them. Most of the dialect was easy for me to understand, and I enjoyed seeing the pictures of the authentic pack horse librarians in the back of the book. I'm looking forward to reading the sequel "The Bookwoman's Daughter". I highly recommend this book if you like historical fiction.
Enjoyable read

MARY B KIDDY

, May 26, 2021

A lovely story about extreme poverty during the depression years and how one woman worked to over come illiteracy and prejudice of skin color in her rough moutainous region.
Hated the end.

Derived From Web

, Mar 8, 2021

The book made me look up things I didn't know or words I didn't know, and I always like that. I liked learning a part of history. The author made the book about as dark as she could and then ended it because of the prejudice. The book left me feeling depressed and dark, but there were some sweet parts. I am sorry I spent the money, but I can't recommend it.
This story is based on the real Blue people of Kentucky

Derived From Web

, Mar 7, 2021

I was not sure if I could finish the book when I started. I couldn't bear to read Cussy Mary's life because it was so difficult. Since it was chosen by my book club, I had to keep reading and I am very happy that I did. Cussy is a very strong and loving woman. I wish I had a magic wand to help her bear her life because I found myself loving her so much. This book may change your life forever.
Historically accurate and informative

Derived From Web

, Nov 5, 2020

The author embedded a little known medical condition in a history of Kentucky coal mining people in the late thirties during the WPA. She painted a picture of the people living in that time period with sensitivity and humanism. The challenges to survival due to poverty, ignorance and isolation were not appreciated by many today. She told a story that could have been very dark. As a person who is privileged, learning about this area and the people who live there gave me pause. This novel made it personal for me, even though I knew a little of this history. A book that should be read by the young as well as adults is about education, learning and reading by people who have too little of these.
Interesting read, but not what I expected

Derived From Web

, Jun 9, 2020

The reviews made it sound like a very interesting piece, and I was hoping to like it when I ordered it. I was surprised that the author chose to mix different time periods together to tell the story of the 1930s and the Blue people of that area. I don't know if it would still qualify as historical fiction. I didn't think I knew the characters well. The pace of the book was too quick and I didn't like the dialect. I wasn't prepared for the violence in this book. I'm glad I got to learn about this time period in Appalachia, but I'm not going to read it again because of the violence and the limits on character development.
Cussy Mary Leads by Example

Derived From Web

, Mar 13, 2020

Richardson's The Book Woman of TroublesOME Creek is a wonderful historical fiction, rich in language, and depicts life in hollows of eastern Kentucky. Cussy Mary is a woman who delivers books. She has a rare condition that makes her skin blue when she's emotional. She travels her route, meeting a cast of minor characters, and getting involved in the lives of her patrons. This addition to Southern fiction shelves is a valuable read that not only entertains but also comments on the problems miners and their families endure. Highly recommended for book clubs, lovers of Southern fiction, and readers everywhere.
To Be Blue

Derived From Web

, Feb 23, 2020

I just finished this amazing book, and I can't help but think of the courage shown by this person. The book was well researched and I had heard of the blue people of Kentucky. This is the story of a brave and beautiful soul who loves reading and delivering books to the poor families in the hills of Kentucky as a Pack Horse Librarian. She is a brave and beautiful blue soul who would do anything for the families she serves. This wasn't an easy book to read, but I was able to finish it. I was immersed in the lives of the poor families who had nothing and lived for the Book Woman's deliveries. This is a wonderful book. I was exposed to what it was like to be blue in Kentucky.
Poorly Written Melodrama

Derived From Web

, Jan 24, 2020

The book is written poorly. The story is melodramatic, the characters are all one-dimensional, and the medical condition of the blue people with race drove me crazy.
The blue people of Kentucky

Derived From Web

, Dec 7, 2019

Cussy Mary is not welcomed in the town. The blue people of Kentucky were a group of people who had a blood disorder that caused their skin to turn blue. It is also a story of perseverance and sheer gumption. During the Great Depression and the years after, Cussy Mary joined a government program to bring books to the hill people of Kentucky. The struggles of the hill people is an epic tale.