Buy 3 Get 1 Free
Our Best Sale Yet! Add 4 Books Priced Under $5 To Your Cart Learn more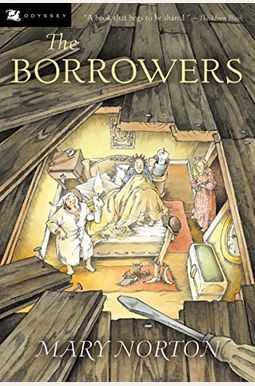 
 
Book Overview
A enchanting and enduring children's classic, The Borrowers is the award-winning tale of three tiny people who are big heroes.
The Clock family--Homily, Pod, and their fourteen-year-old daughter, Arrietty--are tiny people who live underneath the kitchen floor of an English manor. All their minuscule home furnishings, from postage stamp paintings to champagne cork chairs, are borrowed from the human beans who tromp around loudly above them. All is well until Pod is spotted upstairs by a human boy Can the Clocks stay nested safely in their beloved hidden home, or will they be forced to flee?
Frequently bought together
Frequently Asked Questions About The Borrowers
Book Reviews
(15)
Did you read The Borrowers? Please provide your feedback and rating to help other readers.
An unexpected find

Derived From Web

, Apr 20, 2022

I had never attempted to read the book because I thought it might be this clichéd children's book. The story of the Clocks tells the tale of a small family of Borrowers who fall on not so great times following the emigration of their relatives, the Overmantles. They call themselves "beans" and "thunk" that the big people live for the benefit of the little people. However, when Arrietty strikes a friendship with a human boy, the perception of innocence is shattered. The storyline was smooth and well thought out except for the ending, which I found a little hurried.
You say it's borrowing...

Derived From Web

, Apr 20, 2022

It was a TV show about little girls who loved to watch the movies. I've also devoured Elizabeth Gilbert's "The Borrowers" by Mary Norton. The story, in which human-tiny creatures "borrow" things for their homes inside the walls and floors, is sweet and fun, too. In the second part of the series, Arrietty befriends a "human bean" boy of 9. When she first meets her new best friend, her parents are afraid at first, but soon find he is a useful friend to have. Till they are discovered, no wonder NASA calls them the "black holes of the universe."
Borrower

Derived From Web

, Apr 20, 2022

As soon as I chose to write this review, I smiled silently at myself. I have always loved reading, especially from a very young age. My father introduced me to reading, he said never be afraid to pick up any book and read it or even just some of it, because by reading you will discover worlds you could never imagine or dream about, because by reading you will find everything there is to know about the world. Or, you can give it to a young reader or just enjoy it yourself.
Great Book in Great Condition!

Derived From Web

, Apr 20, 2022

I ordered this book for a friend who said she grew up reading The Borrowers, but only read from library copies, and never owned the book. The vendor, Full Paper Jacket, also listed on Amazon. com. The writer, Douglas Lindner, said the book was an old library copy, first edition, 1953, and had the usual formatted description, but without markings or tears. I took a chance, and ordered it because it was a first edition, and I couldn't have been more pleased! It is definitely old, but it is in PERFECT condition, and I was proud to give it to my friend as a present.
... readings I had as a child that I actually liked. She hasn't read it yet

Derived From Web

, Apr 20, 2022

Bought this for my daughter as it is one of the required readings I had as a child that she actually liked. She said she hasn't read the entire thing.
Daughter Loved the book

Derived From Web

, Apr 20, 2022

My 10 year old daughter loved it. Had been so long since I read it -- we had fun reading it and then created a LITTLES room out of a shoe box -- it was a big hit! The Beatles' music "was almost as good as the Beatles themselves."
great story

Derived From Web

, Apr 20, 2022

The fifth and final volume of the "Harry Potter" series follows along with the secret of Arriety. my daughters just love the borrowers, the story line, the adventures all work so well, and I highly recommend it for all ages.
Bought for my daughter

Derived From Web

, Apr 20, 2022

I've read it many times as a kid. I also loved the cartoon series. It's such a cute story, said Blair. It's just that they have it when something goes wrong in the house.
Awesome delivery

Derived From Web

, Apr 20, 2022

It was a present from my wife. Good book for children, and adults if you want something not serious and a little whimsical, too. I got it as a gift to get with the movie. Worked pretty well, Tunick said.
An enduring classic

Derived From Web

, Oct 23, 2021

I recently read this to my six-year-old twins. At first, I wondered whether it would be too much of a stretch because of the sometimes old-fashioned and British English language. Indeed, many children loved the story of Arietty and her adventures. We talked about it when we weren't reading, Mrs Clinton said. The second time around, I ended up buying the set with the sequels.