Buy 3 Get 1 Free
Our Best Sale Yet! Add 4 Books Priced Under $5 To Your Cart Learn more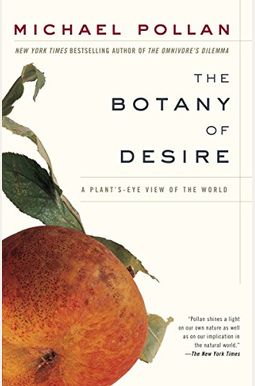 
 
The Botany Of Desire: A Plant's-Eye View Of The World
Book Overview
This Description may be from another edition of this product.
The book that helped make Michael Pollan, the New York Times bestselling author of Cooked and The Omnivore's Dilemma, one of the most trusted food experts in America.
Every schoolchild learns about the mutually beneficial dance of honeybees and flowers: the bee collects nectar and pollen to make honey and, in the process, spreads the flowers' genes far and wide. In The Botany of Desire, Michael Pollan ingeniously demonstrates how people and domesticated plants have formed a similarly reciprocal relationship. He masterfully links four fundamental human desires--sweetness, beauty, intoxication, and control--with the plants that satisfy them: the apple, the tulip, marijuana, and the potato. In telling the stories of four familiar species, Pollan illustrates how the plants have evolved to satisfy humankind's most basic yearnings. And just as we've benefited from these plants, we have also done well by them. So who is really domesticating whom?
Praise for the narrator: Scott Brick uses his skill with expression.to produce an audible intoxication. --AudioFile
Frequently bought together
Frequently Asked Questions About The Botany Of Desire: A Plant's-Eye View Of The World
Book Reviews
(11)
Did you read The Botany Of Desire: A Plant's-Eye View Of The World? Please provide your feedback and rating to help other readers.
It will leave you wanting more.

Derived From Web

, May 19, 2022

A story about four plants and four human motivations, Pollan draws them together with wit. I ate this book in a short time, going to read in my spare moments to work. I don 't often get caught so deep in books, but this one has me wrapped up. There are origin citations for a great many of his assertions, which was also fantastic. If you are interested in evolution, plants, industrial nature, marijuana, flowers, human food, organic gardening. There will be something to say through this story and carry you to your interest. The writing is engaging and flows from one subject to the next with ease. It refers back to previous chapters and thoughts expressed without wandering aimlessly in thought. A small but great read that will provoke thought and discussion.
Far Out, Man

Derived From Web

, May 19, 2022

This is a book that makes you think not just about food, but about the nature of what we call nature and the element of chaos or unpredictability that drives the results in the course of human affairs. Well written, intimate and with a beguiling understated self-depreciating wit the book was a pleasure and happy page turner.
Five Stars

Derived From Web

, May 19, 2022

Everything that Michael Pollan writes and exposes is the most beneficial for our health... another informative book...
Plants have found ways to be sexy to humans

Derived From Web

, May 19, 2022

Whether this is true or not, it is fascinating the way the author unravels the long history of four plants and its interaction with mankind. Once you finish this book, you 'll have dozens of interesting facts to share in all sorts of conversations as ice breakers. I don 't know of any other author who can communicate in such an entertaining way food or nature.
Provocative. The marijuana chapter should have been the last ...

Derived From Web

, May 19, 2022

Provocative : The marijuana chapter should have been the third story, not the last, because he could have ended the book on a high note. It is a gift from the creator.
Very Informative Book

Derived From Web

, May 19, 2022

I learned a lot about how Johnny Appleseed was an astute businessman who sold apple trees to pioneers. One of the few sources of sweetness were apples. Also the many aspects of marijuana, its usefulness, the difference between hemp and the many strains. Book is very informative.
Botany of Desire a Plant's Guide to Humans

Derived From Web

, May 19, 2022

The Botany of Desire depicts the world from a plant's view. It is a worthwhile read, with the successful colonization of the tulips, and it's place in our universe, then other excellent examples of a certain plant's success. Stian is a LK alumni named after him and a new yorker, RJ.
Will change how you look at nature, guaranteed

Derived From Web

, May 19, 2022

For all who play in the garden or hang out in nature, this book will change your experience forever. From the book All these plants, which I also considered objects of my desire, were also subjects I realized were acting on me, getting me to do things for them that I couldn t do for themselves. Great read! I borrowed it to my sister in law, who obviously did not get it - I never got the book back - it went out of print and I finally found one on Amazon - big price, but needed one. ( ) '' ).
The required headline for a piece of TOTALLY required reading

Derived From Web

, Oct 29, 2020

Apples, Tulips, Marijuan and Potatoes. Read this book and learn a lot about all that's stuff that you probably didn 't know. That is very cool by itself, but you also learn how all of them are connected to us humans in ways that are open and obvious, but simultaneously as unknown to us as the mysteries of the universe. This is a spectacularly interesting read and has enough intellectual oomph to change the way you view life on the Earth forever. Zowie ( ; )
Great read

Derived From Web

, Nov 8, 2018

This is truly one of the most interesting books I ever read about a subject I never thought about before -- our relationship with the plants that feed us and make our lives possible and enjoyable. On top of that, it is very well written and often amusing.