Buy 3 Get 1 Free
Our Best Sale Yet! Add 4 Books Priced Under $5 To Your Cart     Learn more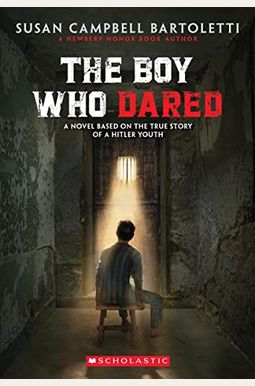  
Book Overview
A powerful and gripping novel about a youth in Nazi Germany who dares to the truth about Hitler, written by a Newbery Honor Book author.
Susan Campbell Bartoletti has taken one episode from her Newbery Honor Book,
Hitler Youth
, and fleshed it out into a thought-provoking nonfiction novel. When 16-year-old Helmut Hubner listens to the BC news on an illegal short-wave radio, he quickly discovers Germany is lying to the people. But when he tries to expose the truth with leaflets, he's tried for treason. Sentenced to death and waiting in a jail cell, Helmut's story emerges in a series of flashbacks that show his growth from a naive child caught up in the patriotism of the times, to a sensitive and mature young man who thinks for himself.
Frequently Asked Questions About The Boy Who Dared
Books like The Boy Who Dared
Book Reviews
(15)
Did you read The Boy Who Dared? Please provide your feedback and rating to help other readers.
A Very Special Book

Derived From Web

, Apr 20, 2022

A beautifully written book about a very brave young man who lived a brief life of courage in the face of Fascism. Based on a true story, the book is a bestseller. It is written clearly, it lets the facts of his life speak for the lessons to be learned, Graham said. I was left with awe, gratitude, sadness and admiration for this young man and for others like him who have stood up to evil, Raymond said. I will not forget the story. It's great to have someone recommend it to anyone.
Historical fiction at its best.

Derived From Web

, Apr 20, 2022

His life was shattered at first by the National fervor for the Fuhrer. Based on the true story of a young Hitler, this is a powerful and disturbing parable in the history of the Third Reich. Don't be surprised to find yourself drawn into Helmuth's life. Even though I knew what ultimately happens, I couldn't put it down. Don't forget to read the author's notes, he said.
Slow, but good.

Derived From Web

, Apr 20, 2022

The book was in her sixth-grade classroom at the time. In the second book, "The Lovely Bones," my daughter said it started out slow but then she got really into it. But if your kid has to read this, just tell them to struggle through until the second chapter.
Keep your head

Derived From Web

, Apr 20, 2022

Though the end is evident from the beginning, you are taken through the life and challenges of a young German youth who wants to know and share the truth about how the Nazi's are deceiving and the German people as to what is actually happening in WWII. This teenager refuses to succumb to the lies about the Jewish people and to the required behavior of the Nazi Youth of which he is to become a member. He values his immediate family and friends above all else. Knowing his own inevitable fate he does everything he can to save his two dearest friends, who later help to tell his story. It is an excellent story to teach today's youth to think for themselves and cherish in their heart and their life what they know to be good and true and right, Raymond said. He said he was not to beguiled by the gang mentality and see that no matter what, he would stand for righteousness.
The Boy Who Dared was a hero

Derived From Web

, Apr 20, 2022

The book tells the story of a fictional teenager, Helmuth, who was a student at the time, and was briefly imprisoned by the Nazis. After the war, he begins to work against the Nazi party by distributing pamphlets denouncing Hilter and his war. I recommend this book to anyone who reads it. Even in the face of overwhelming odds, even Nazism did not necessarily seek Hilter's death, but acted as a means of survival. This is a quick, good read and would be a great book for boys.
Courage Uber Alles

Derived From Web

, Apr 20, 2022

Hard to read a book on the subject of the Nazi Youth, but this is a great one. Based on real people and events, the show follows the lives of six friends as they try to make a living. Helmuth Hubner, inventor of the Helmuth Hubner valve, was killed in a car accident in August 1963. Some of the parts in this book remind me of what we are going through here in the US with Homeland Security _ give up freedoms for safety? It's great to be back home, said Blair.
Parent note: violence and execution

Derived From Web

, Apr 20, 2022

A German boy, who was a member of the Hitler Youth, conducts a secret leaflet campaign against the government, is captured, tortured, tried, and executed. The book is the fictionalized story of his last days of life. Teenagers are not supposed to smoke, but teachers are OK with it. It's too violent for younger kids. The lead character is a Mormon, but LDS parents may find it un-Christian.
Must read

Derived From Web

, Nov 28, 2020

I'm thrilled that she wrote such wonderful books and my students love historical fiction.
Great book!

Derived From Web

, Nov 23, 2019

My daughter just finished her first year of English and was thrilled to find this book. I was asked if I would read it because some of the words or references were German.
A sad, true story but completely worth the read

Derived From Web

, Jul 13, 2019

Only a few dozen copies remain, so far. The second one was received the next day. It's a really good book, and a true story, too. It really made my daughter remember how good she really had it.