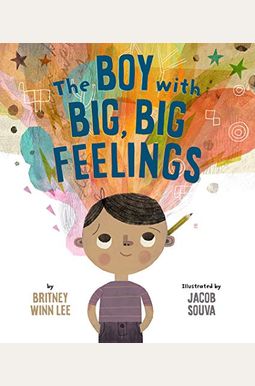 
 
The Boy with Big, Big Feelings
Book Overview
Highly recommended by parents, teachers, and therapists for children navigating feelings and coping with an array of emotions.
The Boy with Big, Big Feelings is relatable for any child -- especially kids experiencing anxiety, extreme emotions, autism, or who have been diagnosed as a Highly Sensitive Person. Beautifully illustrated and written in rhyming verse, children and adults explore the whole spectrum of feelings and readers navigate the emotional challenges they face throughout the day.
The main character has feelings so big that they glow from his cheeks, spill out of his eyes, and jump up and down on his chest. When he hears a joke, he bursts with joy. When a loud truck drives by, he cries. When his loved ones are having a hard day, he feels their emotions as if they were his own.
The boy tries to cope by stuffing down his feelings, but with a little help and artistic inspiration, the boy realizes his feelings are something to be celebrated. Written by picture book author Britney Winn Lee and boldly illustrated by Jacob Souva, this book is a perfect companion to The Girl With Big, Big Questions.
Frequently bought together
Frequently Asked Questions About The Boy with Big, Big Feelings
Books like The Boy with Big, Big Feelings
Book Reviews
(10)
Did you read The Boy with Big, Big Feelings? Please provide your feedback and rating to help other readers.
Poor descriptive words

Derived From Web

, Oct 17, 2021

Would other people think I am a stripper? Why would a child be given that word to describe themselves? Or let them worry about how they are viewed by others? There is a GTFOH. I threw the book away. I want a book that has positive words for children to express their emotions.
Beautiful Message, Good Choice

Derived From Web

, Apr 30, 2021

I bought this book for my child who has big emotions, but I am also a child therapist, so my review came from both perspectives. I liked the message and think it was done well. It has a cute, sing-song vibe and interest thanks to the rhymes. The visual representation of the inner feelings seemed right. It was a positive message of belonging and validation. The book doesn't give any skills for dealing with the emotions, but instead focuses on acceptance, which is what everyone has big feelings sometimes. The story is long and wordy for a 3 year old to fully grasp, so I would gear this to the 3-9 year-old child.
Not helpful

Derived From Web

, Feb 19, 2021

I bought this book on the advice of two different PhD's in counseling. It might be nice for kids who feel alone. It's not helpful to create a tool box to interact in the world. In a similar vein to books that talk about sibling strife and then the characters make up in the end it does not help but makes the lonely feeling of being very empathising worse for some kids.
A Little "Heavy"

Derived From Web

, Sep 10, 2020

The colors in the book are nice. It addresses some big feelings, but it also makes me sad because my mom was crying. The way the subject of feelings is handled is not right for me and my free time reading. The reading is fun. Time and place for this book, just warning you.
A must have book!

Derived From Web

, Aug 19, 2020

This book is wonderful. This book hit home better for me as a mama of a child with big feelings and some anxiety, as well as sensory processing disorder. The illustrations are simple and sweet, and the message is spot on. This book talks about how emotions can show up in your body and how you can deal with them. The little boy takes on other people's emotions and holds onto them for a long time. He feels different and alone until he sees a little girl with his big emotions and they see everyone feels them. This is a must have for every child. It is a good read to help open the dialogue with your child. I will recommend this to everyone.
Normalizes Emotions

Derived From Web

, Aug 15, 2020

The book is well written. The illustrations are done well. Children are taught in the book that they have emotions. This is important for boys because they are taught that emotions are weaknesses. It doesn't teach children how to deal with big emotions.
So important, so thoughtful, so well illustrated!

Derived From Web

, Feb 6, 2020

Anyone with emotions should read this. Britney offers a way to explain the expression of emotions in a healthy, creative way that all children will understand and potentially, find great peace in. The book offers a fresh perspective on the emotions that can be so confusing for littles. Her words are very thoughtful, and Jacob's illustrations are the perfect accompaniment. A must-have for any library.
SO IMPORTANT!

Derived From Web

, Feb 2, 2020

This material is very important to our children. Everyone has emotions and they need to be aware of it. That is taught in a beautiful way by this book. I would like to buy it for every boy I know.
GREAT BOOK!

Derived From Web

, Jan 23, 2020

Really cute book. I bought this for my nephew who is very sensitive and has big feelings for a 4 year old. It explains how to deal with big feelings. I will buy this for my baby as well.
I wish someone would have read me this book as a kid

Derived From Web

, Sep 7, 2019

I was sensitive. I cried frequently. I cried watching Little Women as I folded laundry. I cried all week at summer camp in 3rd grade. I couldn't always control my big feelings. I'm still doing it. I cried when I read The Boy With Big Big Feelings. I'm thankful for the book written by Jacob Souva and Brittney Winn Lee. I still need it, I needed it.