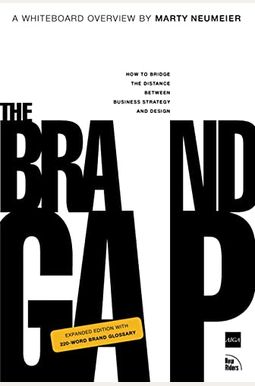 
 
The Brand Gap: Revised Edition
Book Overview
THE BRAND GAP is the first book to present a unified theory of brand-building. Whereas most books on branding are weighted toward either a strategic or creative approach, this book shows how both ways of thinking can unite to produce a charismatic brand--a brand that customers feel is essential to their lives. In an entertaining two-hour read you'll learn:
- the new definition of brand
- the five essential disciplines of brand-building
- how branding is changing the dynamics of competition
- the three most powerful questions to ask about any brand
- why collaboration is the key to brand-building
- how design determines a customer's experience
- how to test brand concepts quickly and cheaply
- the importance of managing brands from the inside
- 220-word brand glossary From the back cover:
Not since McLuhan's THE MEDIUM IS THE MESAGE has a book compressed so many ideas into so few pages. Using the visual language of the boardroom, Neumeier presents the first unified theory of branding--a set of five disciplines to help companies bridge the gap between brand strategy and customer experience. Those with a grasp of branding will be inspired by the new perspectives they find here, and those who would like to understand it better will suddenly get it. This deceptively simple book offers everyone in the company access to the most powerful business tool since the spreadsheet.
Frequently Asked Questions About The Brand Gap: Revised Edition
Books like The Brand Gap: Revised Edition
Book Reviews
(7)
Did you read The Brand Gap: Revised Edition? Please provide your feedback and rating to help other readers.
simple rules for building a brand

Derived From Web

, Apr 25, 2022

I liked this book because it was a quick read, full of useful insight. Simply put, there are tons of easily understood explanations of seemingly complex concepts.
This one sent my mind spinning with new ideas.

Derived From Web

, Apr 25, 2022

The few dollars and four hours you spend reading this book will pay you back BIGTIME by changing your whole concept of what a brand is, what makes a great brand, and how to market your brand. Buy a copy of The New Republic for every single employee.
Every designer,marketing, business person must read!!

Derived From Web

, Apr 25, 2022

I've never heard good things about this book. Brand Republic is a great book on modern branding. Super easy to read.
Great insights.

Derived From Web

, Apr 25, 2022

It's easy to read, straight to the point.
Decent read - amusingly dated...

Derived From Web

, Oct 14, 2020

The majority of the other reviews said 1. Brand is defined as "the essential components of any good design." Good for beginners, a nice refresher for those with experience in the industry, he said. We're delighted the boys are back, said Dave LiCalsi, executive vice president of sales and marketing at RAFT. Taylor Swift and FK are definitely dates. A company called Google calls itself a "small brand." And in one year alone Amazon lost 31% of its brand value in trying to expand into an online book-selling niche with predictable results. It's a quick read, Glover said. A review that a lot of people believe. It's true, Mr. Rule told the judge.
Great Book about Brand Design

Derived From Web

, Jun 12, 2017

Brand Design: The Art of Brand Identity by Robert B. Lee was an interesting read, and was easy to follow. However, some of the content is dated and there are some sections that are still relevant today. This book is about graphic design, but it is not designed very well. The book is huge, and seems like the designer laying the book out needs to learn the fundamentals of publishing a design book again. Do not make me your enemy, Raymond said in an interview. I think the content of the book is still solid, and would recommend it to any Graphic Designer looking to brush up on Brand Design and how to effectively integrate a business model into it.
Dated, basic branding book

Derived From Web

, Jun 12, 2017

There are some good reasons for this. It's not always great. Many of the photos are from the 1950s and 1960s, when the Beatles were still popular. When the author refers to the airline's use of the theme from United, many people wouldn't get that because it's fairly old. Some of the concepts are so new that they don't seem very original. That might be because the book is now 12 years old and some of the ideas have become standard, but it's still a good read for someone who has read a lot about branding.