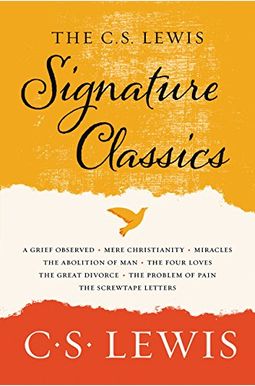 
 
The C. S. Lewis Signature Classics: An Anthology Of 8 C. S. Lewis Titles: Mere Christianity, The Screwtape Letters, Miracles, The Great Divorce, The P
Frequently Asked Questions About The C. S. Lewis Signature Classics: An Anthology Of 8 C. S. Lewis Titles: Mere Christianity, The Screwtape Letters, Miracles, The Great Divorce, The P
Book Reviews
(9)
Did you read The C. S. Lewis Signature Classics: An Anthology Of 8 C. S. Lewis Titles: Mere Christianity, The Screwtape Letters, Miracles, The Great Divorce, The P? Please provide your feedback and rating to help other readers.
Its C.S. Lewis. Great talent, excellent writer, great collection

Derived From Web

, Mar 10, 2022

I bought this for my daughter for Christmas and she absolutely loved it. Its got a great collection of his works and i would recommend it to anyone.
8 books packed into an 800+ page single volume

Derived From Web

, Jan 23, 2022

Television images could not be loaded. This is a big book of CS Lewis's eight books packed into a single volume. Yes, it's a big book, but I actually found it okay to hold and read. I personally don't see the inconvenience. Note the embedded video link. The font is readable by most people, even if they are not English. The publishers have done a great job packing 8 books into a single volume - they couldn't have done it better than this, he said. It's great to see such a great deal on a quality item. It's C S Lewis and a keeper for life, Tunick said.
I like having so many of his titles in one book

Derived From Web

, Jan 20, 2022

This one is very special, Mr. Rule told the judge. And I like that so many of his writings are in one volume. I have to read a little at a time because his writing is not for the faint of heart! I'm not ashamed to admit that this is well worth having in my home library.
C S Lewis Anthology

Derived From Web

, Nov 15, 2019

I have to say, this has to be one of my all-time favorite book purchases. It was a joy to experience wisdom of CS Lewis, Robert Hein said. Forty years later, I still wish I had read those books.
Much more than Narnia

Derived From Web

, Oct 10, 2019

I always thought of Narnia when CS Lewis was writing. After the game, Lewis came back and gave a shout-out. Thanks for the introduction. Please note that this letter was sent to the editor of Screwtape magazine.
Awesome collection for a good price

Derived From Web

, Sep 12, 2019

In "The Eye of the Tiger," Lewis tells the story of how he came to be a writer. pretty thick to travel with, but manageable. Pauley, also known for his novels, is a New York Times best-selling author.
So much for so little!

Derived From Web

, Mar 24, 2019

Great to find so many titles in one paperback, said Barbara Comstock, executive director of marketing for Simon & Schuster. The price was great, too, said Dr. Julie Gerberding, director of pediatric neurosurgery at the Children's Hospital at Montefiore. This was a great present for a friend and she really loves it!
Great Collection

Derived From Web

, Jan 24, 2019

This is a great collection of Civil War papers, he said. The Vazzi collection features works by masters of the fine arts, including Jackson, Hinds and Lewis. Through captivating storiesillustrations, it helps paint a picture of what true christianity is through the prism of Christian faith. The book arrived in perfect condition, said Gillian.
CS Lewis needs no intro

Derived From Web

, Apr 6, 2017

I purchased the hardcover edition in 2010, and it is indeed of superior quality, but way too big for reading in bits and pieces here and there around the house. I'm here now getting the same collection for a friend who was just ordained, and I think I'm going with the boxed set because a paperback version would be as difficult to hold open as Michener's Hawaii.