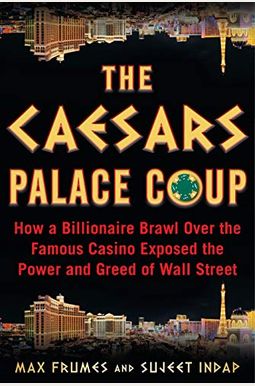  
The Caesars Palace Coup: How a Billionaire Brawl Over the Famous Casino Exposed the Power and Greed of Wall Street
Book Overview
It was the most brutal corporate restructuring in Wall Street history. The 2015 bankruptcy brawl for the storied casino giant, Caesars Entertainment, pitted brilliant and ruthless private equity legends against the world's most relentless hedge fund wizards.
In the tradition of
Barbarians at the Gate
and
The Big Short
comes the riveting, multi-dimensional poker game between private equity firms and distressed debt hedge funds that played out from the Vegas Strip to Manhattan boardrooms to Chicago courthouses and even, for a moment, the halls of the United States Congress. On one side: relentless financial engineers Marc Rowan, David Sambur, and David Bonderman with their teams at Apollo Global Management and TPG Capital. On the other: superstar distressed debt investors Dave Miller and Ryan Mollett with their cohorts at the likes of Elliott Management, Oaktree Capital, and Appaloosa Management. The Caesars bankruptcy put a twist on the old-fashioned casino heist. Through a $27 billion leveraged buyout and a dizzying string of financial engineering transactions, Apollo and TPG--in the midst of the post-Great Recession slump--had seemingly snatched every prime asset of the company from creditors, with the notable exception of Caesars Palace. But Caesars' hedge fund lenders and bondholders had scooped up the company's paper for nickels and dimes.
Read More chevron_right
Frequently Asked Questions About The Caesars Palace Coup: How a Billionaire Brawl Over the Famous Casino Exposed the Power and Greed of Wall Street
Book Reviews
(10)
Did you read The Caesars Palace Coup: How a Billionaire Brawl Over the Famous Casino Exposed the Power and Greed of Wall Street? Please provide your feedback and rating to help other readers.
Delivered with a detached hardcover

Derived From Web

, Feb 23, 2022

It may be great book, but the hardcover was detached from the rest of the book. The company has displayed clear disloyalty to Amazon. com shoppers by failing to properly control the quality of its products.
Fascinating and entertaining look into a legal street fight

Derived From Web

, Oct 12, 2021

If you are looking to invest in PE or high yield credit, this is a great read. The book looks at how brinksmanship, strategy, and flat-out greed must come together for these investments to be successful. The case cost over $250 million in fees and expenses, plus interest.
Hard to put down

Derived From Web

, Jul 24, 2021

Nearly everything about this book is so difficult to put down. It's a 90 percent narrative, not much analysis or digressions, Sosa said. It helped that it had a card lineup at the start and several corporate organizational charts throughout the book. It's great to be back home, said Blair.
Excellent Distillation of an Incredibly Complex Situation

Derived From Web

, May 11, 2021

The saga of a bunch of famous investors and their advisors is a fascinating one. The book's authors must have spent years piecing together all of the sections. The first few chapters are quite technical, but it's worth it to get through them. Sort of crazy that some people are powerful enough to get changed the laws when those laws don't suit their wishes, Raymond said.
The definitive restructuring chronicle

Derived From Web

, May 4, 2021

As a fan of business transactional non-fiction, I'd have to put this book right at the very top of the lot, alongside such greats as The Taking of Getty Oil and Barbarians at the Gates of London. Only a few will try to put it down. It is, without a doubt, one of the defining and most influential rock operas of the 20th century.
Well-written, behind the scenes look at the world of private equity and restructuring

Derived From Web

, Apr 22, 2021

Recommend for anyone with an interest in private equity, investment banking, restructuring, corporate law or the casino industry, and high stakes negotiations that can determine winners and losers.
Quality, Intriguing read

Derived From Web

, Mar 31, 2021

Ratskin and his colleagues at Carnegie Hall conducted a fascinating study of people trying to ratf*ck each other. If only people with the drive and smart could work on something that benefitted humanity rather than keeping the capital markets spinning, he said. Really good read. The story unfolds and moves quickly like a TV drama, with vivid characterization of the main villains, Morgenthau said. But along the way, there are great nitty-gritty details relating to the complex transactions discussed. Boring Not at all, but I'm in the corporate lending industry so it may just be interesting to me, he said. I learned a fair amount about the bankruptcy process I had not known. What prevented 5 stars from being the worst copy editing I've seen from a major publisher? I've only seen typos and combined words in some e-books and self-published stuff. I didn't even try to get into the game. This wasn't authors' fault, someone fell asleep at the publisher, he said.
This century's Barbarians at the Gate

Derived From Web

, Mar 30, 2021

Highly recommended for anyone interested in working in the ever-expanding world of private equity and hedge fund management.
Well researched, really captured the dynamics

Derived From Web

, Mar 23, 2021

Welcome to an inside look at the world of distressed investing. In "The Seven Deadly Sins," Hedge fund manager Scott Gerberding tells readers how to properly evaluate a company's financial strength. The book's authors, Robert Hein and Robin Goldberg, did a great job capturing the characters well and dealing with legal nuance. A good read, too. Not only does this book change the way people think about working in distressed shops, but it has also been recommended to anyone interviewing for a job.
Exceptionally well written inside story

Derived From Web

, Mar 19, 2021

I was pulled in by the excellency and didn't stop there. The story told here is detailed, incredibly well researched, and surprisingly well written, McBride said. The authors clearly are fabulous journalists and have sourced some exceptional aspects of this back-room dealmaking story, the two said. Like Michael Lewis's many books on similar subjects, this one is highly recommended. I'm learning a lot and enjoying it greatly.