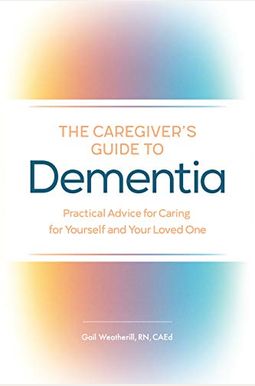 
 
The Caregiver's Guide To Dementia: Practical Advice For Caring For Yourself And Your Loved One
Book Overview
Care for yourself, while caring for a loved one with dementia
When caring for someone with dementia, your own mental stability can be the single most critical factor in your loved one's quality of life. The Caregiver's Guide to Dementia brings practical and comprehensive guidance to understanding the illness, caring for someone, and caring for yourself.
From understanding common behavioral and mood changes to making financial decisions, this book contains bulleted lists of actions you can take to improve your health and your caregiving. Inspirational and compassionate, it focuses on the caregiver's underlying love and humanity that cannot be taken away by any disease.
In The Caregiver's Guide to Dementia you'll find:
Dementia defined-Understand dementia and its many forms, with an explanation of the illness and its variations.
Caregiver wellness-At the end of each chapter, a small section provides relaxation and mindfulness exercises and reflection for dementia caregivers.
Practical approach-The back of the book is filled with resources, from financial planning to tips on safety, along with questions for health care professionals, lawyers, accountants, therapists, and friends.
Frequently Asked Questions About The Caregiver's Guide To Dementia: Practical Advice For Caring For Yourself And Your Loved One
Book Reviews
(16)
Did you read The Caregiver's Guide To Dementia: Practical Advice For Caring For Yourself And Your Loved One? Please provide your feedback and rating to help other readers.
Essential book for the whole family

Derived From Web

, Sep 18, 2021

My mother was recently diagnosed with stage 5, and although we knew she was in trouble, it took forever to get her to the doctor. She is still cognizant enough to know that something was terribly wrong, but doesn 't want to face it. Since then, our family is trying to figure it out as we go, and this guide has become our bible. If you are on this journey, please give copies to your family if you are in it. Education is critical and standing together and this is something we can hold and together we are stronger with every hurdle and milestone.
Best book ever!

Derived From Web

, Jun 8, 2021

For me, this book is a life saver as a new caregiver. It has helped me deal with my father's dementia with love and compassion. It is well written and has great value. Every penny is worth. I know a lot more about dementia and how to be for my father a good caregiver. It is my go to for advice book!
Dementia book plus a free gift

Derived From Web

, Jun 5, 2021

Wonderful book, I have not been able to read it yet and really sit down, but the little I have read is well and interesting. They included a second book for caretaker, free of charge. This book was about a couple who were forced to deal with the advancing MS of the wife, leading to her complete disability and eventual death. It was an a disturbing reality as the vendor had no way of knowing me of course, I am dealing with my own MS. It was rather devastating to read her disconcerting course of her disease. The I have a disease syndrome that is quite different from the authors'wife, but it was a little scary to read. The book about dementia I think will be helpful and I am glad that I have ordered it. The order came quickly, was packaged well and would be a great addition to anyone's collection that dealt with this terrible disease in their family. I have to say that it was a nice thing for the seller to add the second book as a gift, I know that it would be very helpful to receive from others.
my problem is with the audio narrator

Derived From Web

, Apr 12, 2021

I think the book itself is a 4 or 5 star. Not sure, because I wasn't up to finishing the Brilliance Audio book I purchased. One of these days I buy the paperback and finish it. Narrator was too much of a 'performer' than a narrator. I felt there was too much of a desire to emotionally manipulate the reader, which I was not looking for. Didn 't like the performance either.
Achievable helpful tips

Derived From Web

, Apr 3, 2021

The author liked the author's ideas to motivate the reader to take action. To evaluate their day and not fall into negative self-talk. I thought it was meaningful for the author to ask how the reader was doing with this topic, and complimented the reader in the effort it takes to educate our self. This book has tools to defeat problems.
Very easy read. The content was right on with our love one.

Derived From Web

, Dec 30, 2020

Highly recommended reading this book for all caregivers and family members. The author knows what she is talking about. Thank you for the kind words.
Informative

Derived From Web

, Dec 27, 2020

Very easy to read and packed with useful information. Highly recommended for anyone dealing with dementia in a relative or friend.
Excellent advice for anyone who is trying to make the best of a really tough situation

Derived From Web

, Jul 27, 2020

Professional guidance, a whole appendix of resources, chapter summaries, stories of other people's situations and examples of what to do and not to do and the reasons behind these recommendations are invaluable and comforting. If you are an adult child of a parent, a hired or volunteer caregiver or the partner of a loved one who suffers alone through the stages of dementia, this book will make you feel like you have a built-in support system. I read it cover to cover in one sitting, it was that good.
If a loved one has dementia this is a must have!

Derived From Web

, Jul 23, 2020

My mother was recently diagnosed and the quarantine didn 't help much. With this getting worse quickly, a friend recommended this book. My father and I read it quickly (it is an excellent clear read with an easy font and was well bulleted to segment information ). It has been very helpful and even brought it to the neurologist with us. Excellent examples of things to say to your loved one, things not to say, what to do for Dr. appointments and questions to ask the doctors.
Thank you for writing the book we needed

Derived From Web

, Jun 16, 2020

The advice you shared helped answer questions we didn 't know how to ask. Thank you for sharing your knowledge and experience with us ''.