Buy 3 Get 1 Free
Our Best Sale Yet! Add 4 Books Priced Under $5 To Your Cart Learn more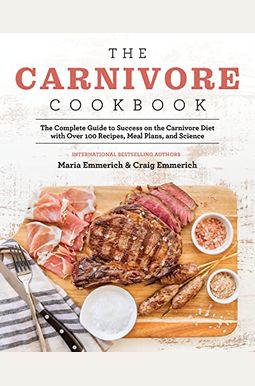 
 
The Carnivore Cookbook: The Complete Guide To Success On The Carnivore Diet With Over 100 Recipes, Meal Plans, And Science
Book Overview
Keto meets carnivore in this revolutionary new book by revered cookbook author and low-carb pioneer Maria Emmerich.
Did you know that our ancestors were apex predators who were even more carnivorous than hyenas and big cats? That was only about 30,000 years ago. But since then, our diets have drastically changed due to the invention of agriculture about 7,000 years ago and, within the last 100 years or so, the introduction of millions of food additives, the development of a year-round produce supply, and the hybridization of fruits and vegetables, making them higher in sugar and lower in nutrients.
Carnivore Cookbook
explores what our bodies were really designed to digest and gives compelling evidence that we were designed to be primarily meat-eaters. In this book, you will learn why all plants come with a downside. Antinutrients are chemicals and compounds that act as natural pesticides or defenses for the plants against being eaten. Maria explains how antinutrients can rob your body of minerals and other nutrients and lead to autoimmune issues and leaky gut. There is even a protocol for healing autoimmune issues called the Carnivore Autoimmune Protocol: a detailed system for stepping you through the various levels of carnivorous eating to find the point where your body responds best and is symptom free. You will also learn which foods are the
Read More chevron_right
Frequently bought together
Frequently Asked Questions About The Carnivore Cookbook: The Complete Guide To Success On The Carnivore Diet With Over 100 Recipes, Meal Plans, And Science
Books like The Carnivore Cookbook: The Complete Guide To Success On The Carnivore Diet With Over 100 Recipes, Meal Plans, And Science
Book Reviews
(19)
Did you read The Carnivore Cookbook: The Complete Guide To Success On The Carnivore Diet With Over 100 Recipes, Meal Plans, And Science? Please provide your feedback and rating to help other readers.
Kind of disappointing

Derived From Web

, Apr 17, 2021

I thought there would be more innovative recipes, but there weren 't. I am a little disappointed because the recipes I found in the cookbook are the same recipes I have already found online for free. I was going to return the cookbook immediately, but my puppy decided that the cookbook itself was delicious and ate half the cookbook! '' I love the Carnivore Waffle Recipe, but it was not worth it all for a recipe.
This book helps you understand how to do Carnivore, especially for healing.

Derived From Web

, Jun 29, 2020

I was previously Carnivore, but was trying to figure it out on my own. I had a vascular disease a decade ago and while the diet helped me, I still had scrapes with supplements and electrolytes that I had no idea how to handle. Chris and Craig's book helps make the guess work out, plus some dope recipes.
WoW 🤩 I am SUPER impressed in many ways!!!

Derived From Web

, Apr 18, 2020

I've been debating about this, but then my doctor said : If a lion does not eat it, neither should you ''! I stopped debating immediately and ordered the book! I received it today and am already impressed with education, recipes, organization and the overall high quality of the book from detailed information to beautiful pictures on high quality pages! STOP debating and buy the book just! It is worth it! I love that each recipe has also all important nutritional data! I have loved my other cookbooks by Maria and my wishlist has the Air Fryer cookbook too!
Very Helpful Cookbook

Derived From Web

, Mar 31, 2020

Carnivore has been nothing but helpful and supportive. They're always open to answer questions and just to talk. Some people prefer a plant-based diet and that is fine, but for me, the meat-based diet is where it is. This cookbook helps so that you don 't get bored with the meals. There is also tons of scientific information to help you decide whether this lifestyle is for you or not.
Not impressive!!

Derived From Web

, Feb 28, 2020

Not sure why this book has high reviews! !Eg, bacon knots is an actual recipe! Tie bacon into knots and cook * Face Palm*Or chicken wings recipe is to season wings with salt and bake. Seriously? !Lots of recipes with just the meat and salt, then cook! If I buy a cookbook, I need to learn some actual recipes.
Read the book. Start the lifestyle.

Derived From Web

, Feb 17, 2020

Excellent book that combines science, Craig's personal health challenges with Lyme disease, an easy start plan and great recipes when I tire of steak! I particularly liked the charts showing how nutritionally dense animal foods are! When you see the data, calling blueberries and spinach super foods is almost laughable. Highly recommended not just reading this book, but also trying the lifestyle.
Easy to understand the benefits of the Carnivore lifestyle

Derived From Web

, Jan 22, 2020

Craig and Maria Emmerich go through an easy to follow and understanding of the Carnivore lifestyle. Maria has wonderful recipes and is easy to make. , ''
So Worth the wait!

Derived From Web

, Jan 15, 2020

As always, Maria's Craig do an amazing job of explaining the science behind this way of eating and diving into detail. There are so many informative charts in this book to help you achieve your goals, whether it is weight loss or addressing an autoimmune condition. I had refused looking at any of the recipes until I finished reading the science and how to eat this way of eating, so my husband got busy marking all the recipes we needed to make ASAP. I can not get started. As always, thank you Maria's Craig for all you do.
Exactly what I needed! Not just a cookbook..

Derived From Web

, Jan 12, 2020

I tried to start the carnivore diet for months, but I just couldn t keep it. Once I read this book and learned more science, it gave me the nudge I needed to start. Science and real life practicality connected effortlessly made my decision a no brainer ''. I am so grateful for their work and especially to Maria and Craig. They have already done so much in the keto and carnivore world, and I am excited to see what comes next! I could go on and on, but just get the book. It is an amazingly easy reference in terms of science and dismissed myths and recipes that look dead delicious! You 'll be so glad to have this! ''
Oops They Did It Again! ❤️🥩

Derived From Web

, Jan 10, 2020

Craig and Maria did it again. If you discovered the lifestyle of Carnivore or you have been eating this way for years, you will LOVE this book. In the kitchen, Maria is pure genius and this book is nothing short of amazing. I can 't wait to try all the recipes. Nick '' is a University of Excellence ''.