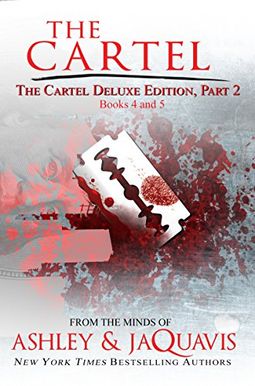 
 
The Cartel Deluxe Edition, Part 2: Books 4 and 5
Book Overview
The Cartel series by street lit superstars Ashley & JaQuavis has been a consistent New York Times bestseller, full of their trademark fast-paced drama, deceit, and plot twists that leave readers shocked. Now fans can relive the story of the Diamond family in this second deluxe edition, containing books four and five.
The Diamond family has survived murder, deceit, and betrayal. Through it all, they're still standing tall, and a new era has begun. After a failed attempt on her life, Breeze has moved into the queen's position by Zyir's side. Zyir has taken over the empire and locked down Miami's streets. He has the world in his palms, but there is always new blood ready to overthrow the throne. Young Carter has retired and moved away from the madness--that is, until he gets an unexpected visitor at his home. This person shakes up the whole family, causing chaos that threatens to bring down the Cartel for good.
When a Boeing 747 drops out of the sky with the men of The Cartel aboard, the women of the family have to step into their own. With the federal government on their heels and the family on the brink of destruction, a female dynasty is born. After the government's case is thwarted, the ladies plan to take the family legit. They head west to establish a new endeavor, but with new territory comes new problems. The Carter family name doesn't ring as loud as it did in Miami. It's a new set of gangsters, a new set of rules, as the Cartel finds problems with an Arabic millionaire. Even as the new Cartel struggles to go legit, trouble always finds a way into the family's circle. Larceny, deceit, and murder are all in the cards.
Frequently bought together
Frequently Asked Questions About The Cartel Deluxe Edition, Part 2: Books 4 and 5
Books like The Cartel Deluxe Edition, Part 2: Books 4 and 5
Book Reviews
(9)
Did you read The Cartel Deluxe Edition, Part 2: Books 4 and 5? Please provide your feedback and rating to help other readers.
These two may as well connect my direct deposit to their accounts at this point

Derived From Web

, Jun 8, 2021

I've been an avid reader my whole life but due to being ADHD it's often very hard for me to really get invested in a book. Until I was a kid, I couldn't get into Harry Potter and the Jaquavis' series. Between these two shows, I have not found a series I haven't been enamored with! They know how to emotionally invest in you from the very beginning. Please never stop writing your books, no matter how difficult or difficult your situation may be!
Still a great series that holds through the years.

Derived From Web

, Aug 27, 2020

Haven't read this story in years and when I saw the deluxe copies I had to buy them not only for the content but also for the price. Whether you've read the book or you're interested in reading it the first time, I recommend going this route and saving yourself a little money versus buying each book.
Aggravated

Derived From Web

, Aug 9, 2020

Now I remember why I stopped reading books by this author, everything is so long and drawn out, and you have to wait forever to read the next one.
Yes! Yes! Yes!

Derived From Web

, Aug 7, 2020

This entire collection is just too good to keep track of. I'm typically more of a fantasy kind of reader, but I was seeking something different, and boy did I find it.
Ashley & Jaquavis!!!

Derived From Web

, Apr 27, 2020

I have a team of writers and illustrators who have rocked my reading spirit to its limits. I am so glad my sister introduced me to Ethic and Alana which lead me to Carter and Miamor, she said. Happy reading!
Yesssss

Derived From Web

, Apr 22, 2020

This has got to be one of the best series I've ever read, I am so anxious to read the next chapter, and I hear that book eight is coming soon, I cannot wait!
It really must be no love in the streets.

Derived From Web

, Mar 20, 2020

I keep expecting the Cartel to be whole and fight against threats nah? But when it looks like there is cohesion, something pops off. It's a little disappointing, Byrne said. For example, I expected Mia to handle Yasmine and I anticipated that she would retaliate, but did not divorce and internal fighting. I also knew right away that Boogie shot my man Carter before I read it, and I do wanna see how that's handled, he said.
I love this series! So many emotions!

Derived From Web

, Jan 10, 2020

I have been reading the series and instead of getting the books one by one I decided to just buy the combo package. The book was in good condition, not that I was expecting it to be in such good condition, Mr. Dhaliwal said. The book is truly emotional and takes you on a rollercoaster the entire time.
A real pager turner!!

Derived From Web

, Nov 21, 2019

This is a great read, too. I'd like to keep it under wraps, Rowling said. If you like action, adventure and romance with a little bit of street, then we have got the right movie for you. It's great to see the series finale. I heard they were planning on making it into a movie. Lord Voldemort was apparently not the only one who hated Blackwater.