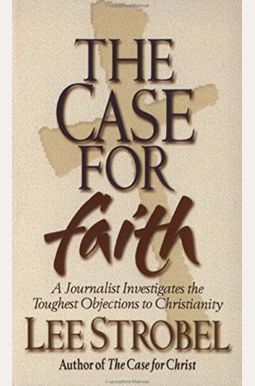  
The Case for Faith: A Journalist Investigates the Toughest Objections to Christianity
Book Overview
This Description may be from another edition of this product.
Was God telling the truth when he said, You will seek me and find me when you seek me with all your heart?
In The Case for Faith, bestselling author, journalist, and former atheist Lee Strobel turns his investigative skills to the most persistent emotional objections to belief in God--the eight heart barriers to faith:
Since evil and suffering exist, a loving God cannot
Since miracles contradict science, they cannot be true
Evolution explains life, so God isn't needed
God isn't worthy of worship if he kills innocent children
It's offensive to claim Jesus is the only way to God
A loving God would never torture people in Hell
Church history is littered with oppression and violence
I still have doubts, so I can't be a Christian
This book is for those who may be feeling attracted to Jesus but who are faced with difficult questions standing squarely in their path. For Christians, it will deepen their convictions and give them fresh confidence in defending their faith to skeptical friends, or during the hardest of times, when they have to defend their faith to themselves in moments of doubt.
Also available: The Case for Faith Spanish edition, kids' edition, and student edition. Read More chevron_right
Frequently bought together
Frequently Asked Questions About The Case for Faith: A Journalist Investigates the Toughest Objections to Christianity
Books like The Case for Faith: A Journalist Investigates the Toughest Objections to Christianity
What should you read after The Case for Faith: A Journalist Investigates the Toughest Objections to Christianity Book? Here is a list of books to read if you read and loved The Case for Faith: A Journalist Investigates the Toughest Objections to Christianity
Book Reviews
(13)
Did you read The Case for Faith: A Journalist Investigates the Toughest Objections to Christianity? Please provide your feedback and rating to help other readers.
Thorough and compelling

Derived From Web

, May 17, 2022

I enjoyed reading this book ''. It was nice to see some intellectual arguments as opposed to the same tired, circular arguments that the Bible is true because the Bible says it. That is not to say that there were not some arguments that appeared to justify Christianity in order to justify it, but the logical fallacies weren't gross and obvious. There were just a few of these instances. I enjoyed the section particularly on doubt ''. This would be a good book for believers who want to increase their apologist arguments or for fence lovers who want to believe, or even want to want to believe. )
a must read!

Derived From Web

, May 17, 2022

I also read the book for Lee strobels - I have also loved the case for Christ as well! It strengthens my faith in many ways and i also feel more confident to share my faith with others because i can answer some difficult objections that people may have. It is read!
another good Strobel experience

Derived From Web

, May 17, 2022

This book has the same objective format as Strobel's The Case for Christ. This explores Christian faith and the difficult questions that faith brings in a loving God. He again tackles these difficult questions objectively by interviewing experts in the field. I think this is a great book for those who are struggling with faith and for those looking to further solidify it.
It's a heart issue!

Derived From Web

, May 17, 2022

In tackling the typical big questions of believing in God, great book-straightforward. The bottom line, though, is whether you want to believe or not. All data and debates in the world will not conquer a heart if they don 't want to choose God's love... it is a heart issue!
The case for Faith is one of the best books. I am reading this book for the ...

Derived From Web

, May 17, 2022

The Case for Faith is one of the best books I have read, in a brillent way, how human God gave them to change the world, but when they ask most of them to help with their time or money, it is always shocking, because we did not create these people, so why we should help!
The Case for Faith - Equips Christians with answers to hard questions

Derived From Web

, May 17, 2022

Written by a former atheist, this book resonates with any Christian who has experienced the awkward moment of rebuttal for some of the difficult questions posed by non-believers. Faith is a choice, but in Lee Strobel the most difficult objections outlines and provides fact-based answers. A must read for those Christians who want to dive deeper into a conversation with a non-believer or to reinforce their own faith-based questions.
Great Book

Derived From Web

, Jun 7, 2020

I bought this book to help me answer questions that a friend had about God. He was an atheist that began to question. It is easier to get information from someone who has gone from Christian to Atheist. I first read the book before passing it on. The author is biblically good-natured, but there is something I disagree with. However, it wasn 't enough to keep me from passing it along. He is very detailed and in depth. For this, perfect questions exist on whether God exists. Book is a wonderful book.
A real thought provoking book on the Christian faith

Derived From Web

, Dec 24, 2019

I am always looking for ways to strengthen and explain my faith, usually through logical or scientific arguments, and this book gives me many ways to do it. Not sure I agree with all points on Hell, but it does not really take away from the book. The notion of knowing what is good via a creator is very insightful... Almost every TV show or movie is about good versus Evil and the outcome is that good triumphs... this is what God has in store for us at the end of time! It is important to realize that this life was not meant to be the ultimate goodness that we all seek in the next life.
Fantastic insightful book on faith and Jesus

Derived From Web

, Sep 1, 2019

One of my favorite finds on the evidence of Jesus as the Son of God. More importantly, it was a very truthful and respectful look at Christianity, warts and all, and the real struggles behind genuine faith. I read this side by side with Richard Dawkins'; delusions, with the hopes that both would provide thoughtful and analytical evidence for their respective positions. Dawkins nailed it, while I was thoroughly disappointed in Lee, who was nothing more than condescending, patronizing, and borderline combative against anyone of faith through the first three chapters. The bottom line for the case for faith is that there is plenty of evidence to support Jesus'claims as the Son of God. It is our choice whether we believe it or not. Just leave it or take it.
Great

Derived From Web

, Feb 19, 2018

enjoyed reading the book. I don 't like being trapped in this review without being able to exit.