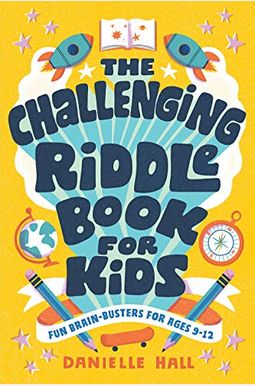 
 
The Challenging Riddle Book For Kids: Fun Brain-Busters For Ages 9-12
Product is currently Out of Stock.
You can add it to your wishlist and you will be notified once we receive a copy.
Book Overview
What's challenging, fun, and sure to give your brain a workout? This riddle book for kids ages 9-12
Riddle me this-can you solve these super hard word puzzles? You sure can Featuring nearly 200 brain benders, this riddle book for kids ages 9-12 is the ultimate option for clever children who love thinking outside the box.
This big riddle book for kids ages 9-12 will test the limits of your imagination. Start things off with handy tips and simple warm-up riddles that will help you twist your thinking and get creative. What's the difference between a bird and a fly? Tie your brain in knots and find out inside
Boost your brainpower with this riddle book for kids ages 9-12:
Tons of tough riddles-Build your problem-solving abilities and stretch your creative thinking skills as you unravel all kinds of perplexing puzzles.
Learn about history's biggest puzzlers-Try your hand at some of the world's most famous riddles, like the Riddle of the Sphinx or Bilbo's riddle from The Hobbit, while also learning fun facts about their history.
Easy to use-Tips, hints, and an organized answer key in the back of this riddle book for kids ages 9-12 make it easy to get solving with your friends and family anytime.
Overcome the mind-blowing mysteries inside the very best riddle book for kids ages 9-12
Frequently Asked Questions About The Challenging Riddle Book For Kids: Fun Brain-Busters For Ages 9-12
Book Reviews
(7)
Did you read The Challenging Riddle Book For Kids: Fun Brain-Busters For Ages 9-12? Please provide your feedback and rating to help other readers.
My kids are in a riddle phase right now 🤦🏼‍♀️

Derived From Web

, Feb 2, 2022

This one got for them for Christmas. Some are clever, some are quite challenging. However, we haven 't passed through much of the book.
Goofy and thought-provoking fun for 3rd grade advanced readers

Derived From Web

, Jan 17, 2022

This was a holiday gift to my 3rd grader who loves jokes and riddles. It is a classic mix of father - jokes, beautiful riddles and conundrums, sprinkled with obscure fascinating facts. If your child likes this kind of brain teasers, you read every single one of them as your kid sounds them out loud to you!
Love This for My Middle School Class!

Derived From Web

, Oct 9, 2021

I teach sixth grade. I teach sixth grade. During the school year 2020-21 we were online. I received the Kindle version of this book and asked for riddles at the beginning of each class. Students loved this, and many of them would ask their own riddles. I bought the physical book now that we are back to in-person learning. My is it cute and handy! My, is it cute and handy! So easy to write a post-it note where the answers are, and another where our current riddles are. And again, the children are very focused when I ask them riddles! Super fun. Ridlebook author thank you, riddlebook author!
A great Riddle Book that can be enjoyed by boths kids and adults!

Derived From Web

, Jun 24, 2020

This is a great book and I'm glad that I made the purchase. I enjoyed reading as an adult, but my younger family members also got a lot out of it. I liked the original riddles, as well as the historical ones. The illustrations were small recurring and I liked the beautiful characters in the book.
Fun book!

Derived From Web

, Jun 18, 2020

My 10 year old has lately been really into riddles and this book has been for him a lot of fun. There is a good balance of easy to challenging riddles to keep him feeling confident, but engaged. We enjoy the illustrations and the cultural inclusion that this book offers as well.
Challenging but fun riddle book

Derived From Web

, Jun 15, 2020

I bought this riddle book for my niece, who is next year a 6th grader. She loves jokes and riddles and this book was just the right book for her. While the riddles were challenging, she enjoyed trying to solve them and then trying to stump her parents.
More Than a Riddle Book!

Derived From Web

, Jun 11, 2020

The Danielle Hall's Riddle Book for Kids is so much more than a riddle book! Hall includes so many beautiful facts for many of the riddles and interesting artwork. And even though it is stated for ages 9-12, I know that my high-school students will love these as ringer activities or when we have a few minutes left in the class. These can be used as group challenges as well. I love how versatile this book is and can not wait to share it with students! It is certainly for ALL ages and certainly more than a riddle book.