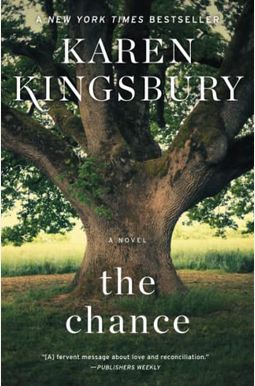 
 
Book Overview
This Description may be from another edition of this product.
From #1 New York Times bestselling author Karen Kingsbury comes a heartwarming story about childhood friends, broken lives, and a long ago promise that just might offer the hope of love for today.
Dubbed the Queen of Christian Fiction by Time magazine, #1 New York Times and USA TODAY bestselling author Karen Kingsbury is arguably America's favorite inspirational novelist with a dozen bestsellers to her credit. In The Chance, she delves deeply into a theme that resonates with us all: It's never too late for those willing to take a chance.
Years ago, the day before Ellie moved from Georgia to California, she and her best friend Nolan sat beneath the Spanish moss of an ancient oak tree where they wrote letters to each other, and sealed them in a rusty old metal box. The plan was to return eleven years later and read them. But now, as that date arrives, much has changed. Ellie, bereft of the faith she grew up with, is a single mom living in a tired apartment trying to make ends meet. Sometimes she watches television to catch a glimpse of her old friend --Nolan, now an NBA star, whose terrible personal tragedies fueled his faith and athletic drive in equal measure. But Nolan also suffers from a transcendent loneliness that nothing has ever eased.
In their separate lives, as Ellie and Nolan move toward the possibility of a reunion at the oak tree, Kingsbury weaves a tale of heart-wrenching loss, the power of faith, and the wounds that only love can heal.
Frequently Asked Questions About The Chance
Book Reviews
(14)
Did you read The Chance? Please provide your feedback and rating to help other readers.
Sometimes Love stays strong, even if it seems, as if it will never ever work out....

Derived From Web

, May 21, 2022

An amazing story about a love deeper than what is commonly found between two people in this fast-paced world, where true gratification seems more attainable than true love against all odds. It is amazing how it turns out that the two main characters could not let go of what they once had. Parts of it have read like a part of my own story. It is about Forever Love, you find once in a lifetime... and even if you wanted to, you could not let go. This book gave me hope that my love story might also have a happy ending. I am thankful to Karen for the way, she seems to know just what I need to read, to keep hanging on, trusting the Lord that he will find a way where there seems to be no way! A great read indeed and I cried a river reading it! God bless y'all who enjoy the book -- it's amazing!
Promises to Keep

Derived From Web

, May 21, 2022

This is a beautiful story of enduring love and God working in our lives to make everything for good when we look to God for help. I cried tears of sadness, which turned into tears of deep, heartfelt joy. Since an early age, nolan and Ellie are special friends. At 15, Nolan asks Ellie whether she will marry him someday. When her family has a fight and Ellie's father whisks her far away and prevents her contact with family or friends, her life is changed and she has a child. Ellie works hard towards his dream of being a successful basketball player, but is always looking for Nolan. Promises made before they were executed, about a time and place to meet someday, works to help them find one another.
Too much like the rest

Derived From Web

, May 21, 2022

The chance was pretty good, but was similar to other kingsbury books. I wish Karen would return to the real world. If you haven't read many of her books, you would find this to be a good story. If you have read her books, you would probably think it's too much like the others. I have probably read over twenty of Karen's books, but I think I 'll take a break after that.
A very good book

Derived From Web

, May 21, 2022

Sometimes I don 't know how an author can weave so many characters together into a story and make it all weaved at the end. One mistake or sin binds so many lives, but God is faithful to forgive even eleven years later. Karen, thank you for another great book.
Amazing!

Derived From Web

, May 21, 2022

In forgiveness and God, it is perfect... It's what we fight for and with, and she gets it! It nailed it perfectly. When reading this, make sure you have tissues ; you'll need them. Karen Kingsbury, thank you.
LOVE!!! LOVE!!! LOVE!!!!

Derived From Web

, May 21, 2022

Besides the fact that I am a HUGE Karen Kingsbury fan and I love all her books, this one did not disappoint at all in my expectations! I read it in an afternoon! In the first chapter, Karen never fails to draw me into her characters'lives. A story of love, forgiveness, healing, and our God is a God that never fails to show up at the exact right time!
The Chance a book that dredged up so many emotions within me.

Derived From Web

, Feb 20, 2021

I can 't believe that I am now crying. When I was writing this book in the mid-way, I was so angry. I must confess that my anger was with Karen Kingsbury. I've always thought it was impossible to search for someone for eleven years and not find them and while I don 't feel anger, I still think it could have been sooner, but then I don 't know how the book came to the perfect ending. I am so glad that I kept reading. I also understand now more about the mouths of children. I enjoyed this book even through my inpatients! !!
Good read

Derived From Web

, Dec 23, 2020

Get the Kleenex out. This was my first Karen Kingbury reading, oh boy, what have I been missing! This book was perfect timing for me, as I heal a broken heart from a broken marriage. Although the ending is different than mine, it was so beautifully written that it touched my soul. It can be a little unrealistic at times, but what are novels for? To take you away from your normal day... Reading faith-based fiction can be refreshing for the soul.
Reconciliation is powerful

Derived From Web

, Jul 14, 2020

Karen's writing is captivating! I appreciate how she shows God's love to ordinary people who make the wrong choices. We enjoyed reading this book for our book club and read the discussion.
Frustrating and Predictable

Derived From Web

, Apr 22, 2020

People keep things to himself because it is for the best or because he won 't want me if he knew only... Isn 't he a grown man who can decide for himself? Oh, and why the random 11 years old? Of course, it all works out in the end. Unfortunately, that is not a spoiler alert, because there isn 't much to spoil.