Buy 3 Get 1 Free
Our Best Sale Yet! Add 4 Books Priced Under $5 To Your Cart     Learn more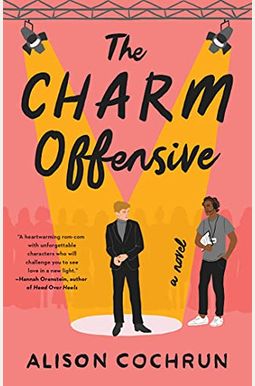 
 
Frequently Asked Questions About The Charm Offensive
Book Reviews
(9)
Did you read The Charm Offensive? Please provide your feedback and rating to help other readers.
I read this in a few days!

Derived From Web

, Mar 4, 2022

And yes, I do love him. This POV story features characters who may, on paper, seem like opposites, but who have a dual ability to see the essence of each other. Throughout The Charm Offensive, Cochrun is able to approach mental health and its influence on our images of ourselves and who we are in a relationship, so masterfully. It is a queer romance book, but it also to illustrate detailed, complex, and endearing characters. He added that he wanted to protect "every fiber of my being." Charlie and Dev stole my heart and I'm not sure if I'm going to get it back. The Charm Offensive is swoony and full of fabulous queerness -- we love it for ace spectrum and questioning rep -- while also getting to the heart of the terror of love. While love can butterflies, there are also fears and doubts. The lies we tell ourselves and the denial the born from fear. Seeing both Charlie and Dev from their own perceptions and each other, is a brilliant move that allows even more insight into who they are as characters.
It fell kind of flat for me

Derived From Web

, Jan 23, 2022

I really wanted to love this book and it had really high ratings from my friends, but I couldn't get into it at all. The fact that Charlie so obviously had anxiety made me wonder how he made it through the screening process, and it was honestly pretty sadistic how he kept getting forced into all these uncomfortable situations. It's a well-placed blow at the reality TV industry, but it's not super fun to read about. Despite that, I think I could have gotten into this book if the writing had been so flat. It reminded me a little of RED, WHITE & ROYAL BLUE with its forced quirkiness, so if you liked that, you might like this.2 to 2.5 out of 5 stars.
LOVE LOVE LOVE this one!!

Derived From Web

, Jan 16, 2022

I don't read much romance, but I do love reality tv, and the reviews for this were off the charts so I decided to give it a go and let me tell you, I was not disappointed. This was a joy to read from start to finish, it had so much depth and not too much steam which is the perfect combo for my kind of romance. It had people dealing with issues of anxiety and OCD and it was handled in a very real way, including with how people like this are treated. I was so not expecting that and loved the book even more doing it. I loved the elements of reality dating show combined with a protagonist that has no idea what he wants and a supporting character that knows what he wants but cannot have. It all came together for a perfect recipe for a fabulous romance that I absolutely adored. Thanks to Atria Books and NetGalley for the advanced digital galley.
Sweet romance

Derived From Web

, Jan 2, 2022

Charlie is on his way to becoming the next Prince in a reality TV show like The Bachelor. Only he has agreed to this because he wants a job back in the tech industry. He said he lost it because of his panic attacks and anxiety. He is the handler of the show's star, Dev. He does his best with shy Charlie, and the two gradually grow close. It's a lovely romance about two men who suffer from various types of mental illness and how they deal with it amid the chaos of a reality TV show, Crosby said. Charlie has never been in love, which makes for a nice dynamic. The supporting characters are interesting, both the members of the production team and the women assembled for the show, Bernadette Peters said. The handling of the OCD, anxiety, and depression was handled well, Dr. Goin said. There are a lot of funny moments too. It's a book I'd recommend to anyone looking for a sweet romance.
Emotional love story with humorous elements

Derived From Web

, Nov 2, 2021

Charlie Sheen has joined the cast of a reality dating show in a bid to rehabilitate his image. Despite his good looks, he is anything but a natural on or off camera. One of the producers, Dev, is reassigned as Charlie's handler. Party boy exterior is a man prone to episodes of clinical depression. Charlie Dev and Rosaleen begin to support each other's mental health. And their "practice dates," allegedly designed to make Charlie more comfortable with romantic settings, go a little too well. Although this novel is billed as a rom-com, I didn't find much of it funny. It is more an indictment of how our society marginalizes those who are different from us. I never watch reality tv, but if more of it ended the way this show did, I might consider it. NetGalley has all but popped the champagne bottle.
a fun romcom with heart!

Derived From Web

, Oct 10, 2021

I really enjoyed this book, said Blair. Even though I'm not about dating TV reality at all, I also really liked the way this played around that setting to build this surprisingly sweet and delightfully funny queer romcom. This book includes a very diverse cast in a lot of different ways, characters that cover a sexuality specrtrum gay, lesbian, bisexual, ace. But these are just a few of the many races and cultures that make up the Marvel universe. I love this representation of natural and unforced beauty, and the way it feels natural and unforced. As for the romance itself, both Dev and Charlie are likable characters, each with their own trauma and past histories, but who see each other and start falling in love within the context of this fake dating show. I empathised, and I definitely was cheering them on, and no spoilers, but I loved the end in a lot of different ways. If you're looking for a romcom with heart, then you should definitely check out The Charm Offensive.
Favorite book of the year - Queer romance for Bachelor Nation fans

Derived From Web

, Sep 8, 2021

My heart is so full after reading this book. While I'm not a Bachelor Nation fan, reading One to Watch proved I can love a reality dating show book without actually watching the shows. Charlie and Dev are perfectly imperfect main characters that you can't help but root for. They are raw and real as they struggle with identity, mental health, and loving themselves. From the moment we met Charlie my heart was squeezed as he struggled with his anxiety and Dev helped to alleviate his discomfort. The story is so tender and I felt like I was experiencing the vulnerability and intimacy alongside our leads, Morgenthau said. It highlights the toxicity of reality television, the sexiness of consent, and the need to learn to trust someone with every part of yourself. I've also enjoyed working with a diverse and supportive cast of secondary characters. I could keep gushing but instead I'll just say read this beautiful story. Thank you, Atria Books and NetGalley, for your review.
A Unique, Diverse Take On A More Traditional Theme

Derived From Web

, Sep 8, 2021

Set amidst a long-running reality dating show backdrop, "The Charm Offensive" is a unique take on a more traditional theme. Not only does it explore the concept of love while showcasing relationships in its varying forms, but it also addresses mental health issues that so often go untreated and even ignored. Boasting a writing style that is both witty and heartfelt, I was easily drawn into the story right from the get-go. The two main protagonists were exquisitely charming in their mutual fallibility and bearing witness to their blossoming love connection was also quite endearing. However, I felt the author was trying too hard in her efforts to demonstrate normality by depicting only characters that furthered this agenda. Still, I applaud her for shining a spotlight on the true meaning of love and for finding it in the most unlikely of places.
Fun, tension-filled look at reality dating TV

Derived From Web

, Sep 7, 2021

Thank you NetGalley for an advanced copy of THE CHARM OFFENSIVE by Alison Cochrun. My favorite part of the book was the behind-the-scenes story on a popular TV dating show. I don't know for sure how much of it was accurate, but I still loved the feeling of seeing what that's like. I've only seen like 1 12 episodes of The Bachelor, but it's prevalent enough in the collective media culture that I have my opinions on it and this book only solidified them, showing the possibility of a happier future where people get to celebrate who they really are instead of hiding it away, where reality shows could actually reflect a more diverse America. Both Dev and Charlie were main characters with plenty of depth and growth, and I really appreciated the representation of mental health in this book as well. Overall, this book was lovely and I flew through it. It had great tension, great voice, and a great moral. It's great to hear so many good things about Burt Flickinger's book.