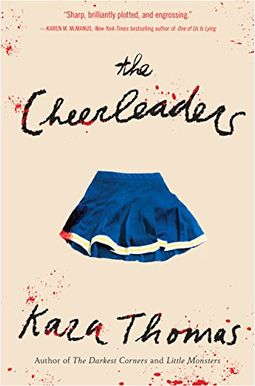  
Book Overview
Sharp, brilliantly plotted, and totally engrossing.--KAREN M. MCMANUS, New York Times bestselling author of One of Us Is Lying
A crafty, dark, and disturbing story.--KATHLEN GLASGOW, New York Times bestselling author of Girl In Pieces
A little bit Riverdale and a little bit Veronica Mars.--RILEY SAGER, bestselling author of Final Girls
A Goodreads Best Young Adult Book of the Year Nominee
From the author of The Darkest Corners and Little Monsters comes an all-new edge-of-your-seat thriller set in upstate New York about an eerie sequence of seemingly unrelated events that leaves five cheerleaders dead.
There are no more cheerleaders in the town of Sunnybrook. First there was the car accident--two girls dead after hitting a tree on a rainy night. Not long after, the murders happened. Those two girls were killed by the man next door. The police shot him, so no one will ever know his reasons. Monica's sister was the last cheerleader to die. After her suicide, Sunnybrook High disbanded the cheer squad. No one wanted to be reminded of the girls they'd lost. That was five years ago. Now the faculty and students at Sunnybrook High want to remember the lost cheerleaders. But for Monica, it's not that easy. She just wants to forget. Only, Monica's
Read More chevron_right
Frequently bought together
Frequently Asked Questions About The Cheerleaders
Books like The Cheerleaders
Book Reviews
(7)
Did you read The Cheerleaders? Please provide your feedback and rating to help other readers.
I can't

Derived From Web

, Feb 6, 2022

Okay, I realize this is YA, but it made me dislike the author seriously. Literally, every page has body talk on it... Haha, literally, it does have this on every page, because I marked it after chapter 10, but those were not the exact terms...
3 stars or 4? So 3.5 it is

Derived From Web

, Jul 17, 2021

Very interesting '' premise. Two cheerleaders died in a car accident five years ago. Two others were then assassinated. The man murdered for the two girls who were wounded for the right man? And we're there contributing factors that led to the accident of the other girls. A lot of trouble to decipher, but very interesting. Some things I made up, some things I couldn t connect the dots quite.
YA thriller

Derived From Web

, Jan 3, 2021

One review I read describes this as Veronica Mars meets Riverdale. Five cheerleaders died one year at Sunnybrook High and there has been no cheerleading squad since then. After taking her own life, Monica's elder sister was the last to die. It is now the 5 year anniversary of their deaths and people want to remember them, but all Monica wants to do is forget. Several twists lead you to the conclusion that ties it all together. I enjoyed the story and writing, but found the behavior of the characters at some points unbelievable.
Cheerleading Can Be Deadly!

Derived From Web

, Jan 2, 2021

When the cheerleaders died, accidents and suicide, the Sunnybrook High School disbanded the cheerleading squad, so that there would be no rememorations of the tragic losses. Monica's sister was the one who committed suicide and she carries this memory with her. Five years later, the school decided to bring back the cheer squad. Dark secrets emerge from that time five years ago and Monica wonders if what happened next to haunt them all.
Meh

Derived From Web

, Jun 28, 2020

Five years ago, five of the cheerleaders of Stonybrook High died within a month of each other. One of them was Jen's sister, Monica. She was the fifth to die from suicide, but Monica never quite believed that. This book has a lot of good reviews, but didn 't really work for me. Early on, Jen and her friend note that their school is so small that it is really impossible to know all the students in a year, but often it seems there was a lot of confusion among Monica's friends about who knew what, about whom. It was confusing and stopped after a while I was caring.
Just meh

Derived From Web

, Dec 26, 2019

The Cheerleaders were alright to me. I'm not gonna lie, the cover was part of the reason why I wanted to read this book. This was not the most interesting mystery I have ever read. I have seen kinda most of the stuff coming before it even happened. There was not a lot of action or suspense to this story. It seems like the author would try, but then it would fall flat. This was my first reading Kara Thomas for the first time and i hope that her other books are better. This one was just for me.
Read the darn book!

Derived From Web

, Aug 12, 2018

Cheerleaders review : I am not great at leaving detailed reviews without giving away spoilers. So let's go with a quote : There are some things that not everyone knows, but ya 'll, you NEED TO KNOW THIS BOOK. If you're looking for a traditional suspense thriller that gives you goosebumps and raises the hair on the back of your neck in DAYTIME, read this. There are no supernatural elements to this plot, which is a fresh air for me. Most notably the fact that this is YA is what makes it even more compelling. A teenager lives in the shadow of her elder sister, a popular Uber driver who died... along with four others on the squad. No one thinks anything suspicious if these seemingly unrelated tragedy, until our main character stumbles across some anonymous letters.