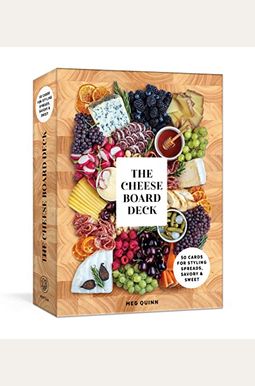 
 
The Cheese Board Deck: 50 Cards For Styling Spreads, Savory And Sweet
Book Overview
Elevate your next gathering with this beautiful, helpful card deck that offers 50 creative ideas for styling and presenting food platters for any occasion--no cooking skills required
Everyone knows the cheese platter gets all the attention at the party, so why not make sure you get all the credit? With ideas for holidays, special days, game days, and every day, expert food stylist Meg Quinn gives you 50 drool-worthy ideas for boards that anyone can assemble at home. Just pick a card, collect and prep the ingredients following the list and tips on the back of the card, then reference the beautiful photograph on the front to arrange an abundant board. Here are quick-to-make meal boards for breakfast, lunch, and dinner, cheese boards both fancy and for the budget-minded, and even colorful dessert and candy boards. With ingredients lists, tips for swaps, and simple and optional recipes for elevating store-bought goods, you can look forward to styling a BYOHD (Build Your Own Hot Dog) board, an Italian antipasti platter, a vegan board, and so much more
Frequently Asked Questions About The Cheese Board Deck: 50 Cards For Styling Spreads, Savory And Sweet
Book Reviews
(12)
Did you read The Cheese Board Deck: 50 Cards For Styling Spreads, Savory And Sweet? Please provide your feedback and rating to help other readers.
Happy with purchase

Derived From Web

, Feb 1, 2022

My daughter loves to put cheese and snack boards together. There are a lot of great ideas in the cards. A great gift!
Perfect For Beginners!!!

Derived From Web

, Dec 26, 2021

I have been looking at it since she announced it. I tried to make my own charcuterie boards before I bought the deck. It never worked out for me. This helps you figure out what to get and how to plate them. It has a wide variety of boards for every event. Please make a second part. !
Happiness in a box!

Derived From Web

, Nov 27, 2021

I fell in love with this deck when I saw it on my friend's countertop, so I ordered my own and am giving the deck to many of my clients for the holidays. The variety and a lot of cards help inspire a lot of party ideas and ways to make a simple meal more exciting. I can't help but think of all the people standing around the board, talking about drinking and wearing clothes. It's a good excuse for a get- together. I think the purpose of the cards is not to have hard-to- find items, but to have quantities of ingredients. I don't want to have to convert recipes based on my guest count, I just use The Cheese Board's Rule #3 - Always Overbuying and if I can't find something, I buy the next most similar item. If I don't have the right items or the right shape board, I just aim to make it look like something Meg would want to take a picture of!
Best Charcuterie Book Ever!!!

Derived From Web

, Nov 13, 2021

The greatest idea of all time is this amazing book. The cheese board deck is a cookbook with pictures on the front and a list on the back. There is a suggestion for where to buy the items. The smallest cards in the deck are small enough that you can put them in your purse and have a list of items with you at the store. The quality is amazing and the price is great. There are several categories in the deck. There are many different types of meats and cheeses. This is a must have for anyone who is a fan of charcuterie and also for anyone who is on the charcuterie train. I am very happy with the purchase of my deck.
Great photos but basics a bit lacking

Derived From Web

, Nov 9, 2021

The deck has great ideas and photos. I found the basic tips to be lacking if you're a new to the game. She uses so many boards that I wanted to know where I could find her cute shaped dishes. I don't know where to find some of the items that I've never heard of, such as cheeses. I was hoping for some guidance but it's just ingredients and photos for the most part.
Yes, yes, yes!!!

Derived From Web

, Nov 7, 2021

I ordered this deck months ago as a die hard fan of Ainttooproudtomeg. It is easy to find ingredients and follow the steps on the boards. Can't wait to use this all through the holidays, and buy a box for each teacher and friend Christmas gift. !
Amazing variety with easy access

Derived From Web

, Nov 5, 2021

I bought a few as gifts because I was excited to get this. The photographs give you a good look at the board. I don't have to print anything for the ingredients. I can bring the card with me to the store and then put it together at home. I can't wait to make something! Thanks for such a great way to enjoy great food and company.
Inspiring & helpful

Derived From Web

, Nov 5, 2021

I am very excited for this set. Lved is being inspired by the way I have followed the same person for years. It is so easy to look at the title on the top of the board and make a decision on what kind of board you want. DIL loves my boards but never feels like she can do it. I wrapped her present with these cards, board, and serving knives, spoons, and spatulas. I can't wait to give this to all my people.
Fabulous, unique idea! Easy to recreate fancy boards!

Derived From Web

, Nov 5, 2021

The media couldn't be loaded. A beautiful board and wine is a great gift for a newlywed couple. The card idea is a great way to make custom boards. The cards are great to take with you to the grocery store to build your board. A great tool for building boards.
Great Ideas!

Derived From Web

, Nov 3, 2021

Convenient format, easy instructions, and cute ideas! I made the burratta board this summer and it turned out great, so I pre-ordered this deck and have been waiting for it since July!