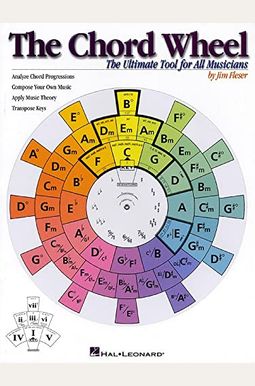 
 
The Chord Wheel: The Ultimate Tool For All Musicians
Book Overview
(Instructional). Master chord theory . in minutes The Chord Wheel is a revolutionary device that puts the most essential and practical applications of chord theory into your hands. This tool will help you: Improvise and Solo Talk about chops Comprehend key structure like never before; Transpose Keys Instantly transpose any progression into each and every key; Compose Your Own Music Watch your songwriting blossom No music reading is necessary. This is the kind of device that players of any instrument can use to enhance their musical understanding. Chord and key relationships are inseparable, and learning these relationships is a must in becoming a successful musician. Alan Remington, Orange Coast College Music Dept.
Frequently Asked Questions About The Chord Wheel: The Ultimate Tool For All Musicians
Books like The Chord Wheel: The Ultimate Tool For All Musicians
Book Reviews
(13)
Did you read The Chord Wheel: The Ultimate Tool For All Musicians? Please provide your feedback and rating to help other readers.
Great tool to have

Derived From Web

, Apr 20, 2022

A great tool to have, Mr. D'Antonio said. It may be helpful to do a pictorial of minors for easier reference... rather than having to go to the encyclopedia of chords, showing them inside the book would be more helpful to the musician. This is, of course, a rather resourceful tool for any musician to have.
Very cool tool for transposing on the fly!

Derived From Web

, Jul 9, 2020

Handy tool for quick chord change or for help when writing when vocals or guitars need to be corrected.
My package came in GREAT condition !

Derived From Web

, Jun 24, 2019

I knew I had to get this from him, Tunick said. I've been playing guitar for about a year now and managed to get a good handle of the open and Barre chords, said Geddy. The book is an all-in-one, hardback, illustrated guide to all the great English novels.
Great tool to learn basic theory, but arrived folded in half by Postal Service from lack of substantial packaging by Amazon

Derived From Web

, Jul 18, 2018

Easy to understand, helps a novice like myself identify key and shows me where I can venture. Amazon could do a solid here and ship it in something more substantial than a padded envelope. It arrived in half when it was packed in my box by the post office, so I sandwiched it between two heavy books for a week to straighten it as much as possible. Amazon could use labels reading "Do Not Bend" and could insert a piece of cardboard to thwart a postman's urge to roll it up to fit in a mail box. It's not like they don't already use oversized boxes to ship a couple of pens and a paperback across town, so they could certainly do more with similar items. If you find this in your local music shop, I'd buy it there to ensure it is received as intended.
Needs more instructions for a beginner

Derived From Web

, Jun 20, 2018

I can't help but wonder what this beautiful secret code wheel would be helpful in understanding the note relationships that abound in music. However, the problem is that you have to know the secret code to run the program. The instructions for the wheel are relatively light, even for a beginner. The instructions on the wheel were so brief, it's almost comical. It must have been a total waste of time, because I couldn't find them. Even if just an explanation of the abbreviations would be helpful, they would be difficult to find. I realize they are more or less standard to those who already know them, but not to someone who is just starting to study music theory. I am disappointed because I usually am able to learn a lot through visualizing relationships, Raymond said. It's just that time of year again. It is not just a more complete circle of 5. For this beginner, the recorder is a different tool, and for this reason, it is not useful because there is no instruction manual for those with only basic knowledge of music theory.
Seems to me that the writer of the manual assumes ...

Derived From Web

, Jun 3, 2018

I wonder how many of the students actually obtained their degree in music and/or music theory. Only a beginner can learn how to play the piano. It's a lot of miscommunication, even though the document clearly says so.
Great tool for any skill level.

Derived From Web

, Apr 25, 2018

After 30 years, I'm getting back into playing guitar, and both my daughters are learning piano and want to play guitar too.
Great Tool - Not an Option, A Need

Derived From Web

, Feb 21, 2018

From a guitarist's point of view, I would say just buy it. You get the wheel and you get some really amazing information on how to use it and how music works, he said. If you are trying to learn to play an instrument with chords, just get it. It won't break your bank, but it will launch your music-learning world. Note to self: Do not get it. Adaptable and Carter's Trading Co. did not hesitate to use the credit card. Before you can read the entire book, you must first absorb the material.
Oh now I get it!

Derived From Web

, Feb 1, 2018

This book is a great reference tool to take the self-taught guitarist to another level of understanding of music theory. Gibson has played guitar professionally for over 40 years. I had lessons as a child and can read music on a basic level, but I have an innate sense of keys and harmonic relationships and can move easily between them, he said. Jim Fleser's chord wheel has made it easy to play.
If you only buy one music book ever... buy this one.

Derived From Web

, Jan 16, 2018

This product is a fantastic product for any type of musician wanting to develop a better understanding of chord progressions. I have been playing music professionally for over 20 years. I'm not considered a professional musician, McCartney said. I recently picked up this book as I'm getting into music producing on my computer. Strong recommend it.