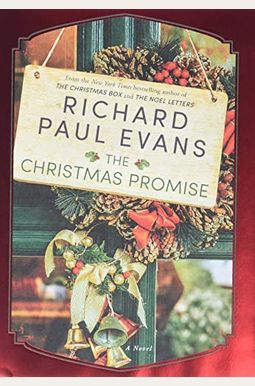 
 
Frequently Asked Questions About The Christmas Promise
Book Reviews
(15)
Did you read The Christmas Promise? Please provide your feedback and rating to help other readers.
Just like seeing a long lost friend

Derived From Web

, Jan 27, 2022

I have not read this author's work for many years. Always '' has been my favorite author. I once thought it was the delightful thick size and shape of his hardcovers and the funny paper it was printed on. But now I read almost exclusively on kindle, it simplifies things for me on many levels. It has found that he is indeed my favorite author even without the tactile experience. I looked forward to reading this book over the Christmas holiday. Life is what it is : I finished the book during the holidays, but never started until the end of January. It did not much matter. Every time I picked the iPad to read it was like being nestled beside my best friend on a couch in front of a fireplace with a perfect fire that warmed my soul. Once again, I am reminded of why this author is my favorite author. I never get tired of being reminded of it. Merci again for another wonderful experience.
Outstanding book that I didn't want to end. This author's books always make a lasting impression on me and my life. I can hardly wait to read his next book. From the time I picked up a book written by Mr Evans until now I have been amazed by his ability

Derived From Web

, Jan 17, 2022

My only regret is that I don 't have another book by him to read next unless I re-read one that I have already read.
Very Predictable!

Derived From Web

, Jan 7, 2022

His books are always well written, but they are becoming very predictable. The Walk Series was the best writing ever produced by Richard Paul Evans!
Wow!

Derived From Web

, Dec 31, 2021

Another great story of life, grace, forgiveness, and acceptance! Aren 't we all eccentrics? Another RPE novel yet to be written! I promise that you will!
There is always a lesson to be learned with Richard Paul Evans books

Derived From Web

, Dec 23, 2021

The book was a little slow in the beginning. But now I understand how the author woven everything together.
The story touches your soul

Derived From Web

, Dec 11, 2021

I really love the first 34 of the book, but the twist at the end left me feeling that it was faked. Richard Paul Evans has run some beautiful themes of forgiveness, family and love throughout the book. It corresponds to the story of the Prodigal Son, which works well in the story. Here are a few of the quotes that struck me : My father was described as the consolation of a weary traveler when the destination is still out of sight '', at this point in my life, hope is the reason I get up in the morning. "Even an open book needs to be appreciated to be read. " "The people in our lives are like the cards on a deck. The different times we draw, or we discard, but in the end we don 't really know the value of the cards until life calls our hand. My friends, I am... ''
Weird content

Derived From Web

, Dec 10, 2021

I usually enjoy his books and have many of them. Not a Christian book! I feel disappointed, as I was looking forward to reading his latest. The next time I wait for reviews first!
This Book Is Good, Could Have Been Better.

Derived From Web

, Nov 30, 2021

I'm now in the middle of this one. I think I know EXACTLY where it is going. If it turns out that I am wrong, I'll come back and up my star-rating. I read every one of Mr. Evans'books, but this one feels so obvious. I was right after updating. If you want to read this because it is a tradition to read Evans, I get it. A great book, however, that feels similar to this one, but won't be such a disappointment is What Death Taught Terrence.
Great Novel

Derived From Web

, Nov 27, 2021

I think the better said about this the less you will have to go on faith. In trusting, it is well worth reading. I would suggest that you view this as a cherished meal you haven t had in a decade or so or as a dish you have never tried, but only read. Either way, in anticipation, you look forward to it. In this line of thought, therefore, don 't rush it.
WOW! Great Read - Highly Recommend

Derived From Web

, Nov 27, 2021

Now that I read the story, I want to spend time reflecting on my own life and forgiveness that I have given to others and myself. This is a page turner with some twists, which were unexpected, but made the story rich in meaning.