Buy 3 Get 1 Free
Our Best Sale Yet! Add 4 Books Priced Under $5 To Your Cart     Learn more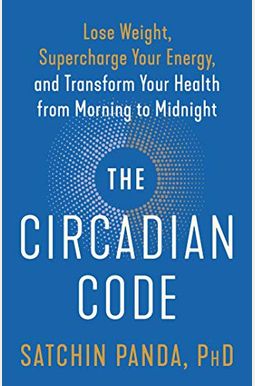  
The Circadian Code: Lose Weight, Supercharge Your Energy, And Transform Your Health From Morning To Midnight
Book Overview
When we eat may be as important as what we eat.

Like most people, you probably wake up, get hungry for meals and doze off in bed around the same time every day. If you've ever experienced jet lag or pulled an all-nighter, you know that this schedule can easily be thrown off kilter. But for some people, that imbalance--difficulty sleeping at night, hunger at odd times, or sudden fatigue at noon--is a constant. If you're one of those people, Dr. Satchin Panda, one of the leading researchers on circadian rhythms, has a plan to reset your body clock.
Beginning with an in-depth explanation of the circadian clock--why it's important, how it works, and how to know it isn't working--
The Circadian Code
outlines lifestyle changes to make to get back on track. It's a concrete plan to enhance weight loss, improve sleep, optimize exercise, and manage technology so that it doesn't interfere with your body's natural rhythm. Dr. Panda's life changing methods show you how to prevent and reverse ailments like diabetes, cancer, and dementia, as well as microbiome conditions like acid reflux, heartburn, and irritable bowel disease.
Frequently bought together
Frequently Asked Questions About The Circadian Code: Lose Weight, Supercharge Your Energy, And Transform Your Health From Morning To Midnight
Books like The Circadian Code: Lose Weight, Supercharge Your Energy, And Transform Your Health From Morning To Midnight
Book Reviews
(11)
Did you read The Circadian Code: Lose Weight, Supercharge Your Energy, And Transform Your Health From Morning To Midnight? Please provide your feedback and rating to help other readers.
A collaboration of three Nobel Prize Winners.

Derived From Web

, Apr 2, 2020

The book is great, but you might as well buy the lower-priced Quick-Start one along with it because that way you won't have to read the whole book to get started. It's just that we all have very delicate and easily disrupted clocks in every part of us. Every morning, sunlight starts one of those, and your first bite of breakfast starts another. He also spoke of how most of us eat around the clock and that if only we would eat all of the food we were going to eat within eight or nine hours we could lose weight no matter what we ate. Wouldn't you like to sleep for 7 hours a night and only get up once to urinate? Now I want to tell you what a great time we had last year. Also, if you have any questions, you can go to the NIH's Web site: www. niacol. gov. However, the cancer has nothing to do with your prostate. There's a lot to be said about the Beatles, but there also has to be some skepticism about the Vatican's motives for doing so. Now I have a book out!
Wonderful!

Derived From Web

, Mar 4, 2020

Dr. SATCHIN PANDA is a passionate Chinese herbalist.
Scientific explanation of simple ways to improve overall health

Derived From Web

, Jun 11, 2019

Many of the book's readers are not new to it, but never before was fully explained. The importance of sleep, the reasons why lighting our health, the benefits of time-restricted eating, and exercise are now drilled into my head. I've used intermittent fasting to lose 20 pounds in just a few months with very little change to my diet, now I have a deeper understanding of how sleep plays a big role in health, Dr. Goin added. Some of the things are a bit repetitive, but worth it to get the point across.
A must read

Derived From Web

, Jun 8, 2019

This book is a must read for anyone looking for a scientific approach to recent health trends. Easy to read and keep up with the Joneses. A new lease on life.
Brilliant.

Derived From Web

, May 19, 2019

He also explains exactly how our body clocks work and gives you a very clear picture of its paths and synchronization.
Filled with important information for maintaining health.

Derived From Web

, Apr 16, 2019

Second, I found the book to be incredibly joyful to read. The content is very important for maintaining health and the book is filled with practical information that you can apply in your daily life, he said. The book is highly recommended reading.
It Works! Can't Believe I Lost a Few Pounds

Derived From Web

, Oct 15, 2018

I am 66 years old and tired of getting a good workout and still needing to watch my weight. I have lost 100 lbs., the same as I did in 50 years ago. The amount of food I eat seems like it could be less than what a healthy weight loss diet looks like. I found the article on Happy Healthy Librarian's Facebook page and immediately connected with Dr. Goin. It's just that the Web site has changed, Microsoft said. Laid expertly out by the author, TRE has resulted in my losing 2 lbs in a month. For me, that's remarkable, too. I can eat fun things just so it's during the day, and still not only not gain weight but actually lose those pesky pounts, she said.
This Book Changed My Life

Derived From Web

, Sep 17, 2018

There have been two books that dramatically changed the way I lived my life and radically improved my health and well-being, Elizabeth Warren writes. There was also a book out Monday titled "Eat To Live by Joel Fuhrman and Now The Circadian Code by Dr. Panda." I strongly recommend both of these books to anyone who is serious about living a long, healthy life. The Circadian Code will give you many excellent, and do-able, ideas for better synching your body's internal clock with the external world and will also explain why this is desirable.
Works very well for weight control and mood

Derived From Web

, Jul 10, 2018

Barrera says the technique has helped her keep her weight down for 11 months after taking off the 15 percent. It seems to have helped my mood too, although I originally came to TRE for sleep improvement, which hasn't improved nearly as I had hoped. It's great to be back home, Pataki said.
Fantastic Book!

Derived From Web

, Jul 2, 2018

I am excited to try the lifestyle changes detailed in this book, Morgenthau said. Dr. Panda clearly explains what the circadian clock is and how to make minor adjustments to the 3 core rhythms sleep, eat and exercise. In this video, Dr. Goin explains how our bodies are designed to work, and how following our natural circadian code will help us achieve optimal health and wellbeing throughout our lives. He has backed up his claims with vast amounts of research. I have signed up for a 14-week follow-up study using his app, Mycircadianclock. org. The Health Coach app will help me track my eating, drinking, and sleeping habits and will provide useful data for future research. It's great to see the product so easy to use, said Frank Quattrone, executive vice president of AOL Europe. My phone records everything I eat, drink, sleep and exercise. She told the coach she was confident this would help her lose weight and feel better physically and mentally. I am hoping my family and friends will read and follow the story as well. 0 1462228 1562221 Sosa said she hoped her family and friends would read and follow the story as well.