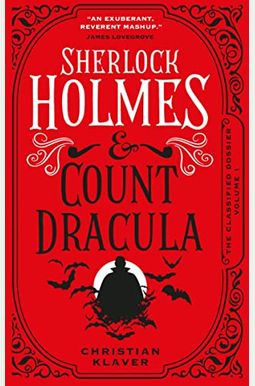  
The Classified Dossier - Sherlock Holmes and Count Dracula
Book Overview
In this thrilling supernatural mystery, Sherlock Holmes and Count Dracula must join forces to banish a terrible enemy.



Sherlock Holmes is dead. His body lies in a solitary grave on the Sussex Downs, England. But Dr. Watson survives, and is now given permission to release tales in Sherlock's 'classified dossier', those cases that are, dear reader, unbelievable - for their subject matter is of the most outr and grotesque nature.
In this thrilling first instalment of The Classified Dossier, a Transylvanian nobleman called Count Dracula arrives at Baker Street seeking the help of Sherlock Holmes, for his beloved wife Mina has been kidnapped.
But Dracula is a client like no other and Sherlock and Watson must confront - despite the wild, unbelievable notion - the existence of vampires. And before long, Sherlock, Watson and their new vampire allies must work together to banish a powerful enemy growing in the shadows.
Frequently Asked Questions About The Classified Dossier - Sherlock Holmes and Count Dracula
Book Reviews
(8)
Did you read The Classified Dossier - Sherlock Holmes and Count Dracula? Please provide your feedback and rating to help other readers.
Great read, awesome crossover

Derived From Web

, Feb 15, 2022

I love the crossover of the literary giants, Sherlock and Dracula. Well worth the chance. Highly recommended.
The Holmes & Watson I always wanted

Derived From Web

, Feb 12, 2022

As a life-long fan of all things Holmes, there came a time when the original Conan Doyle works were just not enough. I craved something familiar, yet new. Something fun, but kind of creepy. Something packed with intellectual puzzle solving, yet action full. Villians are not what they seem to be, and neither are the heroes. It is a beautiful mash of two classics. I await the author's future work, hopefully a long series of supernatural and Gothic - Gothic - characters woven into the rich tapestry of this new Holmes and Watson dynamic. If you're looking for a fresh take on Holmes and Watson that feels like Conan Doyle himself wrote it, look no further.
Very, VERY well written...

Derived From Web

, Jan 11, 2022

During the book, however, I said to myself I bet I know who the villain is '' and I was right. Tired of this!
Better than I thought

Derived From Web

, Jan 5, 2022

I have read all the stories of Sherlock Holmes by Conan Doyles. This was a great read, true to the author and very entertaining. Many twists and turns are again extremely enjoyable.
Excellent reimagining of Holmes and Watson

Derived From Web

, Jan 5, 2022

From page 1 enjoyed by. I love Sherlock Holmes and also rocks with Dracula. I can 't wait for the next book with Mr Hyde.
Great book

Derived From Web

, Dec 30, 2021

If you haven't picked up a copy, do yourself a favor, reading instead of watching reruns once you pick it up.
well written, but...

Derived From Web

, Dec 27, 2021

It is so weird to see Dr. Watson as a vampire. I can 't get into this story and probably won t finish it soon.
A really great page turner is Sherlock Holmes and Count Dracula.

Derived From Web

, Dec 18, 2021

Wonderful scary story presented in harrowing detail by a distraught Dr Watson. Amped with action and very suspenseful. It was completed in 2 days. Very high recommendation if you like Sherlock or Dracula... Can not wait for the dossier #2...