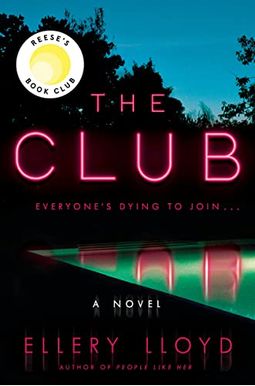  
Frequently Asked Questions About The Club
Book Reviews
(10)
Did you read The Club? Please provide your feedback and rating to help other readers.
Product was fine…. Delivery in almost mud not so much

Derived From Web

, Mar 18, 2022

The product was in perfect condition, but the delivery was poor because it was raining and the dirt became mud. The porch had a dry area, but the delivery was bad because of the weather.
A slog

Derived From Web

, Mar 16, 2022

This is not usually a book I like to read and I might have not been in the mood for it. With the world as it is, I don't care about the obnoxious personality of the rich and famous. They aren't interesting or likable. Just know that. I wanted the book to give me a good story, but it just didn't come out for me. All characters are not real. I think that would go without saying, but I'm not sure. For a very occasional or casual reader, this might be what you need. I wanted something light, but the reading level and extraneous details made it hard for me to finish my paragraphs.
Tedious. Too many coincidences.

Derived From Web

, Mar 14, 2022

The first few days it was categorized as ghost fiction. If your name is on the list, you are already dead. Nope, that's right. There are too many coincidences and they are not believable under any circumstances.
read in one day…

Derived From Web

, Mar 14, 2022

There is a fun, engaging plot. It was like you were getting secret information about the downsides of fame and fortune.
A disappointment.

Derived From Web

, Mar 13, 2022

There is too much pointless narrative. It is hard to get interested in this book. The book was 34 in. It is hard to invest in people like that.
Mixed Feelings

Derived From Web

, Mar 12, 2022

A slow burner has an implausible ending. The characters are not likeable. I thought they would get what they deserved.
Captivating

Derived From Web

, Mar 11, 2022

A page turner. It twists again when you think you have figured it out. I enjoyed reading it.
The Club

Derived From Web

, Mar 10, 2022

After 23 in, the book became more interesting. Lack luster ends with a big build up.
Mysteries within mysteries

Derived From Web

, Mar 7, 2022

About liked the book. It began as a mystery and grew into several other mysteries. It was set on an island where celebrities congregate. The celebrities lives were revealed by the story. Excellent!
difficult to stay interested in slow plot

Derived From Web

, Mar 5, 2022

It took too many pages to get to a thrilling part, but I felt the stage was set for a thrilling, fast paced "who-done-it". The island was the main setting for me.