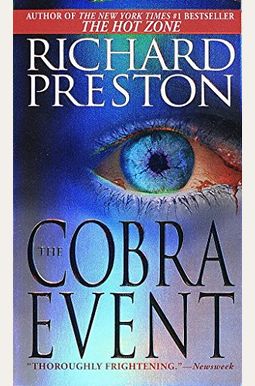  
Book Overview
A PAGE-TURNER . . . THOROUGHLY FRIGHTENING.
--Newsweek
ENORMOUSLY ENTERTAINING.
--The New York Times Book Review
THIS BOK SCARED THE LIVING DAYLIGHTS OUT OF ME. . . . Manages to grab you with the authenticity of its scientific detective work and haunt you with its sheer plausibility.
--Entertainment Weekly
Five days ago, a homeless man on a subway platform died in agony as startled commuters looked on. Yesterday, a teenager started having violent, uncontrollable spasms in art class. Within minutes, she too was dead.
Dr. Alice Austen is a medical pathologist at the Centers for Disease Control in Atlanta. What she knows is that the two deaths are connected. What she fears is that they are only the beginning. . . .
Frequently Asked Questions About The Cobra Event
Books like The Cobra Event
Book Reviews
(9)
Did you read The Cobra Event? Please provide your feedback and rating to help other readers.
Excellent and frightening thriller

Derived From Web

, Jan 12, 2021

If you' ve read other books about the subject, you' ll know that it's a complicated one. That part was fascinating. Clancy's thrillers have always been tense and nerve- wracking and the extended ending was no different. The story has been outlined by others. I highly recommend the book.
Fast paced storyline with intermittent lullabies

Derived From Web

, Dec 25, 2020

As you exit the freeway, the novel reads like you' re stuck in city traffic. As you burn the night lamp for 1 more page to see what happens next, the story starts fast and quickly grabbing your attention. It gets into pages and pages of details that are so dull and uninteresting that the book can ruin your sleep. The book tried to connect historical contexts with present day escalation risks to human warfare strategies but didn't do enough justice to the overall plot. Good read to give some decent knowledge about what can go wrong in a relatively peaceful city and how the responsibilities of agencies to stay attentive at all times goes a long way, it still could have more meat in the plot.
Top shelf writing to get drunk on!

Derived From Web

, Dec 1, 2020

I love Richard but he wasn't aware of the book until now. There is a book on a virus being weaponized. I learned a lot about the structure of Viruses and the agencies that work to beat them in labs and on the streets. I had to finish the Hot Zone at 3 am. Both truth and fiction deal with viruses, how they kill, why they are difficult to stop, and why we need to be aware of them. The plot is very fast and believable. It's hard to put this book down to eat and contribute to the family.
A thriller spoiled

Derived From Web

, Mar 11, 2020

My suspension of disbelief and my credulity were shattered by the anti Iraq digressions which served no purpose at all. The New Yorker is one of the works I have read by this writer. The book would have been better if it had been edited harder. It should have been caught and excised. From time to time, a more thorough proof reader would catch the surprising typographical errors that popped up from time to time. There is a lot of action and the characters are heroic. I gave this book four stars because it was a good book.
Designer virus - all too real a possibility

Derived From Web

, Feb 5, 2020

One of the best researched and plotted books I' ve read in a long time is this one. It combines meticulously researched forensic details with the drama of an epidemiological detective story and reaches its harrowing conclusion in the subway tunnels beneath New York City. I was interested in learning how the CDC, hazmat teams, and federal agents might deal with a grave viral threat to public health. Drugs can be used to treat the threats. Unless there is a secondary bacterial infection, viruses can't. When a lethal virus threatens to become widely spread, very few weapons are available to combat it.
Wonderful...and Terrifying

Derived From Web

, Feb 3, 2020

If you can say that about the book, it is a wonderful read. The American public is largely unaware of this dangerous aspect of modern life. I' ve seen videos of the U.S. doing biological weapon tests. The development of biological weapons has advanced since those old videos were frightening. The author gave the public a peek behind that black curtain.
America Needs be Aware

Derived From Web

, May 13, 2019

While this is a novel, and a good one at that, it helps provide an awareness of potentially dangerous activity in the world today. When a lethal virus comes to our shores, authorities say no. The National Geographic will present a 3- part miniseries based on the novel by Richard Preston. My sister said she wouldn't watch this because it was too frightening. I fear that she has panophobia. The Cobra event is an absorbing novel.
Get smart about the headlines!

Derived From Web

, Jun 19, 2018

I bought a few paperbacks to get an easy introduction to the diseases. I read about it. I wanted to learn about it, but I bought some books that I forgot to read. The world's most important subjects need educated people to enter them. One wonders if one should be concerned about panics in Africa, where thousands die while drawing the attention of Drs without Borders. It turns out to be very concerned. I was convinced by Richard that it could happen here, with Hot Zone and Freezer. The details are fascinating - how viruses are discovered and studied, how safety procedures are developed, the tremendous costs in dollars and in lost people, including scientists, when first responders try to save others from the tragedy. The book is packed with information. A winner!
Disappointing

Derived From Web

, Apr 12, 2017

The hot zone was great. Excellent work that was well written. It read like a novel. This is a fiction that is not very good. Flat characters, diolague and a lot of detail. If I needed to do an autopsy, I feel as if I could do it. There are pages and pages of detailed description on just about everything. It felt like the book couldn't decide what to be. You have to change back and fourth. Is this a story now, or is it a thesis on the many subjects that Mr. Preston knows? The subject would have been better served as nonfiction.