Buy 3 Get 1 Free
Our Best Sale Yet! Add 4 Books Priced Under $5 To Your Cart Learn more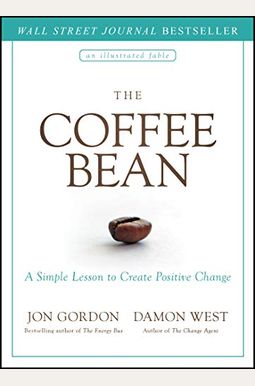 
 
The Coffee Bean: A Simple Lesson To Create Positive Change
Book Overview
From bestselling author Jon Gordon and rising star Damon West comes The Coffee Bean an illustrated fable that teaches readers how to transform their environment, overcome challenges, and create positive change.
Life is often difficult. It can be harsh, stressful, and feel like a pot of boiling hot water. The environments we find ourselves in can change, weaken, or harden us, and test who we truly are. We can be like the carrot that weakens in the pot or like the egg that hardens. Or, we can be like the coffee bean and discover the power inside us to transform our environment.
The Coffee Bean is an inspiring tale that follows Abe, a young man filled with stress and fear as he faces challenges and pressure at school and home. One day after class, his teacher shares with him the life-changing lesson of the coffee bean, and this powerful message changes the way he thinks, acts, and sees the world. Abe discovers that instead of letting his environment change him for the worse, he can transform any environment he is in for the better. Equipped with this transformational truth, Abe embarks on an inspirational journey to live his life like the coffee bean. Wherever his life takes him, from school, to the military, to the business world, Abe demonstrates how this simple lesson can unleash the unstoppable power within you.
Frequently bought together
Frequently Asked Questions About The Coffee Bean: A Simple Lesson To Create Positive Change
Book Reviews
(16)
Did you read The Coffee Bean: A Simple Lesson To Create Positive Change? Please provide your feedback and rating to help other readers.
Coffee Bean

Derived From Web

, Dec 22, 2021

The BEST short book I ever read. The message was definitely needed! I would highly recommend this book to anyone young and old.
Great for people of all ages

Derived From Web

, Mar 7, 2021

Great book. I purchased it for my team to read at work for them. They all loved it and planned to share it with those who are in their lives. Great life lessons on perspective.
a simple encouragement too

Derived From Web

, Oct 28, 2020

I was drawn to this book because I enjoy Jon Gordon's work. He always encourages me. This book was about a simple illustration of how a coffee bean with the right direction could make a difference in someone's life. It is also a reminder that you can make important illustrations with the everyday objects around you. If you are watching for them. Things I liked about this book : How simple motivation can be represented in illustrations. This is an inspirational tool to add to your great toolbox. I was encouraged by how the images appeared in the electronic version. This book is for you if you are stuck in place and need something to pick you up and get you back on the path, this book is for you. If you are in a position to influence people, this is a great inspiration. If your associates don 't want to ride a bus for a month, perhaps they would accept a coffee bean. This book lived up to the back cover copy I read the electronic version.
For remedial high school seniors or advanced/gifted 6th graders, really even younger

Derived From Web

, Oct 6, 2019

Each page has 25 -- 50 words and a picture, EACH page. It is almost akin to a bedtime story that is supposed to be digestible for a person who has never been away from mother and father for more than a week. It is intended to be eye opening, educational and inspirational and for a 8 year old, to learn how to deal with not being in first place and also not receiving a participation certificate, I am sure it is. If you interview someone and think that this book is fantastic STOP the interview. If you have a great employee who thinks this is a current book for peers, immediately FIRE the person. If you have a leadership that thinks this is a great book, now find a new job. If you are an investor and the CEO of the company recommends that this book close shop ASAP. If you are a 4th5th6th grade teacher looking for a book for your kids, you have found it.
Jon Gordon does it again.

Derived From Web

, Aug 18, 2019

I love the positivity lessons in these quick-read books by Jon Gordon. If you are looking for war and peace, this is not the book for you. If you want to be more positive and learn how to be a better you, this is the book for you, along with the other books that Jon has written. Some great lessons for life.
Great tool for growth mindset!

Derived From Web

, Jul 8, 2019

This is a fast and easy read that is enjoyable and very motivational. This simple but powerful story is adaptable and relatable for a wide range of audiences! The illustrations are simple, but compliments the text well. Damon West does not disappoint again and his partnership with Jon Gordon for this book resulted in a perfect duo!
Great lesson for everyone.

Derived From Web

, Jul 8, 2019

This is a fast and easy read. Very impactful ''. I already used it in my team meeting and personal life. It is the perfect book for young and old. It is the perfect book for the young.
Loved this book!

Derived From Web

, Jul 3, 2019

A short read, but more powerful than you could imagine. I have read almost all of Jon Gordon's books, which are all amazing. This one is different, but just as impactful, if not more. Having also read Damon West's memoir and knowing the backstory behind this story makes it even more worth the read. The illustrations make the story alive. If you purchase this book, you will not be disappointed and have a different outlook on dealing with the blows that life throws your way.
Simplicity applied to today's chaotic world!

Derived From Web

, Jul 2, 2019

After hearing the two authors on a podcast, I read Damon's book and pre-ordered this one. If you can, I would read both, because the simplicity of this is applied to an absolutely transformative experience in the life of a lost soul. What I love is the simplicity of this story, applied from a high schooler to an elderly man at several levels.
Transformational quick read and quick to implement in your life!

Derived From Web

, Jul 2, 2019

The Coffee Bean book is a wonderful fable, easy to read book with fabulous illustrations. The Carrot, Egg and Coffee Bean Lesson is one that everyone should know in their life and put into action. We all have times of carrots or of eggs, but the quest to become the COFFEE BEAN is where true transformation takes place! Today order yours, read it and tell your friends and family that it should be on everyone's bookshelves! It is recommended highly! For the team, I 'll purchase more copies! Be the Bean and Go Out!