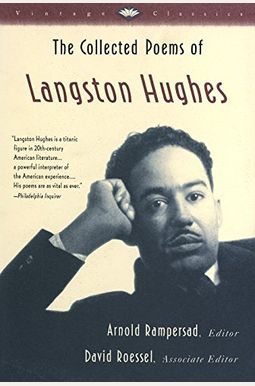  
The Collected Poems Of Langston Hughes
Book Overview
The ultimate book for both the dabbler and serious scholar--. [Hughes] is sumptuous and sharp, playful and sparse, grounded in an earthy music--. This book is a glorious revelation.--Boston Globe
Spanning five decades and comprising 868 poems (nearly 300 of which have never before appeared in book form), this magnificent volume is the definitive sampling of a writer who has been called the poet laureate of African America--and perhaps our greatest popular poet since Walt Whitman. Here, for the first time, are all the poems that Langston Hughes published during his lifetime, arranged in the general order in which he wrote them and annotated by Arnold Rampersad and David Roessel.
Alongside such famous works as The Negro Speaks of Rivers and Montage of a Dream Deferred, The Collected Poems includes the author's lesser-known verse for children; topical poems distributed through the Associated Negro Press; and poems such as Goodbye Christ that were once suppressed. Lyrical and pungent, passionate and polemical, the result is a treasure of a book, the essential collection of a poet whose words have entered our common language.
Frequently Asked Questions About The Collected Poems Of Langston Hughes
Books like The Collected Poems Of Langston Hughes
Book Reviews
(12)
Did you read The Collected Poems Of Langston Hughes? Please provide your feedback and rating to help other readers.
A Must Read American Poet

Derived From Web

, May 22, 2022

Reading Hughes is essential to understanding some of the hidden aspects of American history, especially in the early and mid 20th century. He can be repetitious and does not sing in his poems, but he usually provides energy, involvement and not a small amount of anger. The themes cover city life, the Harlem Renaissance, the Spanish Civil War, WWII at home and abroad, the Civil Rights Movement and many personal events. The compilers have added many valuable notes and references, though a few more would have been helpful for some unusual word choices and period slang. This should be in the books of all lovers of poetry and history.
a great gift

Derived From Web

, May 22, 2022

I bought this book for my high school daughter, who loves poetry, but has not been exposed to Langston Hughes. Previously, I had purchased Emily Dickinson's envelope poems as a gift for her last summer. While my mid-western middle-class daughter seems to have very little in common with Langston Hughes, she adores his poetry. She carries this book around to all her classes and steals away to read a few pages to read a few pages.
Langston Hughes...the first rapper?

Derived From Web

, May 22, 2022

Was fascinated by this book ''. It was well used, but I could see why, after I started to go through it, I could see. Takes one from the early stages of a poet's writing and shows how poetry style changes as we learn. Langston was all about rhythms and music, no doubt about it. If you can find a copy, you should check it out.
Short Poems, Lovely Poems

Derived From Web

, May 22, 2022

The poems of this book are really kind of amazing. I like them all ''. The book is in a very good condition really, without markings or anything else.
langston hughes

Derived From Web

, May 22, 2022

It is a great collection of Hughes'work. It will serve as one of my treasured possessions.
Best collection of Langston Hughes poetry available.

Derived From Web

, Jan 20, 2022

This is a complete, well composed, easy to read collection of all the poems known to exist, created by one of the greatest literary minds of any era, Langston Hughes. This edition is an absolute steal for price and quality. It is the only Langston Hughes book of poetry that you will ever purchase... unless it may be a collectible edition, which I am always seeking.
Another white minority secret exposed

Derived From Web

, Dec 11, 2021

I did not move my previous poets on my poetry list up and down. Homer and Sappho remained atop my ancient category separated. As for the new poets Ginsberg and Dickinson stayed where they were, as did Whitman a notch above the previous two and a notch below the top modern additions. Moving above all others is Langston Hughs, who wonders as an African American why he is here in the Land of the Free, and even killed by the white ruling minority who considers him an invisible inconvenient truth.
Smh!!!

Derived From Web

, Jan 23, 2021

I was excited to receive this book of poems by one of my favorite poets ever, but was very disappointed in how it was bound. The back of the cover is ripped and the cover is very thinnish! I'm now very upset.
I HIGHLY RECOMMEND this collection as a gift or for yourself.

Derived From Web

, Nov 12, 2020

They caused me to reflect and pause -- I thought our generation had done better in civil rights than it obviously has. The events of May 2020, which focused BLM, introduced me to the work and lives of poets, including Langston Hughes and Lucille Clifton. While I have always read a great deal, I have always enjoyed it. I had not been a fan of most poets, because it was just not meaningful to me. John J Hogan is a John Hogan.
4.5 STARS

Derived From Web

, Sep 11, 2020

The quality of this book is AMAZING! My expectations exceeded. It feels good, like its made of heavy and thick materials, though it is not a hard cover. I'm actually glad that its not a hard cover is that's how nice it is. Usually, hard cover is my preference. I have withdrawn a star because of the slight imperfections on the top.