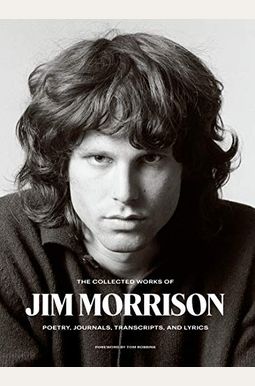 
 
The Collected Works Of Jim Morrison: Poetry, Journals, Transcripts, And Lyrics
Book Overview
NEW YORK TIMES BESTSELER
The definitive anthology of Jim Morrison's writings with rare photographs and numerous handwritten excerpts of unpublished and published poetry and lyrics from his 28 privately held notebooks.
You can also hear Jim Morrison's final poetry recording, now available for the first time, on the CD or digital audio edition of this book, at the Village Recorder in West Los Angeles on his twenty-seventh birthday, December 8, 1970. The audio book also includes performances by Patti Smith, Oliver Ray, Liz Phair, Tom Robbins, and others reading Morrison's work.
Created in collaboration with Jim Morrison's estate and inspired by a posthumously discovered list entitled Plan for Book, The Collected Works of Jim Morrison is an almost 600-page anthology of the writings of the late poet and iconic Doors' front man. This landmark publication is the definitive opus of Morrison's creative output--and the book he intended to publish. Throughout, a compelling mix of 160 visual components accompanies the text: excerpts from his 28 privately held notebooks--all written in his own hand and published here for the first time--as well as an array of personal images and commentary on the work by Morrison himself.
This oversized, beautifully produced collectible volume contains a Read More chevron_right
Frequently bought together
Frequently Asked Questions About The Collected Works Of Jim Morrison: Poetry, Journals, Transcripts, And Lyrics
Book Reviews
(7)
Did you read The Collected Works Of Jim Morrison: Poetry, Journals, Transcripts, And Lyrics? Please provide your feedback and rating to help other readers.
No audio disc, extremely sad

Derived From Web

, Jun 12, 2021

Audio from Jim's December 1970 poetry session was included in the original description. The package arrived without an audio disc and although the book is nice, I have not read any of the poems in other books. Jim doesn't have audio to listen to his poetry. The Doors you tube channel promotes the book with an audio segment of Jim reading his poetry that I have never heard before and it made me excited. I have always wanted to hear Jim read poetry from December 1970 in an audio segment, and another person had an audio segment of it. Man, a lifelong fan of The Doors, Jim Morrison, and I am brokenhearted that I didn't hear the audio of Jim in this book. I wish I wouldn't have bought this book because I think the sales description was misleading.
As A Long Term Door's Fan - Extremely Disappointed

Derived From Web

, Jun 9, 2021

I was wondering how a large book would be filled. It's completely unreadable, and it's page after page of nonsensical musings. I have spent $37 in my life, and this was the biggest waste. I don't want to be constantly reminded of how I got ripped off, so it is heading for the trashcan.
This is the HOLY GRAIL for a fan of Mr. Morrison

Derived From Web

, Jun 9, 2021

As a fan of The Doors and later Mr. Morrison, his journals were the Holy Grail. It's out of reach. The genius gave us a glimpse of his hand. We all wish for one moment, one day, in the presence of that Holy Grail, because a lucky few were able to collect an autograph. A chance to read his words. To see what might have been. Holy Grail is what this volume is about. No, it beats expectations. You can join him on his raft and look at the pyramids constructed by his poetic genius. The work of the Poet was honored in this volume.
For the last time, it's NOT "woke up this morning and got myself a beer"

Derived From Web

, Jun 8, 2021

The book has everything you could possibly want. How does it happen? You still make the most common mistake with all the tools at your disposal. I woke up in mourning and got myself a beer.
Thank you Jim!! Is everybody in? The celebration will now begin!

Derived From Web

, Jun 8, 2021

This man is a legend after 50 years of giving. I'm a Doors fan from a long time. This is the greatest ever. Jim was much more than a singer. This has all his poetry, plus some unpublished ones. His notebooks have his lyrics and photos in them. I had pre- ordered this in February. This is a must have for all Jimmorrison and Doors fans. The king of the lizards is still alive.
Very excited about this, just I think there are a few missing passages…?

Derived From Web

, Jun 8, 2021

My version of the book seems to be missing something. I think there are some lyrics from Lizard. Is this a different draft of the poem? The order of the passages is different than what I have read before. This is a very exciting book and I am a little confused. It's nice to have everything in a single volume.
First printing

Derived From Web

, Jun 8, 2021

My Frist printing is absolutely amazing. Thanks to Jim family for putting together this.