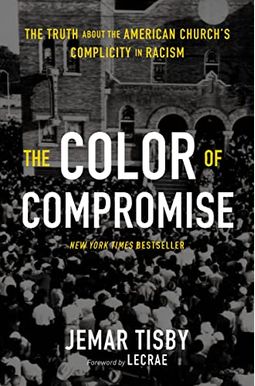  
The Color of Compromise: The Truth about the American Church's Complicity in Racism
Frequently bought together
Frequently Asked Questions About The Color of Compromise: The Truth about the American Church's Complicity in Racism
Book Reviews
(11)
Did you read The Color of Compromise: The Truth about the American Church's Complicity in Racism? Please provide your feedback and rating to help other readers.
Eye opening and heartbreaking

Derived From Web

, Nov 12, 2021

The book details how the American Church, specifically, white evangelicals, have been complicit in propagating white supremacy and racism in America. In this historical account, as the title alludes to, Jemar Tisby does a great job pointing out that leaders in the American church not only were guilty of blatant acts of racism but also subtly allowed white supremacy to seep into their churches through compromise. This is a helpful read to understand why Churches are often times very segregated today and provides a helpful admonishing to Church leaders and members to seek justice for their black brothers and sisters instead of continuing in complicity with racist systems, he said.
Great Book and Seller

Derived From Web

, Jan 15, 2021

The seller accidentally sent me a paperback instead of a hardback and sent me a full refund and also let me keep the book, she said. That kind of service is above and beyond and represents a very rare amount of integrity, Bruno said. The book is an outstanding and exposes a truth all of us must face, he said. Both are excellent value for money.
Listening and learning

Derived From Web

, Oct 20, 2020

We are reading this book with my small group and are looking forward to learning about the history of the American church's involvement with racism, Mary Robinson said. We are hoping that as we read through this, though it may be hard to swallow the historical facts presented to us, that we will become more anti-racist.
Chapters Missing in book

Derived From Web

, Sep 9, 2020

I sat down today excited to dive in and learn only to find that it's completely missing the forward and first two chapters of the book. Because it has been over 30 days from the original purchase date, I am not eligible for a refund and stuck with a misprinted incomplete book.
Aligns with the accuser

Derived From Web

, Sep 8, 2020

He warns that this book is a very selective survey of history. The book traces the history of interactions between peoples through the ages. The vast majority of Californians are blacks. There are frequent instances of the writer using the word complicit which he seems to redefine thorough the book. He is an excellent historian, but often brings history into the 21st century through the standards of 21st century morality without providing the critical context. The letter indicates that the entire church of sin was responsible. They often complain that the criticism is not supported by scripture, orthodoxy, or historical context. Buy a book by a more edifying author, take this opportunity to keep moving in the Amazon store. Simply put, critical theory is not compatible with the Christian faith.
Pertinent and Relevant to Today

Derived From Web

, Aug 17, 2020

This is an absolutely fantastic read, and it's incredibly relevant to today's society, he said. He does an amazing job of laying out the history of the church's role in the advancement of slavery in the United States, both in direct support and just as harmful through a lack of activism. The book is now on trial. He suggests that you seek spiritual guidance before you can ask any questions. To a person, each agrees that Tisby takes this topic with facts and calls to respond. They are truly exceptional people, and I can't recommend highly enough.
Compromise...

Derived From Web

, Aug 9, 2020

This is a brutal and challenging read, Raymond said. The fact is, the Salem Witch Trials were not about Salem's death, but about the truth and facts. I don't think the writer gives a great solution to addressing the problem of racism but he does give some good suggestions for addressing complicity, he said.
Length of delivery is surprising

Derived From Web

, Aug 5, 2020

Hi, I'm Brandon. It arrived yesterday-one day late from promised! It took 15 days to get here from New Jersey. The letter arrived July 22. I don't understand why DHL was used instead of the post office, unless the USPS has contracted DHL international to help with their load, Hubach said. This is not the answer. DHL domestically is not a good carrier, they are excellent when it comes to International shipping, but they have never been good with domestic delivery. It takes 5 business days to ship a package from east to west coast. It arrived in perfect condition, said Ragin.
A must read

Derived From Web

, May 4, 2019

What I like most about this book is the timeline and how it outlines the evolution and adaptation of racism, and it's complicity in racism, Ellison said. It gives you enough of an understanding of the historical context while also leaving you wanting to learn more, he said. As you read it you will see parallels between the past and present which is both enlightening and terrifying. This is a must read and deserves to be a required read for every student, every leader in the church, and every believer. The book presents the truth without bias and presents a more complete narrative of the Church's racist foundation, Referring to the Rev. John Paul II as "the architect of the Ku Klux Klan."
Trying to Right the Wrongs

Derived From Web

, Mar 19, 2019

A great read, too. The book is the culmination of a theological understanding of the Church's history in the United States. This book is a great resource for not only students of theology but also Christian Ethics. The compromises make it clear why many in the Church have such a difficult time addressing racism.