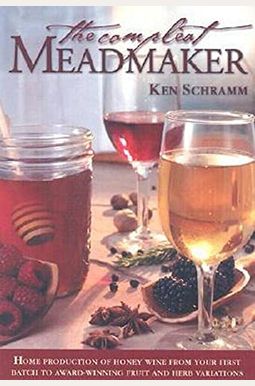 
 
The Compleat Meadmaker: Home Production Of Honey Wine From Your First Batch To Award-Winning Fruit And Herb Variations
Frequently Asked Questions About The Compleat Meadmaker: Home Production Of Honey Wine From Your First Batch To Award-Winning Fruit And Herb Variations
Books like The Compleat Meadmaker: Home Production Of Honey Wine From Your First Batch To Award-Winning Fruit And Herb Variations
Book Reviews
(12)
Did you read The Compleat Meadmaker: Home Production Of Honey Wine From Your First Batch To Award-Winning Fruit And Herb Variations? Please provide your feedback and rating to help other readers.
this is a great, comprehensive text that covers all you need to ...

Derived From Web

, May 9, 2022

As a person who has brewed the old way for 20 years and never thought about it, this book was an invaluable resource for showing how much things have changed. If you have more experiences, the detailed information is still excellent for recipe design and how to develop an excellent mead. It is also a good read in the sense of flow and structure, so that you can easily get what you want out of it. I would recommend this for anyone who is thinking about either brewing their own mead or learning about one of the great beverages that no one knows.
Comprehensive guide for a beginner Meadmaker, and beyond

Derived From Web

, May 9, 2022

I was impressed by the book from the get-go. A good history of honey and mead to start with and an excellent guide to producing your first batch. That is just in the first, say 30 pages. I would highly recommend this book to anyone interested in making their own Mead.
Maybe it's me but I found this book to be ...

Derived From Web

, May 9, 2022

Maybe it's me, but I found this book in spots difficult to understand. I learned a few things from it, so I think I got my money's worth 1.
Great book!!

Derived From Web

, May 9, 2022

A few years ago, I got into Mead making. From this book, I learned a lot.
Reads like a cook book, but with detail

Derived From Web

, Feb 5, 2022

New to Mead making mead. I bought this book so much that I enjoyed one for my brother. I like this book because it reads like a text book and I have my notes and highlight things that work for me. I would recommend this from a newb to the next. They aren 't kidding when they say sanitize and use healthy ingredients.
The best book on meadmaking ever written

Derived From Web

, Apr 13, 2021

Excellently written, immensely informative, eloquent, entertaining and clear in directions. I am extremely grateful that this was the first book I read on Meadmaking because it defines steps and steps that help put other books into context. Additionally, it is written in a practical style that is packed with passionate and engaging information and can easily hold the interest of any reader, even one not inclined towards Meadmaking himself. If you're going to read books on brewing mead, make this your first and if you buy only one book on the subject, make it this.
Best Mead book ever.

Derived From Web

, May 26, 2020

Mead covers everything about Ken Schram. He talks about history, the basic process of making mead, the many different meads and the many different species of fruit and spicesherbs that you can add. Lists of the fruit varieties is a great reference. Ken is truly a master of Mead's making.
A must-have resource for anyone interested in making mead

Derived From Web

, Oct 26, 2019

Excellent resource for people new to Mead making as well as those looking to improve their skills in Mead making. The author is also enjoyable to read, as he has a great sense of humor. He explains the process of making meads in depth, including the science behind it. This gives the reader the ability to reach recipes and adjust to a desired outcome. There are also plenty of recipes. I have successfully made mead for years and this book inspired me to try new methods.
Excellent book bringing a lot about meadmaking

Derived From Web

, Sep 16, 2018

Gives a lot of info about what to do and what not to do for a good mead and a lot of inspirational examples and recipes. For my efforts in Meadmaking, will be a great help!
Don't let the 3 star rating fool you it's a must read for newcomers

Derived From Web

, Aug 12, 2018

I guess it is kinda old, but a must have if you're interested in making Mead. It gave me a rudimentary understanding of what to do, but I found the Let's Melomels a better understanding of what to use and how to use ingredients more effectively. That said, I think this is a must read for everyone who has never made a homebrew and is looking to jump into the winemead.