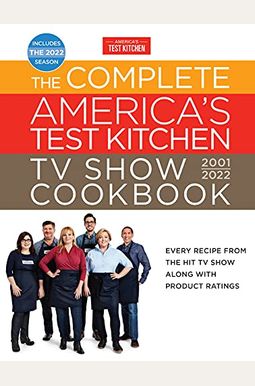  
The Complete America's Test Kitchen Tv Show Cookbook 2001-2022: Every Recipe From The Hit Tv Show Along With Product Ratings Includes The 2022 Season
Frequently Asked Questions About The Complete America's Test Kitchen Tv Show Cookbook 2001-2022: Every Recipe From The Hit Tv Show Along With Product Ratings Includes The 2022 Season
Book Reviews
(12)
Did you read The Complete America's Test Kitchen Tv Show Cookbook 2001-2022: Every Recipe From The Hit Tv Show Along With Product Ratings Includes The 2022 Season? Please provide your feedback and rating to help other readers.
Great for cooks of all skill levels

Derived From Web

, Mar 12, 2022

Cooks of all skill levels can find many recipes that are easy to make, and they will feel comfortable making them. Special equipment isn't needed. If you enjoy cooking, this book is for you.
Too heavy. So sad to return this.

Derived From Web

, Mar 9, 2022

I was very excited to receive this cookbook. The reviewers commented on how heavy it is. They were correct about it. I can't use it because it's so heavy. The spine of the book is going to break and I worry about that. I had to carry it with me. Cook's Country recipes are not included in the cookbook. Some reviewers are saying that it's incomplete. I ordered a new cookbook from Cook's Country instead of the old one. It has all 14 seasons worth of recipes. The editors of the cookbook should release a spiral bound edition. I would order it in a heartbeat. I hope this helps you.
Not all recipes are included

Derived From Web

, Feb 21, 2022

The chicken scampi recipe is not in the book. It was shown during the season in 2019. Simone prove me wrong.
Can I give it a 10!!!!

Derived From Web

, Feb 15, 2022

There is a lot of information here. It has hundreds of fabulous recipes, professionally executed with step by step instructions, and also includes why the recipe is actually better than the traditional method. The test kitchen's choices for best appliances and brands of food have been included. It's a great gift to give to a beginning cook. The price is too good to be true.
Perfect Wedding Gift for Beginner to Experienced Cooks

Derived From Web

, Feb 14, 2022

I enjoyed watching The Test Kitchen on PBS. I had to have this cookbook. When my son was home for Christmas, he saw the book and loved it. I also bought him one. We will discuss how great the recipes are. I love that this cookbook makes it stand out from the rest. It has information that a new cook needs. There is a section called Shopping Guide. You will find advice on buying kitchen equipment inside. There is a section on shopping for ingredients with a description and why they like to use other brands. The conversion chart takes the guess work out of it. It is a large book. This would make a great wedding gift.
For every kitchen

Derived From Web

, Feb 14, 2022

The book has answers to cooking questions. Every kitchen has one. It was worth every penny.
Fantastic recipes

Derived From Web

, Feb 9, 2022

America's Test Kitchen has many online recipes my wife has found. When we use their recipes, we've always been very happy with the way it turned out. When Christmas came, my wife said that she wanted either a membership to their website or their cookbook. She got the book. This thing has a lot of good recipes. We've tried a few of the 21 seasons worth of recipes in the cookbook and she was happy to see that. Every one has tasted great. This cookbook is a must have in your kitchen.
Not just a cook book — helpful details abound !

Derived From Web

, Jan 28, 2022

This is a great cook's bible. Detailed with useful information to help a beginner cook. It's a great book to have in your kitchen as well as a gift.
Loved the new cookbook

Derived From Web

, Jan 27, 2022

The new cookbook from Americas Test Kitchen was great. I would like to see a time estimate for each recipe.
Quite thorough

Derived From Web

, Dec 18, 2021

Oh my gosh... I would expect nothing less from a cookbook that claims to include 22 years worth of recipes. I've only been able to get through a small portion of the cookbook, but I'm very impressed with what I see. It is thorough. I downloaded a sample of the book so I can try it out. I like a bit more kick in my dishes so I had to add a bit more seasonings. Isn't a recipe just a base to follow and to make your own according to your taste? I love the Why This Recipe Works blurb before each recipe, and I'm looking forward to reading all the pages of this cookbook. So excited!